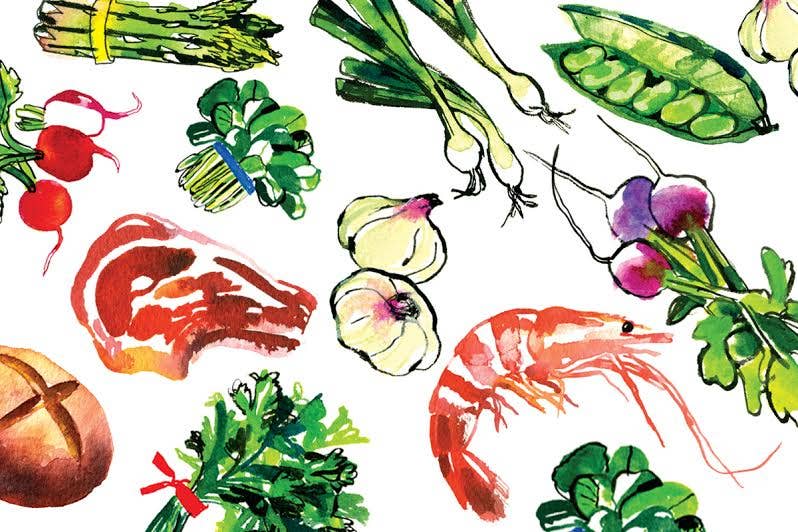 The East Village afternoon melts away as Andre continues to reminisce about the food of his childhood. There were those uszka, tiny mushroom-filled dumplings poached in a clear, claret-red beet broth; that pork loin baked with plums; the whole roast duck stuffed with apples; the rolada—tender roulades of beef, wrapped around crisp bacon and slices of sour pickles in a delicate beef gravy, served over fluffy kasha.
This was the cooking of Lwow, which his parents transplanted to their new home along with the rest of their culture. The food sounds far lighter and more delicate than the heavy American Polish food I know, I tell Andre. But he reminds me that this is not peasant food. Poland has a rich history of lavish monarchies and court feasts resplendent with traditional dishes made from the bounty of the land: game, wild mushrooms and herbs, berries, butter, and cheese. It was a sophisticated cuisine, as well. Poland was at the heart of medieval spice routes between Northern and Eastern Europe, and even early Polish cooks used pepper, ginger, cloves, and nutmeg.
He is going home in a month for an exhibit of his photographs, Andre tells me. I ask if I can come along, to meet his family, and to learn more about Poland through the food his family cooks.
Wrołcaw, Poland's fourth-largest city, is built around the Rynek, a huge cobblestone square. Pale pink, yellow, and blue buildings with false-front tops in Flemish Renaissance-style line the square like pastel confections. A month after our New York lunch, I find myself waiting for Andre in front of the square's elaborate 16th-century astronomical clock. We meet and spend the day strolling the old city before catching a train to visit his family. As we wander the halls of Wroc³aw's university (founded in 1702), where Andre walked as a student 20 years ago, he speaks quietly: "I set foot inside and it all comes back. It even smells the same. I used to write columns on photography for local newspapers, and I was given a list of the things journalists couldn't write about. Of course, I tested the system and was banished from writing anything, anywhere in Poland...forever." He remembers the secret police filming student protests; he remembers the food shortages, the long lines.
Later, when we enter the vast concrete Hala Targowa, the market hall, near the Odra River, Andre sucks in his breath. The building is the same as it was when he was young, but now it is packed, bountiful, with mounds of Italian walnuts and lettuces from Frisia. "This is the first time I have ever seen such abundance!" he says. "Before, it was so limited." Boxes of tissue-wrapped oranges and grapefruit from Spain are piled high. "Even ten years ago, we would have oranges only for Christmas." Stalls are stacked with sausages, hams, cold cuts, and wheels of cheese. Poles, unlike Russians in the Soviet Union who farmed on government communes, were allowed to hold land and farm privately—but the government set the market prices, and it just didn't pay to grow crops to sell. So people grew produce for themselves or the black market, and this market hall stood empty. "We pretended to work, and they pretended to pay us," Andre comments wryly. But since 1989, the open market has brought a new prosperity. Now, there is plenty to buy. We walk back to the square, passing cafes with tables and chairs spilling out onto the sidewalk. There seems to be a thriving restaurant scene. We have lunch at the Lwowska, a restaurant that specializes in food from Lwow—the food of Andre's family. Delicate bowls of clear, red borsch, with a few big white beans floating just under the surface, arrive at the table. I smell the clovey perfume of allspice in the steam that rises from the soup. "All the restaurants in town were government-run", Andre says. "The food was super-lousy, and there was so little of it they would run out by 3 p.m. My mother refused to eat in any of those restaurants, because she was convinced she'd be poisoned."
We make our way to the train station, passing a dozen bustling restaurants and cafes as we go. The rail system is old, and it takes 90 minutes to cover the 40 miles to Wo³czyn. On the way, Andre wants to talk politics, and I want to talk food. "But food is political," he insists. "All the student strikes in the world could not have achieved what Solidarity achieved. The students were hungry for freedom and knowledge. But the workers in Gdañsk were protesting the impossible price rises for basic foodstuffs. They were hungry; their families were hungry. It took almost 20 years, but now Poland is a democracy, and the shops are full of food." We spend the rest of the trip anticipating the dinner his mother will prepare for us.
As we walk from the train through the town of Wo³czyn, across the simple central square, Andre points to a third-floor corner apartment in a nondescript 1960s building. We go around back and up some stairs. The hallways are grim, the concrete painted a drab olive green. The stairwell is communal, Andre explains, so no one feels responsible for its upkeep. Inside the small apartment, a pile of shoes lies by the front door. Andre slides his stockinged feet into carpet slippers and finds a pair for me. Unlike the dreary hallway, the apartment is cheerful and sunny, with polished wooden floors and white lace curtains. We meet his parents, Zbigniew and Alicja. She is a small woman, with a modest manner, kind eyes, and a shy smile. She knows I have come a long way for a cooking lesson, but before I head to her kitchen, she shoos me down the short hall into the living room, where the table is set for dinner with a crisp white damask cloth and delicate flower-patterned china. Andre's eyes light up when his mother offers us glasses of cold compote, the lightest sugar syrup with a few slices of just-poached apple. "Growing up, when we were cut off from the rest of the world," he tells me, "this was our Coca-Cola." We take our places at the table, and Alicja carries in a splendid platter piled with slices of tender beef pot roast covered with horseradish in a creamy sauce. Thin slices of butter-braised carrots are arranged like solar rays around the meat. A big bowl of light buckwheat kasha is served alongside. We finish the meal with glasses of hot tea and slices of delicate, pinwheel-patterned cake with a rich and dense poppy seed filling.
Andre and I spend the next day in the tiny kitchen with his parents. Everything happens at once, and I take notes on every move Alicja makes. She works easily in her kitchen, washing dishes as she cooks, basting the duck as it turns a golden brown, simmering a big pot of beets on the stove for the borsch. Zbigniew retires to the back bedroom to grate the pungent horseradish for the beet salad and returns with tears streaming down his cheeks. I must look concerned, for he comforts me with a smile. "Grating horseradish is a man's job," he assures me. Alicja unstrings a necklace of dried mushrooms gathered last autumn in the nearby forest, soaks them until they're soft, then grinds them into a paste to fill the uszka, tiny mushroom dumplings for the borsch. Zbigniew and Alicja sit side by side at the white kitchen table as they must have done for years. Zbigniew sings a little uszka song as his big, thick hands form the dainty dumplings that look to me like miniature bishops' hats. He remembers the old days in Lwow, when his whole family would sit around the table making hundreds of uszka.
When dinner is ready, we gather at the table in the living room and sip homemade currant wine with our first course of borsch and uszka. Platters of succulent, crisp-skinned duck with apples, a sweet beet and spicy horseradish salad, and bigos, the national dish—a hunter's stew of sauerkraut and wild game or preserved meat—fill the center of the table. Zbigniew pulls out tall bottles of ¿ubrowka—vodka that he's flavored with bison grass. He fills our tiny shot glasses to the brim with the grassy ether. Then he raises his glass and toasts our main course: "We drink vodka to honor this duck, so he knows that he is eaten by men and not by dogs." Somehow I find room for the feathery marbled babka and a glass of tea. Then, suddenly, it is time to go. Changing from carpet slippers into my shoes, I leave their world. I kiss them good-bye and, grabbing my bag, I rush to catch the last train, carrying away the things that are so important—some pictures, some memories, some family recipes.