French Holiday Feast
This traditional Christmas Eve dinner includes an abundance of foods, from foie gras to omelettes.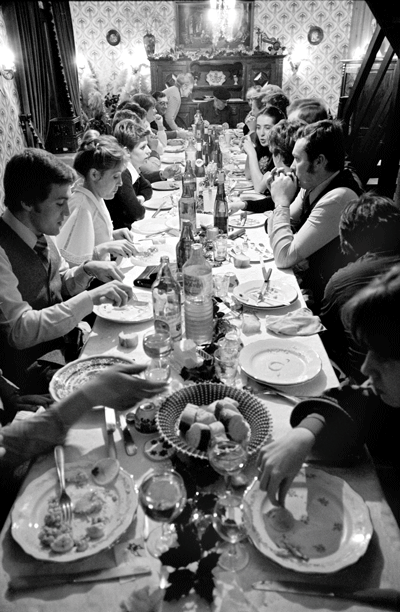 The late Christmas Eve dinner known as the reveillon de Noel—like the one pictured here, at the home of a Parisian family, circa 1976—is central to holiday celebrations in France. Traditionally eaten after midnight mass but enjoyed in countless secular homes, the meal often goes late into the night and, for me, symbolizes the near-sacred importance the French accord a big, leisurely, multicourse repast. The menu varies from place to place. The first reveillon I attended, in the southern city of Aix-en-Provence in 1989, featured an abundance of shellfish, including cockles, mussels, and lobster, and a staggering array of sweets, among them nougat, fresh and dried fruits, and the soft, almond-and-candied-fruit confections known as calissons. For many Parisians, oysters and foie gras are considered de rigueur as a first course, but opulence isn't necessarily the point of the meal. Omelettes have long been popular as a main course, as has roasted chicken or capon. If there can be said to be a single, universal element to a reveillon dinner, it would be the buche de Noel, the ornate sponge cake Yule log turned out by the thousands in the days before Christmas by bakeries across the land.