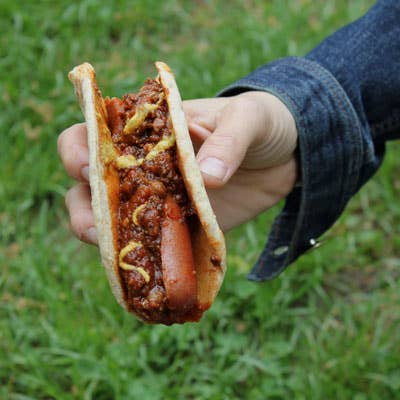 Travel
Good to Go: The New York Hot Dog, Elevated
A new organic hot dog vendor brightens up Central Park.
It's almost summer in New York, which means walking and bicycling, active city parks, and lots of hungry tourists. Despite the phenomenal explosion in popularity of the food truck in the past few years, the most ubiquitous New York street food is still the dirty-water dog: a frankfurter that's been boiled in a steaming puddle of old water and meat grease and then served in a flaccid bun. It's not that the dirty-water dog can't hit the spot — when you're on the sidewalk and just gotta eat, the weiner itself, oftentimes a natural-casing Sabrett beef dog, isn't a terrible product. But frank-ly speaking, my kid, who at 11 years old is hungry all the time, thinks they're gross.
Thank goodness, then, that Manhattan's ever-popular, kid-friendly Central Park has opened up to more food cart options than simply dirty-water dogs. One of our favorites is Good to Go Organics, a duo of stands (one each on Central Drive and East Drive, both near 62nd Street) that offers weiners that put the dirty-water dog to shame. Good to Go CEO Andrew McDonnell's brother, Steve, is the founder of Bridgewater, New Jersey's Applegate Farms, maker of a wide range of organic and natural cold cuts, sausages, and cheeses. And Applegate, the go-to deli brand for many a conscientious parent packing junior's daily lunch, provides organic pups to Good to Go's carts, where they're par-boiled, grilled, and topped with healthy add-ons.
Good to Go's chili dog is slathered in a meaty, tangy sauce made with grass-fed beef from the Hudson Valley's Kinderhook Farm. Particularly good served non-traditionally, wrapped in whole wheat flat bread, it's a substantial and welcome lunch for a picky, ravenous 11-year-old. There are veggie pups here, and Applegate sausages, too, but my favorite Good to Go lunch is an organic beef hot dog tucked into a good, old-fashioned Martin's Potato Roll and dressed in sauerkraut from Kinderhook's neighbor, Hawthorne Valley Farm. But perhaps I'm biased; since it's almost summer, that always-hungry kid of mine is soon to ship off to his beloved, hippie-dippie overnight camp—at Hawthorne Valley Farm.