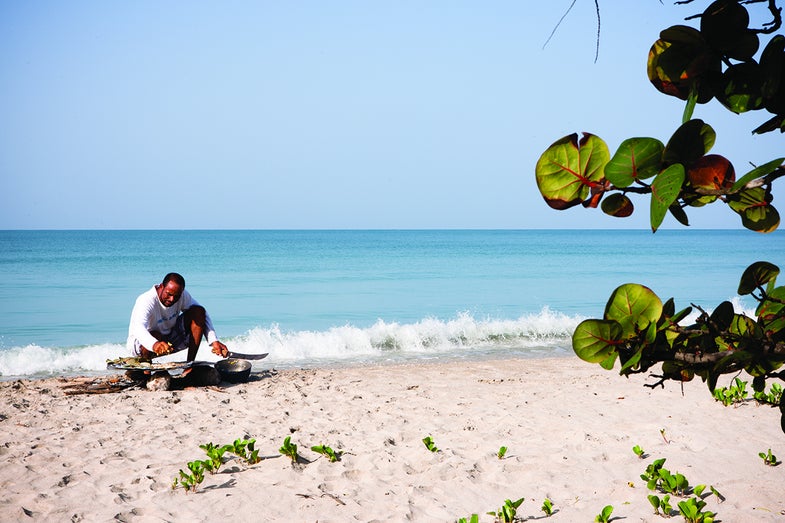 All along Jamaica's southwest coast, dories row ashore loaded with the day's catch—grouper, amberjack, red snapper. Fishmongers hawk their offerings with calls of "de jack real fresh, jah mon." Some ends up at restaurants like Alligator Pond's Little Ochie, where fish is grilled over allspice logs. But many never make it off the shore. Walking along Galleon Beach one morning, a just-bought ripe pineapple in hand, I ran into my friend Dennis Abrahams, a boat captain, who was building a fire from driftwood on the beach. With nothing more than snapper fresh from his net, my fruit, a handful of Scotch bonnet peppers, and some seawater in lieu of a saltshaker, he cooked. As the fish sizzled on a metal saucer, he squeezed a chunk of pineapple in his fist, the juice splashing on the snapper's charred skin. He scooped a fish off the grill with his machete, plated it on some wide sea grape leaves, and handed it to me. The sweet-tart fruit underscored the clean taste of fish fresh off the reef. I ate with my hands. What did I care? The sea was right there, ready to rinse me clean.
See the recipe for Grilled Snapper with Habanero and Scallions »
Shane Mitchell is a contributing editor for SAVEUR.