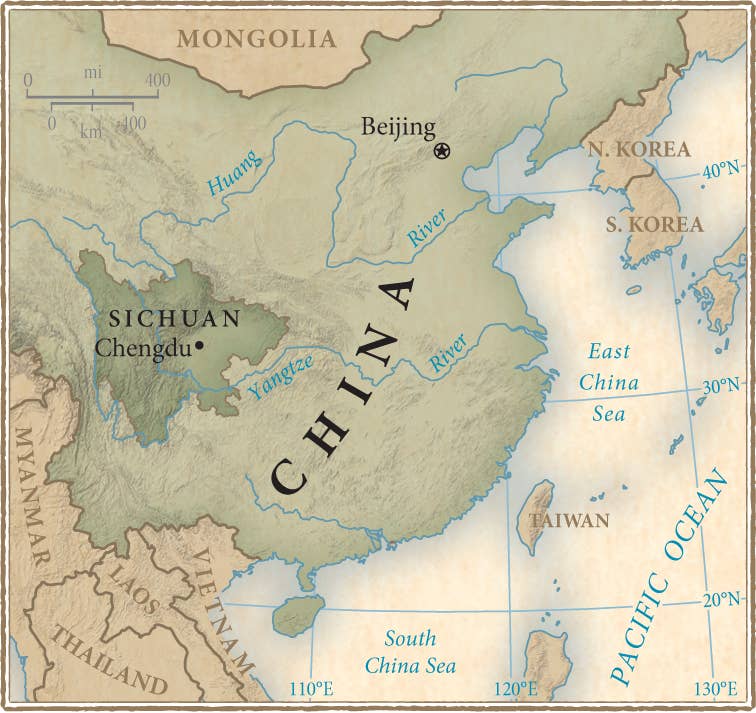 Travel
Travel Guide: Chengdu, China
Where to eat, what to do, and where to stay when visiting Chengdu, China.
Chunyangguan
6 Jixiang Street, Qingyang District. Inexpensive. This nook is packed every morning with folks wolfing down owner Handsome Ma's yu xiang pai gu mian (fish-fragrant sparerib noodles) and wontons in chile oil.
** Ming Ting**
30 Yijiefang, Waicaojia Alley (86/28-8331-5978). Inexpensive. This so-called "five-star fly restaurant" made its name with pig's brain mapo tofu and other offal dishes but also makes a spicy heye jiang rou, bacon steamed in lotus leaves.
Shu Zi Xiang
Multiple locations (shuzixiang.com). Inexpensive. Chengdu people love hot pot—a boiling cauldron of spicy broth in which you dunk and cook a variety of meats and vegetables—and Shu Zi Xiang makes some of the most flavorful.
Orange
128 Farming Unit 1, Sansheng Township, Hongsha Village (86/28-8467-8067; douban.com/people/orange-bar). Inexpensive. On weekends many residents of Chengdu head to the countryside for leisurely meals at nongjiale, or farmhouse restaurants. Orange is one of the best; try the suan ni bai rou, sliced pork belly dressed with garlic and chiles.
Tian Ci Liang Ji
Ma An Jie No. 68, Jin Niu Qu (86/28-8333-3288). Inexpensive. This popular restaurant is famous for its many chicken dishes, flavored with chiles and Sichuan peppercorns. In winter, be sure to try ren shen ji tang, a delicious chicken soup with ginseng and wolfberries.
Museum of Sichuan Cuisine
8 Ronghua North Alley, Gucheng Village, Pixian County (86/28-8791-8008; cdccbwg.com). Admission: $3. A short drive from downtown Chengdu, this museum, a grand structure encompassing exhibitions as well as a decent restaurant, offers a serious look at the history of Sichuan food from ancient times to the modern era.
Wuhou Shrine
231 Wuhou Shrine Street (86/28-8555-9027, wuhouci.net.cn). This shrine to a royal adviser is a beloved piece of Chengdu history—and Jinli Street, which leads up to the ancient sanctuary, has dozens of food vendors serving Chengdu-only snacks such as dou hua, soft tofu topped with chili oil, black vinegar, peanuts, and scallions.
Loft Design Hostel
4 Xiaotong Alley, Qingyang District (86/28-8626-5770; lofthostel.com). Rates: $10 for a shared room, $34 for a private room. A converted printing house, the Loft is filled with a lively mix of guests, from Chinese students to wandering foreigners. Bike rentals for hostel guests make it easy to explore the city center.
Hakka Homes
Kehua Beilu, South Chengdu (86/139-8190-9901; hakkahomes.com). Rates: $28 for a two-bedroom apartment. A collection of short-term rental apartments—from studios to two-bedrooms, each with a kitchen—in a lively part of the city near Sichuan University.
Shangri-La Chengdu Hotel
9 Binjiang East Road, Jinjiang District (86/28-8888-9999; shangri-la.com/chengdu). Rates: $200 for a double. This luxurious tower on the banks of the Jinjiang River is easily the nicest place to stay in Chengdu. The hotel's upscale restaurant, Shang Palace, features classic Sichuan dishes, including a richly flavored mapo tofu.