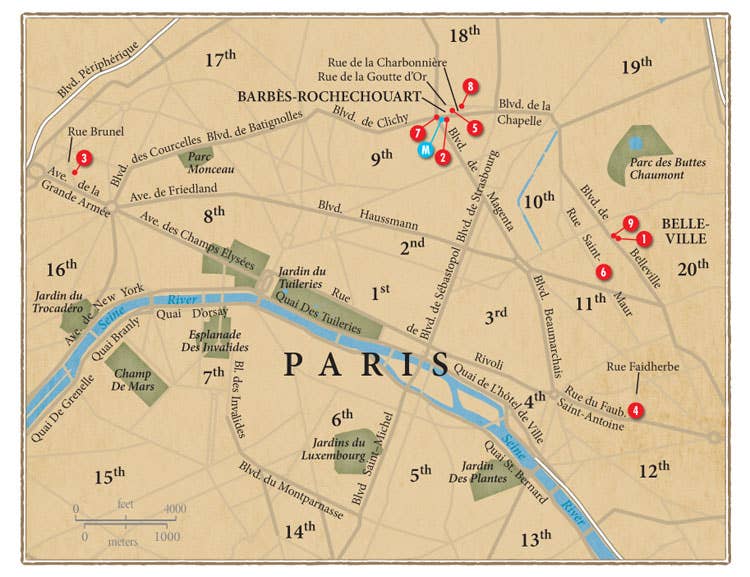 Travel
Travel Guide: Maghrébin Paris
Where to eat and what to do while visiting the Morrocan, Algerian and Tunisian sections of Paris
Dinner for two with drinks and tip Inexpensive: Under $20; Moderate: $20-$80; Expensive Over $80
WHERE TO EAT
1 Chez Rene et Gabin
92 Boulevard de Belleville, 20th arrondissement (33/1/4358-7814). Inexpensive. The overstuffed tuna fish sandwich called casse-croute is the specialty of this Jewish-Tunisian neighborhood joint.
2 Dar-el-Houma
47 Boulevard de la Chapelle, 10th arrondissement (33/1/5692-1848). Inexpensive. Order the superb rechta, a holiday meal of noodles with chicken and turnips, at this homey Algerian restaurant.
3 Le Timgad
21 Rue Brunel, 17th arrondissement (33/1/45/74-23-70, timgad.fr). Expensive. Since 1971, this posh Moroccan restaurant has been a draw for its exceptional renditions of couscous and tagines, served by waiters in black tie.
4 Mansouria
11 Rue Faidherbe, 11th arrondissement (33/1/4371-0016, mansouria.fr). Moderate. Fatema Hal's authentic Moroccan restaurant features many hard-to-find dishes based on recipes culled from research trips to her home country.
5 Mediterranee Alimentation
30 Rue de la Charbonniere, 18th arrondissement (33/1/4262-6455). Inexpensive. This maghrebin grocery store on the edge of the Barbes-Rochechouart market offers fine Algerian crepes called mahjouba, made to order.
WHAT TO DO
6 La Bague de Kenza
106 Rue Saint-Maur, 11th arrondissement (33/1/4314-9315, labaguede.kenza.free.fr). The most acclaimed Algerian bakery, with many Paris locations, specializes in honey-drenched confections that are as delicious as they are beautiful.
7 Barbes-Rochechouart Market
18th arrondissement (no phone). Look for spices, olives, produce, fish, meat, and much more at this massive outdoor market, on Wednesdays and Saturdays under the Barbes-Rochechouart Metro.
8 El Andalousia
25 Rue de la Goutte d'Or, 18th arrondissement (33/1/4251-1925). This little Algerian bakery is a destination for both sweet and savory treats, such as les roses, filo-dough blossoms filled with a paste of walnuts, hazelnuts, and almonds.
9 Nani
102 Boulevard de Belleville, 20th arrondissement (33/1/4797-3805). This venerable kosher bakery, founded in 1962, specializes in honey-soaked boules de miel and other Tunisian pastries.