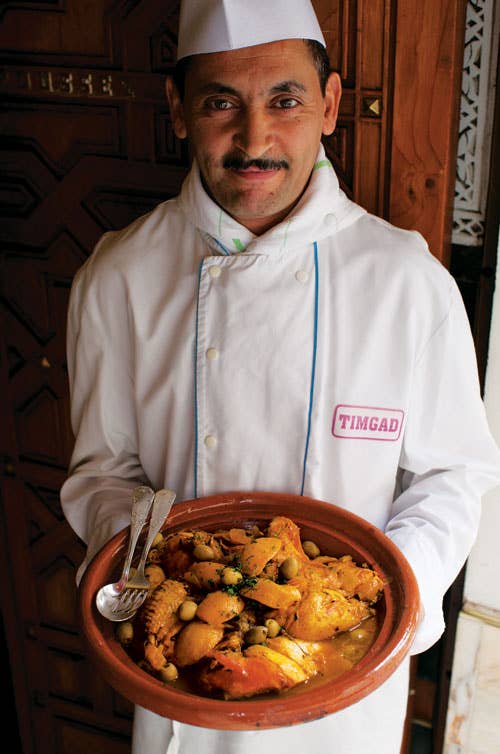 Travel
Couscous Royale
The exquisite flavors of the Maghreb—Tunisia's casse-croute, Morocco's tagines, Algeria's intricate sweets—are alive and well in Paris
In my memory, Paris and couscous have always been inextricably linked. I attribute this to one of the most mythic meals of my youth, a lunch that lasted six hours. It was the early 1980s and I was living in Paris, an expatriate kid with a diplomat dad. We were a big group, occupying a long table at a Moroccan restaurant not far from the Opera. I'm not sure how the conversation, and the food, lasted so long. I can still hear my dad's barrel laugh as he recounted some story in Bronx-accented French.
Family friends from Morocco had pre-ordered the main course, couscous royale, which came to the table in stages on long silver platters. On one rose a golden slope of buttery grains. Another held hunks of spoon-tender carrots, turnips, zucchini, and celery. Chickpeas and white beans in broth arrived in wide bowls along with fiery red pepper harissa and caramelized onions mixed with plump golden raisins. Silver warming dishes awaited the meat—stewed chicken and lamb, merguez sausage, grilled lamb chops, and spicy beef meatballs. Those delicacies were brought out last, on immense platters and with great fanfare: sparklers protruded from the meat like porcupine quills, sending up plumes of sulfurous smoke. I reached for seconds and thirds as the hours and bottles of wine disappeared. I was hooked.
During the four years that we lived in the French capital, we returned frequently to Chez Bebert, the scene of that midday feast. It was hardly the most authentic Moroccan spot in Paris, but the restaurant—among the earliest to promote couscous to a non-immigrant clientele—was moderately priced and was so popular among middle-class Parisians that the owners soon opened additional branches. By the time my family and I moved back to the States, couscous symbolized Paris as clearly in my mind as a buttery croissant.
It turns out the French shared my enthusiasm. In the decades since I left Paris, North Africa's best-known dish has become one of the most widely consumed foods in France. These days, even ordinary neighborhood bistros often feature a couscous special one day of the week. Its popularity reflects the integration of North African culture in France, where I can now hear Algerian rai hip-hop on Top 40 stations, smell sweet smoke wafting from shisha bars that swarm with Parisian hipsters, and find upscale hammams, or Turkish baths, opening in posh neighborhoods.
I recently returned to Paris to immerse myself in the tastes of the Maghreb—as French-influenced Morocco, Tunisia, and Algeria are known—and to rekindle a romance with that region's food that started long ago. I learned, to my delight, that the Maghreb's diverse culinary repertoire is being expressed more fully than ever in Paris, and it includes far more than couscous.
Expats from the Maghreb—the name means "occident" in Arabic, and denotes the western edge of the Arab world—constitute the largest immigrant group in France. Those immigrants have been arriving in waves since the 1950s and '60s, when they began settling on the edges of Paris as the French colonial era came to a close. Even as second- and third-generation North Africans identify as French, new immigrants from the region continue to pour in, populating sections of the city that are as fragrant with spices and teeming with hijab-clad women as the Marrakech Kasbah.
While Tunisians and Algerians dominate the maghrebin enclaves, Moroccans run the majority of the most ambitious restaurants, upscale places with a bourgeois clientele. Morocco—as in vogue today among Europeans as it was in the '60s, when Yves Saint-Laurent unveiled his Moroccan-inspired couture—has a long history of catering to well-to-do visitors. That tradition of European-inflected hospitality took root firmly and enduringly in Paris.
Le Timgad, a Moroccan restaurant located not far from the Arc de Triomphe, has been serving couscous to a jacket-and-tie crowd from the same silver tureens, in a dining room with alabaster friezes and a gurgling fountain, since 1971.
"This place is frozen in time," offered a well-dressed regular sitting one table over from me at dinner one night, who was sipping from a glass of chilled house rose. "It has a sumptuousness, a joie de vivre you don't find anymore, even in Morocco." A kefta tagine with tomatoes and olives featured delicate lamb meatballs topped with a soft-cooked egg. Le Timgad's couscous princier was several notches above the royale of my youth, with grains so fine and buttery they needed no sauce at all. Making couscous of the caliber I found at Chez Bebert and Le Timgad is labor-intensive, so different from the boxed variety most of us know. The semolina pasta is hand-rolled, rubbed with olive oil, steamed, then rubbed again between the fingers so each grain remains fluffy and distinct.
Though Morocco's cuisine is the Maghreb's most regal, with the most complex spice blends and elaborate dishes, you're not likely to find any food in that country dubbed princier or royale. These fancy presentations were Parisian innovations, intended to seduce the French palate. (In Morocco, couscous is traditionally served with only one meat, and just one day a week, usually after Friday prayers.) That point was driven home when I paid a visit to Le Mansouria, a venerated Moroccan restaurant in the 11th arrondissement. The owner, Fatema Hal—a cookbook author and authority on Moroccan cuisine—offers couscous royale on the menu only grudgingly.
"In '84, when I opened, you didn't talk about Moroccan food," Hal told me. "You talked about cuisine orientale. As if there were no difference." Hal went on to tell me that she approached her first cookbook, published in 1995, like an ethnographer, interviewing Moroccan women and writing down the recipes they'd learned from their mothers. Many of these dishes showed up on Le Mansouria's menu. "Once the first book came out, people were willing to try something beyond what they knew," she said. Among the restaurant's many intriguing offerings is mrouzia, a ceremonial dish of caramelized lamb that dates to the 13th century and is rarely found in restaurants. The falling-off-the-bone meat is lacquered with honey, surrounded by almonds and raisins, and flavored with ras el hanout, a spice mix that, at Mansouria, blends 27 spices. The lamb, like many authentic maghrebin dishes, is cooked in smen, fermented clarified butter that lends a mineral tang to the food.
Smen, I discovered the following day, is readily available in the food markets of working-class Belleville, one of the most dynamic sections of town, home to North Africans, Turkish, Chinese, and Vietnamese immigrants, among others. I continued my maghrebin food crawl there, meeting up with Hal's son-in-law, a young Frenchman named Renato Lolli. The plan—a foolish one in retrospect—was to start off the day with Algerian sweets.
More than a century of French rule in Algeria left a distinctive architectural legacy and a stubborn political mess, along with a weakness for crusty baguettes. It might also explain why Algerian pastries are as delicate as the finest petits-fours. La Bague de Kenza, just outside Belleville, is the city's best-known practitioner of patisserie orientale. I was mesmerized by the exquisite confections. Honey-soaked d'ziriates, filled with orange blossom—scented almonds, resembled the most intricate dim sum. There were pyramids of powdered sugar—dusted cornes de gazelle ("gazelle's horn"), trays full of baklava, and an entire section devoted to almond-paste sweets molded into the shapes of exotic fruits—Barbary figs, pumpkins, bananas—and flavored with jam. These are deceptively rich morsels, as we discovered while nibbling our way through an overly ambitious selection.
It was after noon when Lolli and I departed, leftover pastries in hand (dense with honey, a natural preservative, they have a shelf life of several weeks). Up the block we passed a cluttered shop selling sandals, clothing, Korans, and framed pictures of Mecca. In the window of a halal butcher I spied saucissons made with beef instead of the usual pork. Out front were crates of fresh mint for the tea sipped all day in Belleville's many male-only cafes. Around the corner, the shelves of a dry goods store were piled high with imported foods and dirt-cheap couscoussiers and tagines, the traditional cooking vessels for the dishes that share their names. We passed a shop that sells only water pipes, then a hammam, and then a Tunisian bakery called Nani.
Peering through the bakery's window reminded me of long-forgotten early Sunday mornings when my family lived in Paris. Before the rest of us got up, my dad used to head out in search of Tunisian beignets. We'd awake to discover on the kitchen table orbs of fried dough as big as our cat—sweet, sticky, and drowning in honey. Nathan de Tunis, the Jewish Tunisian bakery that was the source of those treats, closed down years ago, but the cruller-like boules de miel of my youth are easy to find in maghrebin Belleville, as are dozens of Tunisian pastries, which tend to be more rustic than their Algerian counterparts. I couldn't resist buying a boule de miel; the huge, fluffy doughnuts remain as chin-drippingly good as I remember.
We turned up the Boulevard de Belleville, the neighborhood's central thoroughfare. Toward one end of the street, you'd swear you were in Tunis or Algiers; toward the other, it was like being in Shanghai or Hanoi. We walked into the heart of the North African section, where Jewish businesses sit across the street from Muslim ones. On the Jewish side, we found a line of customers awaiting a quick lunch at a Tunisian hole-in-the-wall called Chez Rene et Gabin. "We're known in Miami, Los Angeles, Las Vegas," boasted the proprietress, manning the till.
The specialty at Chez Rene et Gabin is casse-croute tunisien (casse-croute translates loosely as "snack"), a crusty white roll filled with flaky canned tuna, sliced potato, mechouia (a tomato and pepper chutney), olives, hot peppers, capers, cucumber-and-tomato salad, preserved lemon, olive oil, and spicy harissa. It's the country's most beloved sandwich, and an incredibly satisfying two-handed lunch. Tunisia is blessed with bounteous Mediterranean waters and thriving fisheries, and tuna is a favored ingredient in all kinds of dishes. At lunch counters like Chez Rene et Gabin, you'll also find the fish stuffed with an egg into samosa-like bundles made from feuilles de malsouka, Tunisian pastry leaves. The packets are flash-fried so that the exterior is golden and the egg is still runny inside.
A few days later, Lolli and I rendezvoused near the elevated Metro tracks at Barbes-Rochechouart. This gritty neighborhood at the base of Montmartre is among the least touristy spots in Paris, right next door to one of the most frequently visited ones. The outdoor market there is one of the liveliest and most reasonably priced in the city. The two of us entered the scrum, pushing our way past stalls selling artichokes, cardoons, fresh dates, squat zucchinis, olives, spices, even mouse traps. At Mediterranee Alimentation, an Algerian grocer across from the market, a woman in a purple head scarf stood before a sizzling griddle, preparing mahjouba--Algerian crepes filled with stewed tomatoes, red pepper, and onions. We ordered two for the road, then turned onto a quiet side street.
We wandered around looking for a bakery, El Andalousia, that had been recommended to Lolli by an Algerian friend. We found it on the Rue de La Goutte d'Or. In a glass case inside the shop, I noticed bags filled with what looked like fresh angel hair pasta. The noodles, called rechta, are made with semolina and, like couscous, are usually steamed and served with stew. The noodles are traditionally eaten, the bakery's owner explained, in a dish that shares their name, at the start of the Islamic New Year—which it happened to be on the day of our visit. We left the shop armed with directions to a nearby restaurant that serves, we were assured, a very fine rechta.
Dar-el-Houma is a family affair, with Dad at the register, Mom in the kitchen, and their son waiting tables. As promised, their rechta was a revelation. The handmade noodles, as light and fluffy as the finest couscous, came topped with chicken, chickpeas, and turnips, all seasoned liberally with cinnamon. The humble restaurant, filled with Algerians, was a far cry from where my journey began, almost 30 years earlier, at that fancy six-hour lunch. But it was no less pleasurable, and just as quintessentially Parisian.