A Guide to Mexican Grocery Stores in the United States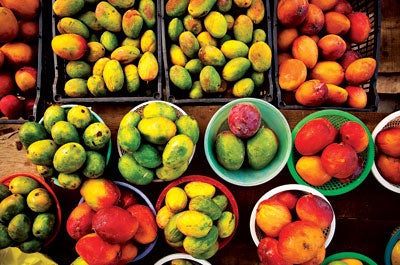 ALABAMA
El Mercado
There aren't many Mexican grocery stores in Alabama, so it's a good thing this Birmingham storefront has it all: produce such as tomatillos, nopales, and calabacita squash; meats in various cuts; fresh bread from the panederia (including traditional pastries such as yeast-dough roscas de reyes, made during Epiphany); and an assortment of imported drinks and candies. The taqueria inside serves fried pork carnitas daily and tamales on the weekends.
El Mercado
205/987-9281
2085 Colonial Drive
Birmingham, AL
ARIZONA
Food City
Authentic everyday foods, such as fresh-pressed tortillas and inexpensive produce including jicama, mangos, key limes, and pre-cleaned nopales, are an attractive draw at this Arizona Mexican-American chain. Some locations offer prepared foods, such as hatch chiles grilled right before your eyes.
Food City
Multiple locations
520/879-7760
2950 S. 6th Avenue
Tucson, AZ
CALIFORNIA
Mi Pueblo Food Center
There are upwards of twenty Mi Pueblo supermarkets dotting Northern California, each one featuring bright interiors and massive inventories of Mexican food. Try the cremeria for fresh cotija, Oaxaca and Mennonites cheeses, or the carniceria for chorizo, flank steak and spit-grilled al pastor pork. There's also a heaving produce section, a bakery and a seafood counter.
Mi Pueblo Food Center
Multiple locations
408/259-3421
1745 Story Road
San Jose, CA
La Palma
Locals flock to San Francisco's Mission neighborhood to La Palma for more than just groceries. An in-store taqueria has gained a cult following for its hot tortillas stuffed with anything from tongue or birria (goat stew), its masa-based huaraches and sopes, chiles rellenos, and overstuffed tortas (sandwiches). The store itself is a comprehensive source for spices, meats, loose dried chiles, prepared moles, and Mexican sodas and snacks.
La Palma
415/647-1500
2884 24th Street
San Francisco, CA
COLORADO
La Pradera Meat Market
"Todo es puro mexicano"—everything is pure Mexican at this Denver grocery, as one worker proudly told us. Piñatas with bright streamers hang from the ceiling over rows of packaged tortillas, spice blends, bottled salsas, fruit juices, and a meat case brimming with cuts of beef and pork, whole chickens, and links of chorizo. La Pradera's produce section is also notably good, with ultra-fresh nopales, cilantro, tomatillos, papayas, habanero peppers, and more.
La Pradera Meat Market
415/647-1500
5460 E 64th Avenue
Denver, CO
GEORGIA
Fiesta Farmers Market in the Plaza Fiesta
This large Hispanic and Asian grocery store, located in Atlanta's sprawling Plaza Fiesta mall, is a landmark for Georgia's Latin American community. Surrounded by Mexican businesses—hairdressers, candy sellers hawking chili-spiked sweets—the Fiesta Farmers Market peddles a wide range of Mexican ingredients, including annatto seeds, epazote, avocado leaves, and baked goods from the on-site bakery.
Fiesta Farmers Market
678/576-0504
4166 Buford Highway
Atlanta, GA
HAWAII
Mercado de la Raza
Martha Sanchez is the owner of Mercado de la Raza, an authentic Mexican supermarket with a superb selection of dry goods as well as a variety of fresh staples, including tomatillos, plantains, and Mexican cheeses. Prepared foods such as guacamole, salsa verde and empanadas are favorites among the regulars—Sanchez herself makes fresh tamales here on the second and last Saturdays of each month.
Mercado de la Raza
808/593-2226
1315 S. Beretania Street
Honolulu, HI
ILLINOIS
Maxwell Street Market
Bursting with Mexican food stands, the Maxwell Street Market is a haven for those in search of real-deal tacos, delectable huaraches, and airy churros. It's been right here in Chicago since the early 1900s, and although the market has changed over the years, the street remains a destination with hundreds of vendors offering Mexican herbs, dried chiles, produce, and assorted breads, along with an eclectic array of electronics and clothing items.
Maxwell Street Market
312/745-4676
S. Desplaines Street at Roosevelt Road
Chicago, IL
INDIANA
Tienda Morelos
With eight locations in Indianapolis, Tienda Morelos touts itself as the "most recognized Hispanic grocery" in the city. It's a full-service grocer plus taqueria and full-service butcher, with aisles of fruits and vegetables, freshly baked pan dulce, canned and packaged goods, and dairy products. If you don't find what you need here, the stores also sell bus tickets to Mexico.
Tienda Morelos
Multiple locations
317/290-8824
3872 Lafayette Road
Indianapolis, IN
KANSAS
Bonito Michoacan
In addition to being the standby caterer for Mexican cultural events across Kansas City, like the annual Cinco de Mayo festival and parade, Bonito Michoacan keeps its shelves and refrigerated cases stacked with meats, canned goods, Mexican paletas (popsicles), and all manner of produce, from yucca to plantains to prickly pears. Stop in on Tuesdays for $1 tacos and beef-cheek barbacoa.
Bonito Michoacan
Multiple locations
913/371-0326
1150 Minnesota Avenue
Kansas City, KS
MARYLAND
Cinco de Mayo Mercado
This is Baltimore's one-stop shop for fresh Mexican produce—like epazote, tough to find jitomate, tomatillos, and jalapeños—as well as quirky specialized offerings, such as piquant annatto paste (good for use in pollo pibil or Yucatecan stews), corn husks for tamale-making, queso fresco and queso duro, and "super cantinero," a spicy tortilla chip and peanut snack.
Cinco de Mayo Mercado
Multiple locations
410/276-0004
417 S. Highland Avenue
Baltimore, MD
MASSACHUSSETTS
El Chavo Mexican Products
El Chavo proprietor Alejandro Rodriguez makes a point of sourcing hard-to-find Mexican products. Here you won't only find jalapeños and avocados, but also guava, jicama, dozens of fresh and dried chiles (mulatto, pasilla, ancho), herbs (epazote, hoja santa, hoja aguacate), and meats and cheeses. He also showcases specialty regional products like mole negro, chocolate, and string cheese from Oaxaca, and mole poblano and carne cecina (air-dried beef) from Puebla.
El Chavo Mexican Products
617/323-2442
4524 Washington Street
Boston, MA
MICHIGAN
E & L Supermercado
The variety of high quality, inexpensive meat behind E & L's 16-foot butcher counter—among them pork, steak, chorizo, goat, and marinated chicken—is this store's biggest draw. Yet the produce and bakery items, including sugar-dusted ojo pastries, orejas (like a French palmier), and fruit-filled empanadas, are nothing to sneeze at.
E & L Supermercado
313/554-2140
6000 West Vernor Highway
Detroit, MI
MINNESOTA
El Burrito Mercado
Founded in 1979, this beloved market has garnered scores of "Best Of" awards in its home state of Minnesota. The store boasts a panaderia, a source of delicious pan dulce, as well as a postreria, stocked with tempting desserts, such as flan and tres leches cake. The market sells its own proprietary brand of tortillas and salsas, as well as plenty of produce, such as yucca, plantains, and fresh herbs. From spring through fall, patrons can munch on Mexican-style corn on the cob while shopping, and in the summer time, the owners open a seasonal taqueria.
El Burrito Mercado
651/227-2192
175 Cesar Chavez Street
St. Paul, MN
NEW MEXICO
El Mesquite
This Albuquerque, New Mexico grocery store covers all the bases with a full selection of Mexican produce, a bakery, tortilleria, a cafeteria-style restaurant open daily for breakfast, lunch, and dinner, plus a salsa bar, a meat market with items like their house-made chorizo, and a variety of Mexican cheeses.
El Mesquite
505/255-1163
3765 Isleta Boulevard SW
Albuquerque, NM
NEW YORK
Trade Fair Supermarket
At this international superstore, though tomatillos can be found alongside bitter gourds (used for Asian cookery) in the richly stocked produce section, Mexican food is especially well represented here. Brands like La Fe and Goya abound, and there are fresh whole fish, Mexican pastries, an impressive selection of Hispanic cheeses, like Mexican queso blanco and boricua, a Puerto Rican white cheese. Trade Fair also has its own trusted line of beans and spice mixes.
Trade Fair Supermarket
718/472-4788
2220 36th Avenue
Astoria, NY
Casa Latina
Though this small shop in downtown Poughkeepsie sources its products from all over Latin America, they give preference to the foods of Mexico. Tomatillos, nopales, mangoes, and even fleshy red mamey fruits are in ready supply, as are marinated cuts from the meat counter (try the mildly spiced chorizo casero). Oaxacan specialties abound, including the region's crispy, plate-sized tortillas.
Casa Latina
845/473-4096
651 Main Street
Poughkeepsie, NY
OREGON
Su Casa Imports
In addition to its supermarket and a meat counter, this Oregon-based grocer draws crowds with its full-scale taqueria and an extensive bakery featuring case upon case of Mexican pastries. Look out for Mexican snacks like cacahuates japoneses (seasoned peanuts) and cajeta (goat's milk caramel).
Su Casa Imports
Multiple locations
503/253-8093
16100 SE Stark Street
Portland, OR
TENNESSEE
Emilio's Grocery
The Mexican and Latin American groceries at Emilio's, such as the prickly pears, hibiscus flowers, and Mexican oregano, are welcome tastes of home for Tennessee's Hispanic population. But the biggest sellers are the meats: marinated skirt steak, short ribs, and other meats, offal, and chorizo. A full-service kitchen offers specialties such as tripe soup, tacos, burritos, and Mexican-style cheeses, to go.
Emilio's Grocery
901/365-3015
2757 Getwell Road
Memphis, TN
TEXAS
Fiesta Stores
This Houston-based grocery chain has more than 60 stores and counting, all featuring fresh seafood and meats, produce, a taqueria, salchichoneria (a hot deli), and a bakery serving fresh bolillos (rolls) for torta sandwiches.
Fiesta Stores
Multiple locations
713/869-6188
2300 N. Shepherd Drive
Houston, TX
Canino Produce Co.
Houston's Farmers Market
Also known as "Houston's Farmers Market," at 3,800 square feet, Canino Produce Co. is a behemoth. In addition to the American fruits and veggies, there is a wide selection of rice and beans, as well as produce used in Mexican cooking, such as hot peppers, jicama, cilantro, and six varieties of onion. Products from mass-market brands such as Mrs. Renfro's, Queso Campesino and Goya are available, too.
Canino Produce Co.
Houston's Farmers Market
713/862-4027
2520 Airline Drive
Houston, TX
La Michoacana Meat Market
As the largest independent Hispanic grocery chain in the United States, with nearly 100 outposts, these stores boast fruterias, well-stocked carnicerias, and panaderias rife with bready sweets. The cheese case is stuffed with Mexican quesos, and they stock hard-to-find Indio beer. The hot food bar and taqueria offer specialties like gorditas, sopes, and ceviches. Committed as they are to the community, sales circulars are written in Spanish.
La Michoacana Meat Market
Multiple locations
713/461-7302
1413 Gessner Drive
Houston, TX
UTAH
Viva Market
The sheer variety at this Utah grocery chain is astounding. There's a sweets-filled panaderia; a produce section stocked with the likes of cactus paddles, papayas, and habaneros; a carniceria with the makings of menudo, carne asada, and more; a deli with cremas, quesos, fresh salsas and guacamole—even ceviches. There's also an in-store restaurant that turns out tacos, tamales, tortas, and sopes, plus other favorites for breakfast, lunch, and dinner.
Viva Market
Multiple locations
801/961-0751
900 W. N. Temple Road
Salt Lake City, UT
VIRGINIA
Bestway Supermercado
This Washington, D.C.-area Hispanic grocery empire carries all the household staples, such as Goya dry goods, Jarritos sodas, and others, as well as a full selection of meat, cheese, and produce geared toward the Mexican-American home cook.
Bestway Supermercado
Multiple locations
703/780-0141
8457 Richmond Highway
Mt Vernon, VA
WISCONSIN
El Rey
Brothers Ernesto and Heriberto Villareal developed a passion for serving Milwaukee's Hispanic community while working at their father's grocery store, El Rey. Founded in 1978, the supermarket chain no longer caters exclusively to the Mexican appetite, having expanded over the years to serve customers from all over Central and South America and the Caribbean. (Even so, El Rey supplies most of the Mexican restaurants in Wisconsin.) The in-store brand blends the best of Mexico and America, with Wisconsin and Iowa corn in El Rey's tortillas, and the Mexican-style cheese coming from Wisconsin cheese factories.
El Rey
Multiple locations
414/643-1640
916 S. Cesar E. Chavez Drive
Milwaukee, WI