Recipes
Pollo en Escabeche Oriental (Yucatán-Style Chicken and Onion Stew)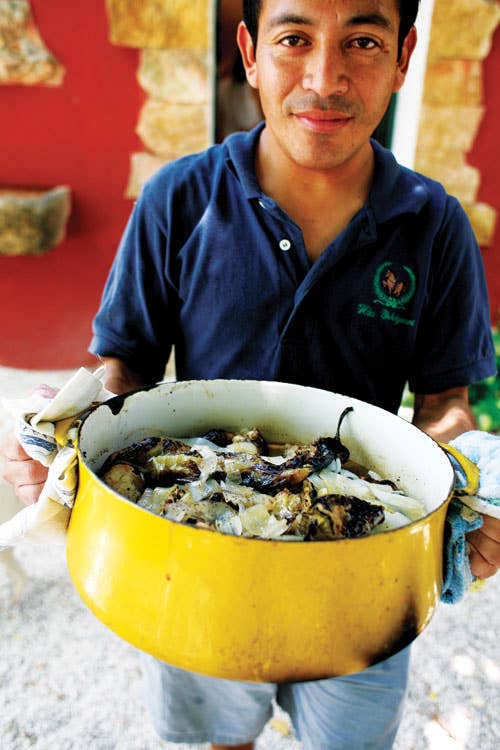 Delicately spiced, tangy escabeche, a preparation typical of the Yucatan, makes a vibrant marinade and sauce for stewed chicken. The three citrus fruits called for in this recipe approximate the flavor of the Yucatan's sour oranges, which are difficult to get here. This recipe first appeared in our August/September 2012 issue with Mauricio Velazquez de Leon's article Queen of the Yucatan.
Ingredients
1 tbsp. ground coriander
1 tbsp. dried oregano
1 tbsp. kosher salt
1 tbsp. ground black pepper
1 1⁄2 tsp. ground cumin
1⁄4 tsp. ground cloves
1⁄4 tsp. ground allspice
1⁄4 tsp. ground cinnamon, ground cinnamon, preferably canela (available at ranchogordo.com)
1 cup fresh orange juice
1 cup fresh grapefruit juice
3⁄4 cup fresh lime juice
4 cloves garlic, minced, plus 20 whole cloves, peeled
2 (3-4-lb.) chickens, each cut into 8 pieces
4 Anaheim chiles, stemmed
2 tbsp. canola oil
5 medium white onions, halved and cut into 1/2"-thick slices
2 cups chicken stock
Warm tortillas, for serving
Instructions
Step 1
In a small bowl, combine coriander, oregano, salt, pepper, cumin, cloves, allspice, and cinnamon; set spice mix aside. In a large bowl, whisk together half the spice mix, orange, grapefruit, and lime juices, and minced garlic; add chicken pieces, and toss to coat evenly in marinade. Cover with plastic wrap, and refrigerate for at least 4 hours.
Step 2
Meanwhile, heat a cast-iron grill pan over medium-high heat. Place whole cloves garlic and chiles on pan, and cook, turning as needed, until lightly charred all over, about 10 minutes for garlic, about 25 minutes for chiles. Transfer to a bowl, and set aside to cool. Remove chicken from marinade, reserving marinade, and working in batches, add to grill; cook, turning once, until lightly charred on both sides, about 8 minutes. Transfer to a plate and set aside.
Step 3
Heat oil in a 6-qt. saucepan over medium heat. Add onions, sprinkle with remaining spice mix, and cook, stirring occasionally, until soft and starting to brown, about 15 minutes. Stir in charred chiles and garlic, and then return chicken to pan along with reserved marinade and stock; bring to a boil, reduce heat to medium-low, and cook, covered, until chicken is cooked through, about 20 minutes. Uncover, and continue cooking until liquid is slightly reduced, about 15 minutes; serve with tortillas.