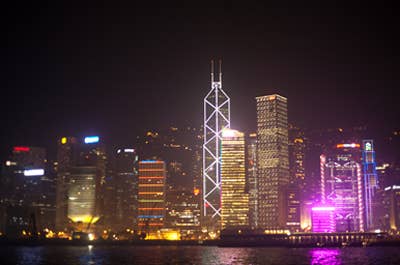 Kowloon Hotel
19-21 Nathan Road, Tsim Sha Tsui, Kowloon (852/2734-3777). Rates: $125-$360. This comfortable, affordable hotel offers a business- and family-friendly option in Kowloon's Tsim Sha Tsui neighborhood among some of the city's best shopping areas and directly across the harbor from Hong Kong's Central district.
The Langham
8 Peking Road, Tsim Sha Tsui, Kowloon (852/2375-1133). Rates: $160-$510. A popular boutique hotel in Kowloon's Tsim Sha Tsui district, this relaxing option is a quick walk from the ferry terminal, to the south, and Kowloon Park, to the north.
Langham Place
555 Shanghai Street, Mong Kok, Kowloon (852/3552-3388). Rates: $150-$420. This boutique hotel, which displays the work of local artists in its lobby and hallways, is the hipper sister of the Langham in Tsim Sha Tsui, reflecting the Mong Kok neighborhood's youthful vibe and bustling street life.
Mandarin Oriental
5 Connaught Road, Central, Hong Kong (852/2522-0111). Rates: $360-$1,200. This luxurious hotel, located in the city's Central district among high-end shopping malls, offers rooms that are larger than most Hong Kong residents' apartments and suites that rival the city's most expensive flats.
Fuel Espresso
International Financial Center, Podium Level 3, 8 Finance Street, Central, Hong Kong (852/2295-3815). Because of its colonial history and its high percentage of Western expats and finance experts, Hong Kong boasts some of the best coffee in Asia. If you're suffering from jet lag, this outpost of an Australian chain, where the baristas pull espresso shots worthy of a Seattle coffeehouse, will set you right immediately.
Australia Dairy Co.
47 Parkes Street, Jordan, Kowloon (852/2730-1356). This bustling 40-year-old spot, in a relatively quiet neighborhood in Kowloon, serves what may be the best breakfast in the city. Squeeze into a seat at a shared table and join the regulars in a $3 set breakfast of scrambled egg, chicken and macaroni soup embellished with strips of ham, and a thick slab of white toast topped with condensed milk. Or order a bowl of milk-custard, a mildly sweet, creamy concoction that will ruin you for flan and creme caramel for life. This spot's scrambled egg sandwich is also a local obsession.
Lin Heung Kui
46-50 Des Voeux Road West, Sheung Wan, Hong Kong (852/2156-9328). While Hong Kong certainly boasts dozens of phenomenal dim sum restaurants, not all are created equal. For the best, head to this crowded eatery, a local favorite hidden above a small, unassuming sweets shop. Order bracingly strong tea and standards like shumai and cheung fan, then try older specialties like shumai topped with whole quail eggs, and pillowy steamed buns filled with meat and vegetables—dishes that used to be common fare but are now nearly impossible to find.
The Chairman
18 Kau U Fong, Central, Hong Kong (852/2555-2202). For modern Cantonese food of the highest order, this elegant restaurant is hard to beat. The restaurant's chefs focus on using local, sustainable ingredients while making some of the most refined, delicious food in the city, like a flower crab steamed in chicken fat and aged shaoxing wine, braised tofu with morels, and smoked pigeon flavored with longjing tea and chrysanthemums.
Mak's Noodles
77 Wellington Street, Central, Hong Kong (852/2854-3810). Most patrons come here for one thing and one thing only: bowls filled with potent shrimpy broth and a nest of toothsome ramenlike noodles topped off with wontons filled with whole, perfectly cooked shrimp. The meal is made even better by a generous helping of hot sauce whose slight sweetness derives from its sweet potato base. (Ask nicely, and the shop will sell you a bottle of the sauce, which is also a fantastic partner for scrambled eggs).
Lan Fong Yuen
2 Gage Street, Central, Hong Kong (852/2544-3895). This unprepossessing tea stand and cafe, on one of Hong Kong's narrowest, busiest streets, claims to have invented the now ubiquitous Hong Kong milk tea, and it still strains each cup of the addictive brew through a silk stocking. You can pick up a cup of it, hot or cold, from the stand out front, or squeeze into the restaurant behind it for a chicken sandwich or braised noodles with chicken—both of which are strong contenders for the title of best lunch in the city.
Yin Yang
18 Ship Street, Wan Chai, Hong Kong (852/2866-0868). In 2008, when chef Margaret Xu opened Yin Yang, it was the city's first farm-to-table restaurant. Today, she still uses produce and fruit she grows herself on her two-acre farm in Hong Kong's New Territories, as well as homemade bean curd, sauces, dried fish, and preserved vegetables. She even designs her own equipment, including the old refrigerator she turned into a smoker and the oven made from terra-cotta pots in which she roasts whole chickens to crispy, luscious perfection.
Tai Cheong Bakery
35 Lyndhurst Terrace, Central, Hong Kong (852/2544 3475). Tai Cheong Bakery makes many kinds of baked goods, but everyone goes there for just one thing: the egg tarts. Silky and sweet, deep yellow in color, and with a lovely flaky crust, Tai Cheong's rendition of this ubiquitous snack was once pronounced the city's best by the last British Governor of Hong Kong, Chris Patten.
Yuen Kee Sweetened Food Experts
32 Main Street, Sai Ying Pun, Sai Wan, Hong Kong (852/2548-8687). Westerners may be under the impression that the Chinese don't eat sweets, but nothing could be further from the truth. Indeed, there are dozens of traditional Chinese sweets, from red bean-stuffed buns to candy-covered fruit, most of which are eaten as snacks rather than dessert. This spare restaurant in Sai Wan showcases traditional sweet soups, like thick, hot sesame soup and fresh walnut soup. They're a perfect afternoon pick-me-up, but be forewarned: they're very sweet!
Stanley Street Dai Pai Dong Stanley Street, Central, Hong Kong. A quickly disappearing facet of Hong Kong's foodways, dai pai dongs are informal restaurants that usually consist of nothing more than an open-air range under a canvas awning and some tables and stools placed on the sidewalk. This narrow, two-block street in the Central district is among the last places where you can experience them. Most of the vendors don't speak English, so look around until you find an open seat, then see if you can get any of the other patrons to help you order—or just point to something that looks good on one of the nearby tables.
Da Ping Huo
49 Hollywood Road, SoHo, Western, Hong Kong (852/2559-1317). When Wang Sui King and her husband, Wang Hai, first opened this Sichuanese restaurant in the Western district in the early 1990s, it was Hong Kong's first "private kitchen," unlicensed and open only to friends and people in the know. These days, private kitchens flourish all over the city, but Ms. Wang's cooking still draws so many people that to get a reservation for one of her twice-nightly prix fixe dinners you have to book more than a month in advance. The dishes change each night, but there are generally nine courses, which alternate between mild and spicy, the latter courses becoming hotter and hotter until everyone in the restaurant is giddy from the rush of endorphins and the complex, addictive flavors of the food.
Cake Shop at Mandarin Oriental Mezzanine
Mandarin Oriental Hotel, 5 Connaught Road, Central, Hong Kong (852/2825-4008). For a delicious glimpse of how Hong Kong's elite live, head to this perfectly appointed shop where gleaming cakes and fondant sculptures gleam inside glass cases. Take a seat among the businessmen in impeccable suits and their elegantly dressed wives, order a cappuccino and a brioche or fruit tart, and enjoy a quiet, civilized start to the day.
**Star Ferry
Various locations (852/2367-7065). While there are many options for travel between Hong Kong Island and Kowloon, the Star Ferry—which services terminals in Central, Hung Hom, Wan Chai, and Tsim Sha Tsui—is still one of the most convenient ways to get around, and the views it affords of the city are breathtaking. A nighttime ride, even if just across the bay and back, is also the best way to see the storied skyline.
Kowloon
Park Kowloon. For a bit of fresh air and a respite from Kowloon's bustling shopping districts, head to this urban oasis. Stroll through the rose garden, study the rhinoceros hornbills and rainbow-hued macaws at the apiary, or just watch locals practice their ballroom dancing in the covered pavilions.
Hollywood Road
Central, Hong Kong. Partway up the hills in Hong Kong's Central district, just a couple of blocks above the shopping malls and business centers, Hollywood Road is one of the city's most seductive areas. Wander along the winding road, stopping to window-shop in antiques stores; pause for a cup of coffee or a glass of crisp white wine at the Press Room; duck into the incense-filled Man Mo Temple; and you'll soon find yourself dreaming of moving to this city for good.
Man Mo Temple
124-126 Hollywood Road near Ladder Street, Central, Hong Kong. One of the oldest temples in Hong Kong, the Man Mo (Civil and Military) Temple is dedicated to two gods: Man Cheong, the god of literature, and Mo Tai, the god of war. Inside, conical spirals of burning incense crowd the ceiling, and locals leave offerings of fruit or lighted candles.
**Bird Market **
Yuen Po Street, Mong Kok, Kowloon. To venture beyond Kowloon's main tourist areas and see what real life is like for Hong Kong residents, hop a cab to the heart of Mong Kok district and this lively market, where vendors sell a stunning array of songbirds and parrots in traditional wooden cages as well as bags of crickets for cricket-fight enthusiasts.
Hong Kong Museum of Tea Ware
10 Cotton Tree Drive, Central, Hong Kong (inside Hong Kong Park) (852/2869-0690). In an elegant colonial building nestled within Hong Kong Park, this museum is a trove of information about the fine art and history China's tea ware. You can browse the collections of centuries-old teapots, watch videos of the Gong Fu Cha tea ceremony and of an artisan handcrafting a precious yixing teapot, and buy replicas as well as modern designs, at surprisingly reasonable prices.
Victoria Peak
33 Garden Road, Central, Hong Kong (852/2522-0922). If you're lucky enough to have a clear day in Hong Kong, ride a glass-topped cable car up the cliff from Hong Kong Park and enjoy peerless views of the city and of the south of Hong Kong island, a verdant, unpopulated counterpoint to the urban bustle. Be sure to buy the combined Peak Tram and Sky Pass ticket—you'll need both—and persevere through the five-level gauntlet of curio shops to get to the viewing deck.
Lam Kie Yuen Tea
105-107 Bonham Strand East, Sheung Wan, Hong Kong (852/2543-7154). At this modest tea store in Sheung Wan, you can sample the cream of China's teas and learn how to brew them properly, first rinsing the leaves and inhaling their aroma, then steeping them repeatedly, each cup revealing a different side of the tea's character. The store sells several grades of green, oolong, black, and white teas, from moderately priced second-grade tea to the finest Imperial Crown Grade, made from the first flush of the spring harvest.
Dried Fish Street
Des Voeux Road West, Sheung Wan, Hong Kong. For a completely different view of Hong Kong from what you get in the busy luxury-shopping districts in Central and Tsim Sha Tsui, take a walk along this wide street where every store for blocks sells one thing: dried seafood. The best time to visit is morning, when Chinese grandmothers do their shopping, carefully selecting from bags of tiny orange shrimp, baskets of delicate whitebait, and stacks of iridescent red mullet with yellow stripes down their backs.
Monsieur Chatte Grande Saveurs de France
121 Bonham Strand East, Sheung Wan, Hong Kong (852/3105-8077). If you ever start to forget that Hong Kong was a British colony, and that its residents are accustomed not just to the finest Chinese food but also to the finest Western delicacies, head over to this three-story cheese and wine shop that carries a wide selection of oils, pastas, confits, and French condiments. Chat with the owner to find out which raw-milk cheeses he's recently received, or order a sandwich or a small quiche to eat in the quiet third-floor lounge.