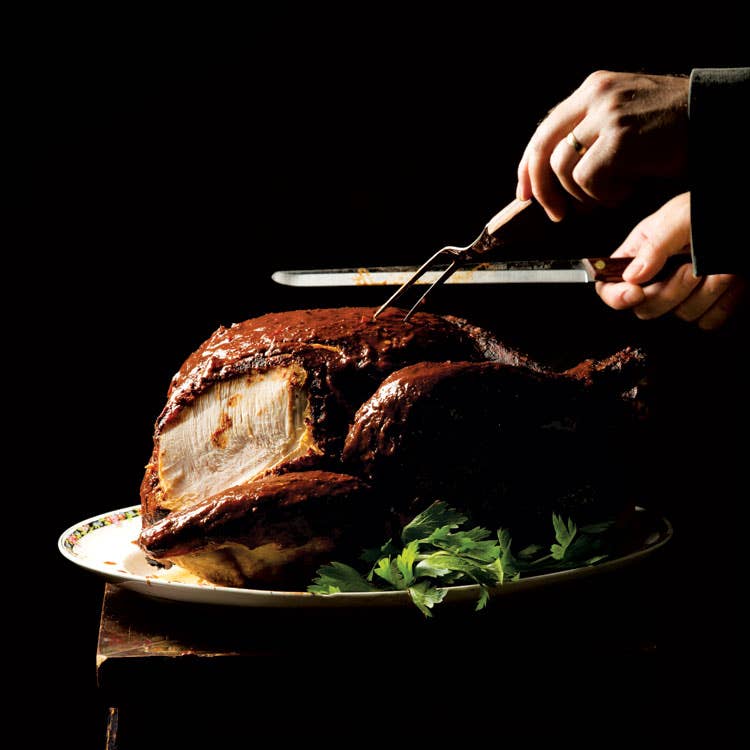 Travel
Meat of the Matter
In Pasadena, California, a Thanksgiving like no other
I've never understood why people complain about roast turkey being dry, or bland, or otherwise not delicious. But then, the turkey the Cabral family sits down to each Thanksgiving at my older sister's apartment in Pasadena isn't the turkey everybody sits down to. When that big, chile-rubbed bird comes to the table, its crisp skin burnished a deep red, it's like, "Yeah. Time to eat."
As a kid, I assumed every family ate a turkey like ours. It wasn't until I was a teenager and started getting interested in cooking that I realized how special my mom's recipe is. When she was growing up in rural Zacatecas, Mexico, meat was a luxury, eaten sparingly. This turkey of hers is an American invention, an artifact of the life she's lived since immigrating to Los Angeles in 1961, but it tells the story of where she comes from, too.
She begins by rubbing the turkey with a spice paste, and from the smell of the ground cinnamon, cloves, and New Mexico and arbol chiles as the turkey roasts, you might think she had a mole or a birria on the stove. Slowly, the bird's fat and juices accumulate at the bottom of the pan, along with some of that spice, forming a pool of red gravy that the wings, thighs, and drumsticks cook in almost like a confit. Meanwhile, the exposed skin on the rest of the turkey becomes crisp, dark, and delicious.
The gravy cooks down until it's thick and intense, and we always have soft rolls on hand to mop it up. So why stuff the turkey with more bread? That's my mom's logic, anyway. This holiday is about meat and more meat, as far as she's concerned, and so the stuffing is a savory ground beef picadillo pumped up with chopped green peppers, beets, and green beans, and black olives. On the side we have baked potatoes, because that's what Americans eat with a fancy meal—or so my parents concluded when they dined out in steak houses after coming to the U.S. in the sixties.
Until I started contributing a side of roasted Brussels sprouts a few years ago, there was no other vegetable on the table. Well, there were the candied yams, but we eat those Mexican style, for dessert, stewed in a syrup of piloncillo (unrefined sugar) laced with cinnamon and cloves. We each get one whole yam, soft and syrupy, and mash it with a fork before pouring milk over the top. It's not exactly all-American, and it's not strictly Mexican, either. It's pure Cabral.