Mega Monsieur: Porto's Francesinha Sandwich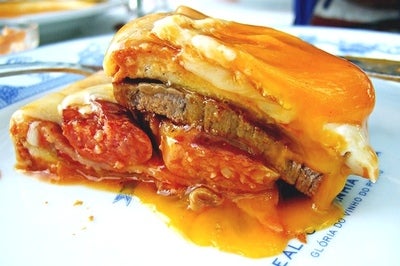 I was fairly sure, when I went to Portugal last year, that the culinary high point of my visit would be salt cod: bacalao shows up on virtually every menu, for breakfast, lunch, and dinner, in a seeming infinity of variations. But once I stepped off the train in Porto, the country's cultural heart 300 km north of Lisbon, I found the Portugal's gastronomic apex, and it had nothing to do with fish. In almost every bar, in almost every restaurant, there it was on the menu: the francesinha, a sandwich of such unabashed extremes that it immediately eclipsed every meal I'd eaten since landing in the country.
The sandwich's origins are murky, but its name makes clear the connection to France's famous croque-monsieur: francesinha means "little French one." But a little thing it's not: the specifics of vary from restaurant to restaurant, but everywhere the sandwich includes the same basic components. First, two slices of bread — sometimes toasted sandwich bread, sometimes boot-sized slabs of country loaf. Between them, a cacophony of meats: thin-sliced ham; slender linguiça sausages, sweet and spicy; and anchoring it all, a tender, quarter-inch-thin steak. The whole thing goes under a blanket of broiled cheese, and on top of all that, a beer-based tomato sauce that's simultaneously sweet, rich, and tangy. Putting away an entire sandwich in one sitting is an ambitious prospect for even the sturdiest of eaters, but the first time I was presented with a francesinha I dug in with gusto, fork and knife flying. (This is very much not a sandwich to eat with your hands.) I made it about halfway through before, bested, I had to hand it off to my boyfriend, who gave it a champion's try before declaring defeat with just a few bites left on the plate. But we weren't disappointed; happy and sated, we walked hand in hand out into the Portuguese evening, and fell that night into deep, sandwich-filled dreams.