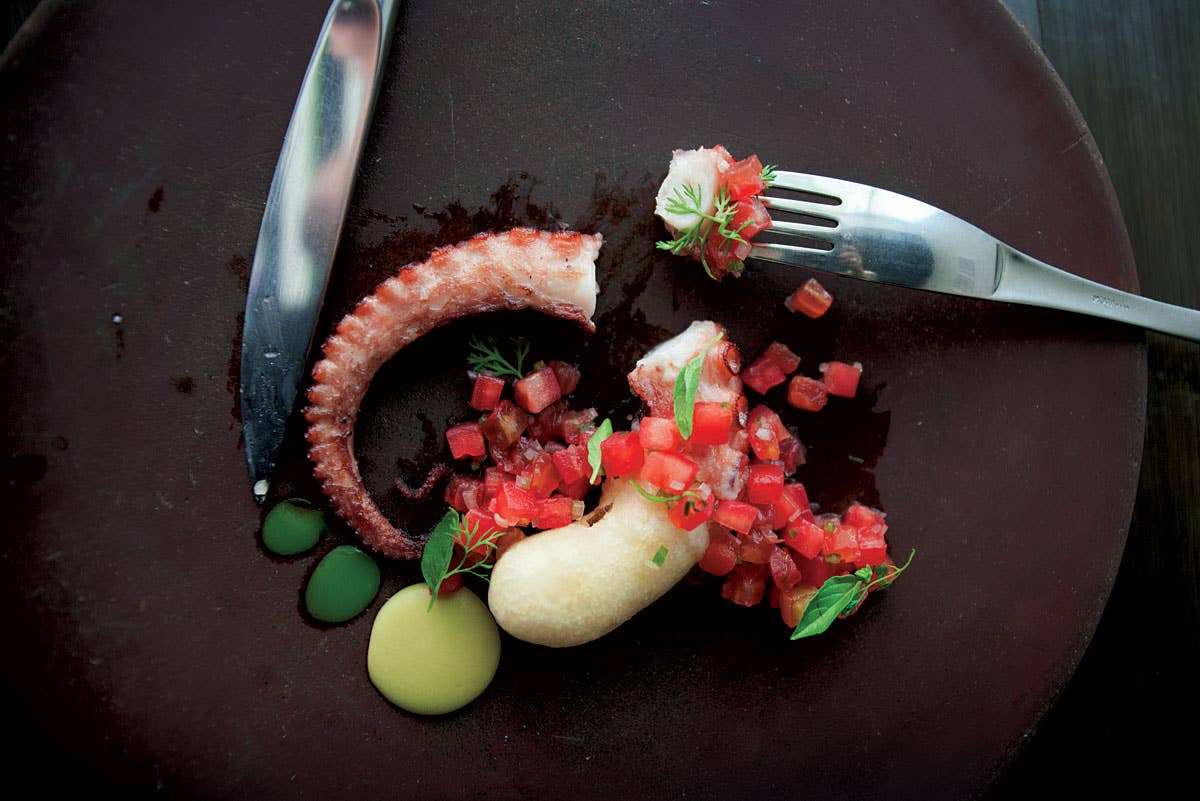 Travel
Mexico City Star
At Pujol, chef Enrique Olvera elevates native ingredients to stellar heights
This past summer, the infusion de quelites that kicked of the meal at Pujol, the groundbreaking Mexico City restaurant, came in a French press pot, a verdigris tangle in a warm salt bath. Plunged and poured, this clean, golden-green broth of mixed, small-leafed greens—amaranth, lamb's-quarters, and others—flavored with charred onion and pasilla chile was supremely simple and soulful. Breathing in its fragrant steam, I felt the stress of fine dining in a foreign language melt away. My ego relaxed; my spirits rose.
This small restaurant, with its charcoal-walled, low-ceilinged dining room, was the last place I'd expect to feel so close to those plants—or, as it turned out, so close to the street. But Pujol's acclaimed young chef Enrique Olvera managed to deliver an experience that was at once transcendent and deeply rooted in Mexico. The heavenly quelites brew came on the heels of Pujol's devilish amuse, a riff on the grilled corn that you find hawked on seemingly every Mexico City corner. Skewered elotitos, or baby corn, were draped in coffee mayonnaise, lime, and an earthy mixture of salt and toasted ground flying ants. They were served in a gourd filled with burning corn husks that recalled a cazuela, a traditional cooking pot. The cobs were crunchy and sweet; the dressing creamy and bitter. With its sour, umami, saline, and smoky notes, it was a lagniappe that seemed to offer everything.
All of these flavors, all this food for thought in the first few bites of a multicourse meal? I'd been in Mexico several days before my first visit to Pujol. I'd walked between rows of vegetables on small family farms, cooked mole and tortillas in Mexican homes, gorged on cemitas and quesadillas at market stalls. But just when I was getting acquainted with the hallmarks of the cuisine, Olvera upended what I thought I knew about good Mexican food—and where to get it. In the process, he left me with an appreciation for the vitality and purpose of fine dining in a country abounding with excellent cheap eats. There was a richness to the references in the dishes that I ate at Pujol, a conceptual and sensory interplay as exciting as the action on the capital's teeming avenidas. For Olvera, it's all about promoting Mexican culinary tradition by playing with it.
With its inclusion for a second year on San Pellegrino's list of the world's 50 best restaurants, Pujol is the most visible player in the transformation of Mexico City's haute dining scene, which has been under way for more than a decade.
In the 12 years since Olvera opened Pujol, other noteworthy chefs, such as Patricia Quintana and Ricardo Muñoz Zurita, have launched new restaurants to serve not the Continental cooking of past decades, but stylish versions of the full-favored dishes that the majority of Mexicans eat in their homes, on the streets, in taquerias, and in fondas. Where once there were French and Spanish classics, now there are tacos and tamales composed of indigenous greens and corn, beans and chiles.
Olvera lists Muñoz Zurita, author of the Diccionario Enciclopedico de Gastronomia Mexicana (Clio Editorial, 1998), a seminal work on traditional Mexican cookery, as an influence. But for the 36-year-old Olvera, tradition is only a starting place. Trained abroad at the Culinary Institute of America in Hyde Park, New York, Olvera cooks Mexican food with a global perspective. The chefs Thomas Keller and Ferran Adria are also among his inspirations—Olvera's unctuous and elegant huevos con nopales, in which creamy, nutty giant ant eggs sit in a pool of emulsified hen egg dusted with burnt onion powder, recalls the caviar, mollusk, and sabayon of Keller's famous "oysters and pearls," and he says his potato souffle, in its puffed masa casing, is cribbed from Adria's now-closed restaurant, El Bulli. The chef appears frequently at events outside Mexico, and his cookbooks, UNO (Editorial DN3, 2010) and En La Milpa (Editorial DN3, 2011), are filled with photos of lush farmsteads as well as gorgeously deconstructed dishes. Rene Redzepi, the pioneering chef of the restaurant Noma in Copenhagen, is a friend. He is, in short, a chef that seeks to honor his native foods by elevating them in unique and exhilarating ways on a global stage, much like Redzepi has with his New Nordic cuisine.
At Pujol, the loin of the Yucatan bald pig, a miniature breed known for its sumptuous fat, is a perfect porcine rectangle, poised in a bowl into which a server pours a silky ebony black bean-and-pork infusion. Sleek and composed, it's a far cry from the rustic frijoles con puerco eaten in Tabascan or Yucatecan markets, but its DNA is a close match, and it's equally delicious. A half-moon of candied sweet potato arranged with cubes and quenelles of yogurt and milk ice creams, a sweet amaranth wafer, and toasted pumpkin seeds in a pool of guava puree is as geometrically sophisticated as a Leger painting, but the dessert's component parts would be familiar to any sweet-toothed Mexican toddler.
Olvera's project, too, extends to the drink pairings; in addition to Mexican wine, craft beer, and mezcal to accompany dishes, there are several enticing aguas frescas, those ubiquitous street drinks made with fresh produce. A cilantro, cucumber, and lime version comes with a red snapper chicharron; a strawberry-cardamom elixir and other blends come along later. "It's a way that you can feel like you are in Mexico," Olvera told me when I called him after my visits. "People who come from wine countries are not necessarily going to be impressed by Mexican wines, but we can highlight the creativity of the waters."
Yet some of Olvera's references are so subtle and particular that even Mexican diners might not catch them. An heirloom tomato salad, a sort of global indicator of locavorism, seems just fine. But few would realize that in this dish, garnished with a marble-size orb of quesillo, a string cheese, along with sesame seeds, a large bean leaf sprayed with the essence of jalapeño chiles, and a chipotle vinaigrette—all the flavors one would find in a cemita—the chef has created a sly paean to that Pueblan sandwich.
Olvera's octopus a la mexicana, in a traditional red, green, and white salsa that mirrors the colors of the Mexican flag, quietly announces the chef's intention to cement Mexican food in the pantheon of the globe's most revered. But it took the chef explaining it afterward for me to understand: The question-mark curl of a single poached tentacle is partially peeled, as is common in Mexican homes, partially cloaked in suckers, as in Galicia, Spain, and partially tempura-fried, a nod to Japan. The dish is an homage to all three foodways and a demonstration of the chef's internationalist ethos. Still, no matter the concept, the octopus looks beautiful, and it tastes great.
Though Olvera's food is fancified and sometimes fantastical, with elements borrowed from cuisines the world over, it's executed with reverence for the rustic techniques and age-old methods of the traditional cocina. Tender and mild as a lullabye, the meat in the milk-fed lamb, paired with green pea puree on a poblano-chile-and-cilantro tortilla, has a silkiness that I would have sworn came as a result of sous vide cooking. It turns out that it's prepared in a conventional oven at an ultralow temperature, a method that Olvera adopted from traditional slow-smoked barbacoa.
Borrowing, too, a practice from la milpa, an age-old style of Mexican farming, with its "tradition of harvesting and using everything," as the chef puts it, Olvera lets little go to waste. His economy is a platform for his creativity. Olvera breaks down a single red snapper, for instance, to make three separate preparations. He serves its filet with a creamy onion puree, ginger-and-habanero confit, and a drizzle of orange oil. He fries the skin for the oceanic chicharron garnish on the agua fresca. And he makes ceviche from the trimmings to stuff a chayote-based tortilla, decorated with an aromatic hoja santa leaf, as one might find done in the north of the country.
"We're rediscovering all the traditions, and that's a really good thing," the chef told me. "At the market level, the quality has always been great. And most Mexicans eat really well at home. We didn't see that in restaurants. Now we're starting to."
Indeed, Olvera has inspired a whole new generation of young Mexico City chefs. Daniel Ovadia of the edgy Paxia, Sud 777's Edgar Nuñez, and Pujol alumnus Jorge Vallejo of the restaurant Quintonil all share Olvera's aspiration to meld Mexican heritage with far-flung innovations. "We need to be taking the cuisine further than just reinterpreting our traditions," Olvera says. "We're trying to change things a little bit."
So he leads diners toward dessert with an intermezzo called platano dominico pasado that tastes ancient and entirely new all at once. A banana so ripe it is starting to ferment is browned in butter, dotted with sour cream and mint leaves, draped in black curls of chile, and dusted with feathery ground macadamia. Though the rest of the ingredients are familiar, the nuts are a relatively new crop, a representation of the potential of the Mexican soil. Just slightly sweet and also sour, earthy and creamy, toasty and bright, this banana dish demonstrates, in delectable fashion, how multifaceted the staple fruit can be.
Part of Olvera's success lies in the fact that when he nudges the cuisine along to new places, he does it with such charm and wit. Take the avocado flauta on Pujol's "sea menu." Instead of a deep-fried tortilla, the cigar-shaped roll is formed with overlapping, paper-thin avocado slices, each perfectly ripe and pristine. Stuffed with poached shrimp and octopus and paired with a dollop of mild chipotle mayonnaise, this flauta recalls not so much the vendor snack after which it is named as it does a quint-essential dish for the ladies who lunch, half an avocado stuffed with seafood salad. The mash-up of forms is intentional, an exemplar of the chef's sense of humor. If he must feed high-end diners, it seems, he might as well serve a little joke on them. Olvera's graceful riff might lack the textural and chile-driven punch of its streetwise namesake. But it's delicious in its own right, and it does just what seminal restaurant food should—it takes the culinary conversation far past the nearest corner.