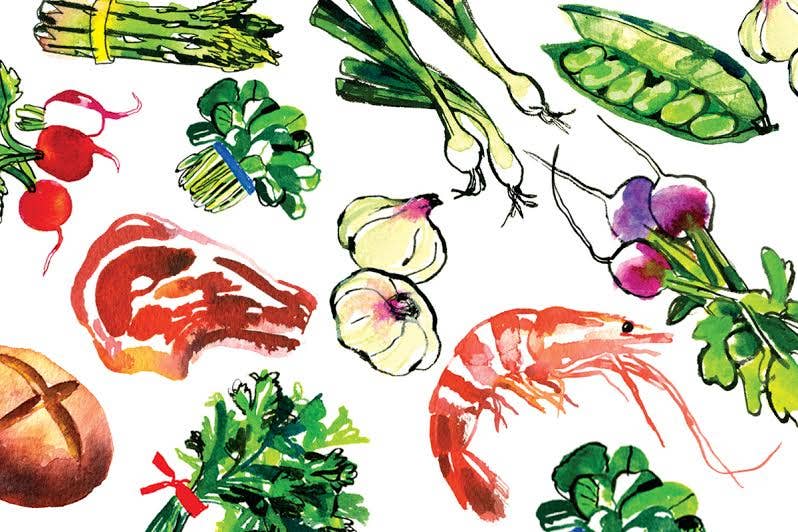 The cook at the Big Boom street food stall—a woman in her 40s whose straight, black hair was artfully tucked underneath her hairnet—was studying me from behind the counter. Thwacking a lemongrass stalk with the flat side of a cleaver, she asked, in English, "You want to look?"
I was in Thale Noi, a sunbaked fishing village in the province of Phatthalung in southern Thailand, and I had just placed an order for tom yum goong, a soup under whose spell I had fallen in a San Francisco Thai restaurant as a teenager. A good rendition of it—whole shrimp or prawns in a sweet-sour-hot-citrusy broth—is like liquid joy.
But that was not the only reason I had ordered it. Tom yum goong, which is eaten throughout Thailand, expresses the culinary temperament of the place where it was cooked better than any other Thai dish I can think of. The versions I've tasted in the central part of the country, which includes Bangkok, have usually been made with lots of nam tan, a golden, semimoist variety of sugar derived from a local genus of sugar palm—a clear reflection of the region's love for sweet-tasting foods. Conversely, the tom yum goong I've had in Isan, as northeastern Thailand is known, was intensely pungent, as the cooks there use chiles with reckless abandon. The cuisine of the southern part of the country was mostly a mystery to me; I was eager to find out what its tom yum goong would taste like.
I joined the cook on her side of the counter and watched as she pared away the bright pink shoots emerging from a piece of galangal (a knobby, firm-fleshed rhizome closely related to ginger) and then sliced the ingredient into thin rounds that gave off a bracing, piney scent. As she worked, she told me that her name was Pornpitlum Pattcha and that she and her husband had opened up the stall a few years earlier.
"Usually we just have one or two curries, a noodle dish, and rice, always rice," she explained. "You want peht?"
"Peht," I said under my breath. It was not one of the Thai words my jetlag-addled brain could recall. Pattcha held up a handful of small red chiles and smiled.
"Yes—peht. Peht!" I said, my memory jogged. "I do want it hot. Very hot!"
Pattcha stemmed the chiles and slit them in two and then did the same with the lemongrass stalk that she'd smashed just a few minutes earlier. She placed the galangal and lemongrass, along with eight crumpled kaffir lime leaves and two garlic cloves, into a pot half filled with water. After briefly simmering these ingredients ("I know it is finished because the smell is good," she said), Pattcha added the chiles and five prawns, which she had also halved lengthwise. When the prawns had begun to turn opaque, she added a few spoonfuls of nam tan, several quartered plum tomatoes, a spurt of fish sauce, and fresh lime juice. She stirred everything together for a moment, tasted it, and then, with a quick nod, pronounced the soup done. She handed me a spoon.
Though the tom yum goong had been simple to prepare, it tasted miraculously complex. The subtle broth allowed the warm flavors of the chile, lemongrass, and galangal to come through like rays of sunshine on a cloudy day, and the prawns were as sweet as candy. Within minutes, I had slurped down an entire bowl. Sweat pouring from my brow, I asked Pattcha for another.
I decided to visit Thailand's southern provinces to satisfy a curiosity that I've harbored since 1983, when I first passed through the region on an overnight train traveling from Bangkok to Kuala Lumpur, Malaysia. I still remember looking out the window at daybreak and beholding a countryside that was green and alive. Rice paddies stretched into the distance like squares on a chessboard, their flatness broken only by limestone formations that jutted up at random. It was a postcard vision of Southeast Asia. The train chugged along, stopping in towns with exotic-sounding names: Surat Thani, Ban Na Sam, Thung Song.
I was famished by the time we arrived in Phatthalung, the small capital city of the province of the same name (in which Thale Noi is also located). I asked the conductor how long it would be before the train pulled out of the station; at least 20 minutes, he told me. I could make out the edges of an open-air market, so I walked toward it, hoping to find something good to eat.
Soon I encountered a compact maze of at least 50 vendors offering prepared food. It was hard to know where to begin. I saw pots full of luscious-looking curries, noodle soups seasoned with ginger and pork bones, and alluring rice dishes that looked only distantly related to the Thai food I had previously known. I stopped at a stall operated by an elderly woman and ordered a rice salad, which she said was called kao yum, and something that resembled chicken biriyani.
"It is kao mok gai," she told me, "spicy chicken rice. You will like it."
She was right. Back on the train, I devoured both dishes. The kao yum was flavored with toasted, grated coconut and finely julienned lemongrass and kaffir lime leaves; it was a riot of fragrance and texture. The kao mok gai contained cumin and coriander, and it was served with a few cooling slices of cucumber; though its roots were probably Indian or Middle Eastern, its gracefulness was utterly Thai.
I reached the Malaysian border later that afternoon, but my brief exposure to Thailand's south had given me a taste of how radically different that area is from other parts of the country.
Pahk tai, as the southern region is called in Thai, is a narrow peninsula connected to the country's mainland by the Isthmus of Kra, a finger of land that borders Myanmar. To the west of pahk tai is the Indian Ocean, and to the east is the South China Sea. As the sea is a pervasive presence—the region's cities all lie within an hour's drive of the coasts—fishing and maritime trade have defined its economy since ancient times. And, like many of the world's maritime locales, it became a repository of the cuisines and traditions of the different cultures that called at its ports and wielded influence over the years.
Early in southern Thailand's recorded history, starting in the seventh century, the Hindu trading empire of Srivijaya, based in southern Sumatra (part of present-day Indonesia), controlled its waters; both Indian and Chinese ships sailed through them. After the decline of Srivijaya's influence, in the 13th century, Muslim sultanates, many of which were based in what is now Malaysia, rose to power. Their authority was shared with the Buddhist city-state of Nakhon Si Thammarat, located on the eastern coast, which developed around the same time. Today, most of the residents of the southernmost provinces—Narathiwat, Pattani, Songkhla, and Yala—are Muslim, and many of them, citing discrimination born of centuries of political and cultural domination by northern Thais, have separatist leanings. The politically charged atmosphere has frequently led to violence. However, in the provinces just to the north—including Phatthalung, Trang, and the popular beach resort destinations of Krabi and Phuket—the population is mostly Buddhist, and the area has remained largely peaceful.
Regardless of political and religious allegiances, one thing binds all khon thai—as southerners are collectively called—together: the sense that they are not only physically separate but also culturally distinct from their northern neighbors. They speak Pasah Dai, a Thai dialect, and Yawi, an ancient Malay language. The methods they use to build their houses traditionally have been more similar to those used in Malaysia than to those used in the other regions of Thailand. And the vibrant foods they cook convey a subtle multiculturalism that sets them apart from the rest of country.
For instance, gaeng mussamun (Muslim curry), a popular coconut milk-based curry, uses an abundance of dried spices (including cumin, coriander, and black pepper) more commonly found in the cuisines of India and Indonesia than in that of Thailand. Gaeng som, a currylike dish with fish, pineapple, fresh turmeric, and gapi (Thai shrimp paste), has a sweet-sour interplay that immediately calls to mind the foods of Malaysia and of Singapore's Peranakans, a Malay-Chinese cultural group celebrated for its cuisine.
Although southern Thailand's dishes run the gamut from refreshing salads to slow-cooked stews, one overarching rule seems to define them: they always exhibit a refined balance of hot, sour, and sweet, with no single element overwhelming the others.
A few days after I had eaten Pattcha's tom yum goong, I was strolling through Phatthalung, happy to be back two decades later in this sleepy city for longer than a whistle-stop. It was dusk, and the neon pink sky reflected onto Khao Ok Thalu, the immense limestone outcropping that rises in the center of town like an otherworldly skyscraper. My companion that day was Apai Kongmanon, a soft-spoken radio journalist in his 60s whom I had met by way of the local tourism office. I had been told that Kongmanon, who grew up in this city, considers himself an arbiter of old-guard southern Thai culture and could explain its foodways better than anyone else around. As we walked, he talked about a southern Thai style of classical dance called manohra buchayan, one of his passions.
"It is from the days of Srivijaya—and from when Indian spice merchants were in our ports," he said. "It is from the past, but it is fundamentally Thai!" For dramatic emphasis, he came to a standstill and arched his left hand above his head in a classical-dance pose. At that moment, two women passed by and gave Kongmanon the respectful Thai greeting known as a wai (head bowed, hands brought to a prayer position at the forehead). He returned the wai and then whispered to me, "Everyone here is familiar with my eccentricities."
I explained that I wanted to revisit the market near the train station—the one that I had known from my previous visit. Kongmanon said that wouldn't be possible; it had already closed for the day. But he had something even better in mind. "I will show you where we eat at night," he said.
Soon, we were on Yud Tee Tam Road, a ten-minute walk away. On both sides of a two-block-long stretch of the street were merchants who had set up wooden food stalls. Kongmanon grabbed my elbow and guided me into the crowd. "We have only a few restaurants in Phatthalung," he said. "People come to this night market to get their dinner."
I was familiar with the concept of outdoor night markets from my years of traveling in Southeast Asia; they allow people the pleasure of food shopping in the evening hours, when the heat of the day has eased. But I had never encountered one that was so focused on prepared foods rather than raw ingredients. We stopped at a stall whose display was particularly appealing. Kongmanon pointed out a few highlights.
"That is yum pak grood," he said, indicating a large enamel tureen brimming with a deep green-colored curry made of young, wild ferns and whole, peeled shrimp. Next to it were a few grilled mackerel, naked except for salt, and an arrangement of uncooked leaves and herbs, including cashew and tamarind leaves, that had been tied into pretty bundles. The latter—called, collectively, pak naem, Kongmanon told me—were meant to be nibbled on judiciously at meals to contribute extra exuberance, bitterness, or sourness, depending on the leaf.
We departed from the night market and drove out of town for a few miles, stopping at a no-name food stall on the side of a little-traveled road. It was empty save for the cook who was manning it, a young man named Pom, an acquaintance of Kongmanon's. As we chatted, Pom prepared another local dish that Kongmanon wanted me to taste, this one called yum takrai—a salad of finely sliced lemongrass, shallots, and dried shrimp—to go with our fern curry with shrimp. Soon the three of us were eating, accompanied only by the hum of the fluorescent light that hung overhead. After a while, Kongmanon broke the silence. "In this food," he said, "you can taste my home."
Though the next stop on my journey was just an hour away by car, it seemed to be a world apart. Trang, a city of 68,000 people, was a bustling regional center of wide boulevards and traffic lights that actually worked (an uncommon state of affairs, I'd found, in Phatthalung). There was even a large, comfy hotel—the kind of anonymous, "international class" establishment that felt as if it could be in suburban Chicago or, just as easily, near the Cairo international airport. I checked in and sank into the first plush bed I'd seen in a week. After waking up from a long nap, I made my way outside into the afternoon heat to find out more about Trang.
Everywhere I looked there was evidence of the city's vibrancy, a dividend of its centuries-old history as a trading center. Jewelry shops and banks competed for space with cafes selling snacks and ko-pi boran—strong black coffee enriched with sweetened condensed milk. Much of the signage was in Chinese, evidence of Trang's sizable population of Hokkien, a southern Chinese ethnic group long settled in Southeast Asia. I ducked into a nondescript restaurant along a busy street. When the non-English-speaking waiter inquired what I wanted to order, I hesitated, uncertain as to what the local specialties were. Then, remembering a lesson from my travels, I took a gamble and pointed to the table next to me.
A few minutes later, my meal—a steaming platter of stir-fried rice vermicelli with chinese chives—was placed in front of me. At first glance it seemed more like a subtle Chinese dish than a bold southern Thai one. Then I tasted it. Lip-curlingly pungent and delicious, it had been seasoned with garlic and an eye-popping amount of finely ground black pepper. It was southern Thai, through and through.