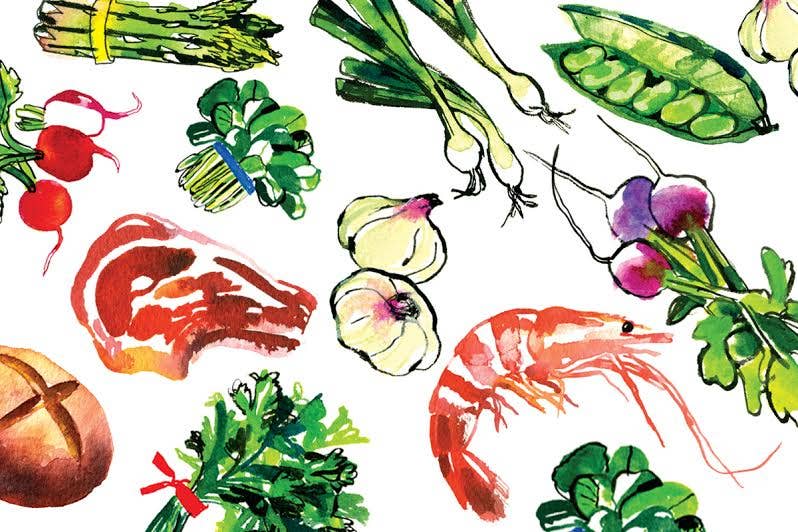 Natives of the Auvergne, known as Auvergnats, have long been the traditional proprietors of Paris's bistros, those convivial restaurants where "the soul of Paris eats, drinks, and is revived", to borrow the words of François Thomazeau, author of The Authentic Bistros of Paris (The Little Bookroom, 2005). Thomazeau points out that many of the city's bistros are still owned by Auvergnats or their descendants, though today you're almost as likely to find proprietors who were born in Algeria or Vietnam.
During the late 19th and early 20th centuries, Auvergnats fleeing rural poverty streamed into Paris; many of them found work as coal vendors who would also occasionally sell wine from their kiosks. Many of these cafes-charbon were the forerunners of the classic Paris bistro, where the typical bill of fare—cured meats, simple pork and poultry dishes, hearty salads made with blue cheese—can still trace its roots to the rustic cooking of central France. During the 20th century, the Auvergnat population of Paris became a close-knit community, woven together by mutual aid societies, trade syndicates, and social networks. For the past 126 years, they've even had their own newspaper, L'Auvergnat de Paris, which has served as both a trade journal for cafe and restaurant entrepreneurs and a community mouthpiece for Parisians of Auvergnat descent.
Christophe Coubetergues, the paper's current managing editor, says that the Auvergnat community of Paris still constitutes the publication's principal readership. "Today," says Coubetergues, "many people from the Auvergne are not restaurateurs but purveyors…. They've jumped up a class, you could say." Indeed, many Parisian restaurateurs have close relationships with Auvergnat suppliers. Regine Dumas, the owner of Chez Grisette, a popular bar a vin in the Montmartre neighborhood, composes much of her menu around Auvergnat products, especially the cured and cased meats from the Bruel farm in the Cantalian village of St-Illide. Why is Dumas, a Parisian by birth, so loyal to her Auvergnat suppliers? "They have the best products," she says. "And I guess I'm an Auvergnat at heart."