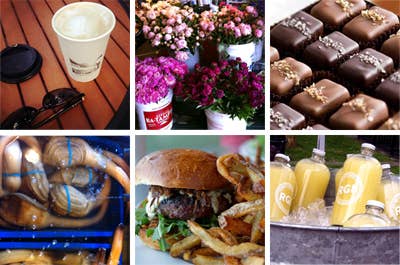 Travel
5 Things You Can Only Get in Seattle
From geoduck to smoked-salt caramels, five favorites not to miss in the Emerald City
Seattle residents like to say that coffee is such a lifeblood to the city because of all the gray days that rest over their harbor home. Maybe that's true, but as I ate my way around the hilly, harbor town on a recent June weekend, I sensed something else, as well — the coffee in Seattle wasn't just good, it was fantastic, and so was almost everything else I consumed. There's a friendly, open-minded zeal for nature's bounty: I ate some of the freshest, sweetest oysters I've had, and wished for a way to teleport back to NYC a bright, fresh bunch of the pillowy peonies I found for sale at every farmers' market. On the plane ride home, a woman across the aisle from me had a bunch of the same purple beauties tucked into the pocket of the seat in front of her, slowly wilting — it's exactly these things we can't quite bring home with us that make travel special; the vibrant discovery of things you can't find anywhere else. If you're in Seattle, these five things don't get better than they do here:
For a visual person, it can be difficult to wrap your mind around a geoduck (pronounced gooey-duck), the alien-looking, shockingly phallic clam native to the Pacific Northwest. But it's a Seattle rite of passage to stare one in the face and then consume at least a bite, and so I headed to Taylor's Shellfish Farms, where an open-topped tank houses an impressive array of live oysters, clams, and geoducks, all ready to be packaged to go, or shucked and served on the spot. Sliced into thin, white, rippled slivers, the raw neck of the geoduck is pleasantly toothsome, with a mild, sweetly saline flavor. Taylor's serves it with soy sauce and wasabi, and they say the body meat makes for a killer chowder.
Taylor Shellfish Seattle Melrose Market
1521 Melrose Ave.
tel: 206/501-4321
While traveling in Britain, Seattleite Rachel Marshall was duly impressed with the phenomenal selection of fiery ginger beers available in that country. Returning home, she realized there was a void to be filled, and so in 2010, while working in a local restaurant, she started tinkering with a fresh ginger beer recipe during her off-hours. The result, a spicy-tart blend of fresh ginger and lemon juices, sparkling water, and organic cane sugar, is now served in more than two dozen restaurants and bars around Seattle, including Rachel's own bar Montana, where it's mixed with whiskey for the excellent pint cocktail, Montana Mule. Rachel's Ginger Beer is also available at three of Seattle's farmers' markets, where you can get it by the cup or re-fillable growler in both the original and a rotating seasonal flavor.
See Rachel's Ginger Beer for locations
3. Burnt Cream Latte at Monorail Espresso
A pioneer of the Seattle coffee scene, Monorail espresso was one of the original espresso carts to set up downtown, first parked under the monorail station in 1980. After more than 15 years of operating out of a cart, they graduated to a small storefront where coffee and cookies are sold from a walk-up, cash-only window (festooned with political posters and vintage photographs) to a loyal following of bike messengers and locals. After just two mornings, the friendly barista knew my order by heart: a burnt cream latte, the best coffee confection I — a creme brulee lover for life — have ever slurped down. The drink is perfectly balanced with a rich, buttery charred caramel flavor that was nowhere near cloying or overly sweet. On my last morning in town, I tried to coerce the recipe from my friendly barista, who told me (with a disarming smile) that it's a secret.
Monorail Espresso
520 Pike St.
4. Gray and Smoked Salt Caramels at Fran's Chocolates
The glorious gastronomic juxtaposition inherent in salted caramel is old news these days, and with its rising tide has risen Fran's, a Seattle mainstay for more than fifteen years that makes award-winning (and Obama-favored) chocolate-covered caramels topped with a flurry of gray or smoked salts. One bite of this surprisingly soft, intensely-flavored candy was all the explanation I needed to understand why tourists and locals alike crowd into these elegant storefronts, huddling in awe around boxes of chocolates displayed like so many precious jewels. Fran's ships anywhere in the country, but the caramels are at their best when fresh from the source.
Fran's Chocolates
Multiple locations
tel: 206/322-0233
Skillet was one of the trailblazers in the national wave of chef-driven street food: chef Josh Henderson started serving updated, local-ingredient focused takes on American comfort food from a vintage Airstream all the way back in the food-truck stone age of 2007. His food is flavorful, homey, and delectable, but it's his ingenious invention of bacon jam that really rocketed the restaurant to fame: the rich marmalade of smoky bacon, sweet caramelized onions, and tangy vinegar is an umami-lover's dream, melting into the bun atop Skillet's juicy hamburgers. With the trailer roaming Seattle, a brick-and-mortar location in the Capitol Hill neighborhood, a soon-to-be-published cookbook, and bacon jam available for sale in several flavors online, the bacon jam isn't quite an under-the-radar experience any more, but it's a special Seattle experience to take a bite into that burger, said by many to be the best in town.
Skillet Diner
14000 East Union St.
tel: 206/512-2000
For trailer locations, see the Skillet Street Food calendar.