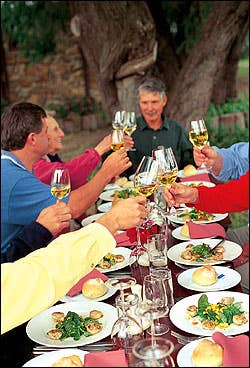 Travel
Upstart Down Under
Western Australia's Margaret River is a young wine region—and potentially a great one, with food to match
The surf's up, the kookaburras are giggling like monkeys in the karri trees, and the merlot is just finishing up its malolactic fermentation. It's a typical autumn day in May in Margaret River, which is Western Australia's premier wine district and arguably the most promising and exciting viticultural region in all the wine-rich antipodes.
Stretching between two capes beginning about 150 miles south of Perth (and in another world from Sydney, some 2,000 miles to the east), Margaret River is a newcomer as these things go. Its first commercial vineyards date from only the late 1960s, and it has not yet become a household name to the wine-drinking world in general. But it is already producing an astonishing array of good and potentially great wines. Its chardonnays, cabernets, and cabernet blends are regularly rated as among the continent's finest; its semillons, especially those that have aged for five or ten years, are nearly legendary among Australian connoisseurs (although winemakers say that the variety is little known in the United States and thus all but impossible to sell here); and even the shiraz (syrah) grape, for which Margaret River has never been known, is starting to produce exceptional wines, more elegant and northern Rhone-like than their heftier counterparts from the Barossa Valley near Adelaide.
Spanish immigrants grew grapes and produced at least small quantities of wine and brandy in these parts as long ago as the 1850s, but until about two-thirds of the way into the 20th century, dairy farming was the principal industry here. Then, in 1966, John Gladstones, a professor of agronomy at the University of Western Australia, published a paper tentatively recommending the "establishment of a wine industry centered on, say, Cowaramup or Margaret River…". The next year, a doctor named Tom Cullity bought some land for a pittance and installed what was to become the region's first commercial vineyard, Vasse Felix. Margaret River has been flowing with wine ever since.
We've come to Margaret River to taste as much of its enological bounty as we can in a few days' time; to get to know some of its better winemakers; and to sample a bit of the surprisingly sophisticated, internationally flavored local cooking. And we are getting our first chance to do all three of these things in the local community of Cowaramup, at the celebrated veteran Margaret River estate called Cullen Wines.
Dr. Kevin Cullen and his wife, Diana, planted their first vines here, on what was at the time their sheep and cattle farm, in 1971, making Cullen (originally called Cullen Willyabrup Wines) the third-oldest winery in the region. (Its senior, besides Vasse Felix, is Moss Wood, 1969.) Kevin died in 1994, but Diana, known to everyone as Di, still helps manage the estate. Bright-eyed and white-haired, she was until recently still moving barrels around the winery, at an age when many women would have been sitting on the porch in a rocking chair. The Cullens' daughter Vanya, who studied enology at Roseworthy College in Adelaide and apprenticed at Robert Mondavi in the Napa Valley, is the winemaker. Another daughter, Shelley, is married to Mike Peterkin, also a doctor, and the two are proprietors of nearby Pierro Margaret River Vineyards.
Our friend (and SAVEUR consulting editor) Tim Johnston, who owns a wine bar and small wine importing and retail business in Paris, expressed his affection for Australian wines, and Australians, one season some years ago by working a harvest at Cullen. It was he who made our connection with Diana and Vanya, sending us, as it were, right to their cellar door.
The unselfconsciously rustic-looking Cullen complex, which incorporates an informal but very good restaurant run by the chef Hamish McLeay and a tasting and sales counter as well as the usual functional facilities, is surrounded by some 70 acres of dry-farmed vineyards, planted in soil that is a mix of gravelly loam, ironstone, and granite over a six- to eight-foot-deep clay base. The grapes, which include cabernet sauvignon, merlot, chardonnay, sauvignon blanc, semillon, and a bit of riesling and pinot noir, are hand-harvested from March to May, which, of course, is late summer and fall in the Southern Hemisphere.
When we arrive at Cullen, Vanya immediately takes us into the winery to sample representatives of the 2000 vintage, which is already well along in its alchemical transformation from fermented grape juice into wine; then we move on to the more developed 1999s, from a year that she and practically everybody else in the region think was pretty wonderful in all categories. Tasting the 2000s, we are particularly impressed by a citrusy, earthy, tank-fermented semillon and a lush sauvignon blanc full of tropical-fruit flavor; sampling the previous vintage, we are astonished by a textbook chardonnay, spilling over with ripe fruit offset perfectly by just enough oak, and by a cabernet that seems to combine the Christmas spice and cedar of a Napa Valley big boy with the soft tannin and juicy blackberry flavor that some winemakers get out of the grape in Tuscany. We have obviously come to the right place.
Hamish McLeay is cooking lunch for us, and Vanya has invited an abridged who's who of Margaret River wine to join the party: John Brocksopp, production manager at Leeuwin Estate; Keith Mugford, who owns Moss Wood with his wife, Clare; Stuart Pym, winemaker at Voyager Estate and co-proprietor of his own Suckfizzle winery; John Durham, winemaker at Cape Mentelle; Jan Davies, owner (with her husband, Mike) of Sandstone Vintners; Clive Otto, senior winemaker at Vasse Felix; and Peter Rigby, a Perth-born, formerly United States-based journalist who is now marketing manager and wine tourism consultant for the Augusta-Margaret River Tourism Association. All are young or youngish, and all, throughout the afternoon, express that cuvee of irreverence and passion common to independent winemakers all over the world.
Two tables have been placed outdoors, under a broad-reaching, generously leafy Australian peppermint tree, beneath a temperate, blue-gray sky. One table is set for lunch; the other, smaller one is crowded with bottles brought by the guests. We attack the latter first. There's not one wine that doesn't merit our enthusiasm, but for now we're only tasting. The quality is dazzling, from a wonderfully rich, well-developed 1995 Leeuwin Estate Chardonnay and a '97 Cullen Chardonnay en magnum that could have been a good meursault through an oaky, grassy '98 Suckfizzle Sauvignon Blanc Semillon to a suave, soft-shoe '83 Moss Wood Cabernet Sauvignon and a stunning '96 Voyager Cabernet Sauvignon Merlot, as fragrant, stemmy, and intensely fruity as a good St-Julien. But what really impress us and give us the greatest sense of discovery are the straight semillons—a '96 from Vasse Felix, a '90 from Sandstone, and, above all, an '88 from Moss Wood that is simply remarkable, a purely delicious wine in perfect balance.
After an hour of tasting and talking (as much about surfing and fishing as about wine; it is said, perhaps jokingly, to be touch-and-go around here if grapes need to be brought into the winery when the surf's up), we sit down to eat, nibbling little pizzette from the kitchen, along with cubes of local Karridale feta and spicy black olives cured by Benedictine monks at the abbey of New Norcia, north of Perth. Then the meal begins in earnest. As it might be in California, the food is based on local ingredients and cooked in a more or less Mediterranean style with occasional Asian touches. But this is not "confusion" cooking, fraught with Indian aromatics, Thai herbs, and Japanese pretensions. It is straightforward in concept, though hardly simplistic. One is tempted to imagine some rangy Aussie culinary arbiter's having said, "Right, mate, use that foreign stuff if you like, but give us something we can eat, eh?"
Our first course, which is definitely something we can eat, consists of big bowls of local blue manna crabs, which have grayish-blue bodies and claws in electric blue and purple but which have turned bright red in the cooking. Irregularly coated in coarse salt, freshly ground black pepper, and paprika, they offer us sweet, fresh-tasting meat, and the briney juices that cling to them inspire rude-sounding but immensely satisfying lickings of shells and fingers. "John's got seven claws in his mustache at the moment," cracks Peter Rigby in the midst of our crab feast. "I'll tell you what," Brocksopp replies. "This Suckfizzle Sauvignon Semillon goes very well with crabs in my mustache." When at last nothing but now flavorless bits of carapace remain, Rigby says, "Well, that's it for the blue crab population of Western Australia."
As the next course appears—plates of small and perfectly fresh scallops, dusted with a bit of fennel seed and seared, surrounding a salad of tiny tatsoi leaves in a dressing enlivened with cilantro (known here as coriander)—the sky begins to fill with plump dark gray clouds. Before long, a mist that's not quite rain but that seems to aspire to be rain begins to moisten the leaves of the peppermint tree. We stick it out for the oven-roasted lamb with almond pesto and crushed potatoes and a spicy-sweet onion relish, and still find room for a mulberry tart and a dense chocolate cake.
In the next few days, we sample more Margaret River cooking, devouring things like venison-sage sausages with beets and mashed potatoes, crispy Sichuan duck with Vietnamese coleslaw, and sticky date pudding at the very
stylish Vat 107 in the town of Margaret River; Thai green chicken curry and rosemary-and-honey-roasted lamb cutlets at our hotel, the Karriview Lodge; and squash and rocket (arugula) soup, flavored with Australian blue cheese, and veal rib-eye filet with herbed polenta at the large and popular Leeuwin Estate Restaurant.
And we visit about a dozen wineries, some of whose representatives we've lunched with at Cullen. Voyager Estate, the memory of whose cabernet sauvignon merlot is still with us, is a massive property, with buildings in the South African Cape Dutch style, a spacious restaurant and shop, an extensive rose garden, an underground barrel room now being built, and what is rumored to be the second-largest Australian flag in the state flying from a flagpole near the parking lot. We don't meet the proprietor, Michael Wright—who loves South Africa, is said to favor safari suits as daily garb, and is a teetotaler—but we are welcomed by Stuart Pym. He pours us a wide range of Voyager wines as well as some from another property, Devil's Lair, at which his partner, Janice McDonald, was winemaker until a few weeks earlier. (She has since gone to work for a new microbrewery.) All the wines are good, among them a buttery, faintly mango-scented '97 Devil's Lair Chardonnay and Voyager's '99 Sauvignon Blanc Semillon, which Pym describes as "Margaret River in a bottle, fresh, fruity, not overly complex"; best of all, to my palate, is the '98 Voyager Semillon, an austere but beautifully constructed example of what this underrated grape can do. "It's a winemaker's wine," Pym observes, which I suppose means that lay wine drinkers don't appreciate it as much as they should.
At Leeuwin Estate we lunch with Tricia Horgan, who with her husband, Denis, bought the property in 1969 as part of a cattle farm that came with a plumbing business attached. He promptly sold the latter and, shortly after taking title to the farmland, heard that an American had been making inquiries about buying it. This turned out to be Robert Mondavi; instead of selling the land to him, the Horgans befriended him, and he became, says Tricia, "our teacher, our consultant, our godfather". As we eat, we sample most of the current Leeuwin repertoire and then positively luxuriate in a '97 Art Series Chardonnay ("our montrachet", Tricia calls it), an opulent Burgundian-style masterpiece full of butter and vanilla and faintly scented with grapefruit and smoke; we're not surprised to learn that this wine is regularly named one of Australia's two or three best chardonnays.
Our guide one day is Ted Schrauth, a former advertising and marketing executive from Boston who met and married a woman from Perth and now lives there and acts as a negociant for a whole portfolio of small, high-quality Australian and New Zealand producers. He takes us to Pierro, where an extravagantly tasty '99 semillon sauvignon blanc (with a bit of chardonnay added) delights our palates with a thick burst of fruit sparked with acidity and a '98 cabernet merlot shows complexity and precocious maturity.
At neighboring Moss Wood we step into the middle of an ongoing Margaret River controversy. "Look," says Keith Mugford as he pulls barrel and tank samples of his 2000 vintage for us to taste (including a stunning semillon, intensely aromatic and redolent of honey and dried fruit that tastes as if it might live for 30 years), "Margaret River as a wine region had innocent beginnings. The first wave of wineries back in the early '70s…Moss Wood, Cullen, Vasse Felix, Leeuwin, Cape Mentelle, Xanadu…they were all run by idealists who were motivated by an interest in growing quality grapes to make quality wine. There was a peculiar Western Australian-ness to it, a sense that we were out here, isolated, not bound by anybody else's rules. That feeling continued until maybe six or seven years ago. Now that our wines are earning an international reputation, the business has grown much more commercially oriented. It's the accountants and the moneymakers who run the wineries now. These are people who make no contribution to the district's reputation for wine, but are trading on that reputation."
Our next stop, nearby, is probably exactly the sort of place Mugford has in mind. Margaret River's Howard Park/Mad Fish is a new, large, contemporary-style, feng shui-positioned branch of a 14-year-old winery located considerably farther south. The wines are good (we are especially taken with a preview of the 2000 shiraz, all violets and fresh fruit), and there is a newly planted vineyard next door, but Howard Park doesn't see any reason to use only Margaret River grapes, either in its primary vintages or for its second label, Mad Fish, which is openly multiregional by design. "The business is changing in Margaret River," says Michael Kerrigan, Howard Park's head winemaker. "The older people are tired of working so hard, and there are lots of mom-and-pop wineries for sale. It makes me a little sad to think that these people will be gone in ten years. But bigger companies with maturity and expertise are stepping in to buy the properties. It isn't just about individuals anymore."
But the lines are not clearly drawn. Vasse Felix, one of the pioneers of the region and a winery widely respected by old-timers and newcomers alike, is also multiregional. Its restrained but solidly built and flavorful '99 chardonnay and dark, tannic, beets-and-berries '98 cabernet sauvignon are both blends of fruit from Margaret River and other areas to the south, and both are wines to remember. (On the other hand, I can't help feeling that, coincidentally or not, the Vasse Felix wines we like best are strictly local: a glorious '99 semillon, in which the acidity and greenish high notes are tempered by a flavor recalling ripe white peaches, and a '98 shiraz, from 32-year-old vines, that is marvelously earthy, spicy, and concentrated but finishes with attractive finesse.)
And at the all-Margaret River Cape Mentelle, which is partly owned by Champagne Veuve Clicquot and which counts New Zealand's Cloudy Bay winery as its sister property, cofounder and manager David Hohnen dismisses the controversy with a wave of his hand. "It's just like what happened in the Napa Valley," he says. "It'll all level out." (Speaking of the Napa Valley, Cape Mentelle produces one of Australia's few zinfandels, a big, strong, sinewy interpretation; Hohnen also pioneered the semillon sauvignon blanc blend in the area, and he produces a particularly lively and engaging version, full of apricot and peach flavors, as well as one of the region's best and most forthrightly flavorful cabernets, from the Wallcliffe Vineyard.)
Meanwhile, Margaret River just keeps doing what it apparently does best: yielding superb wine grapes, ready to be turned into superb wine by pioneers and carpetbaggers alike. As Pierro's surf-conscious co-winemaker, Bruce Dukes (who worked at Niebaum-Coppola in the Napa Valley for four years), observes, "This area is a bit of paradise. There's water on three sides, the air is pollution-free, and there's a nice wind from the southwest, mostly in the afternoon. Grapes are like people; they kind of enjoy a nice place to live." Or, as John Brocksopp of Leeuwin Estate puts it, incontrovertibly, "It's a one-offer, the old Margaret River."
This article was first published in Saveur, Issue #45