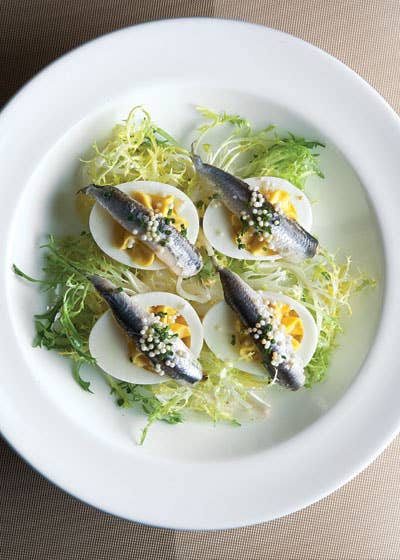 Travel
It's Pleasure Central All Day Long
Michel Richard's Central brings fine dining to Las Vegas's up-all-night patrons
Las Vegas has always been a 24-hour town—but not for foodies. After an evening show or an all-night spin at the tables, people craving a quality meal generally went hungry. Then, last fall, Michel Richard—a French chef with a reputation for crowd-pleasing elegance—brought a branch of his D.C. restaurant Central Michel Richard to Caesars Palace. It's open 'round the clock. "People told me, 'You're crazy,'" Richard says. "But I got on the plane anyway."
The result: an army of 170 employees serving everything from fried chicken and doughnut holes to juicy steaks, deviled eggs topped with white anchovies (pictured), and sumptuous desserts to 1,500 people every day. It's a mind-boggling production. Each burger, for instance, is topped with two delicate potato tuiles that take 18 hours to make. To whip up a batch of 2,000—two days' worth of tuiles—100 pounds of potatoes are peeled, shredded, rinsed, strained, sauteed, mixed with ingredients including gelatin, piped into ten-pound tubes, and frozen for ten to 12 hours. The potato concoction is then sliced, shaped, and baked by kitchen troops who are constantly being trained and retrained with military discipline.
All of it is in the service of the elemental joys of eating. "What do you eat from eleven at night until five in the morning?" Richard says. "Nothing! You're usually sleeping! But in Las Vegas, people like their steaks, roasted chicken, and french fries." Thanks to Richard, they can have exemplary versions of these comfort foods at any hour of the day.