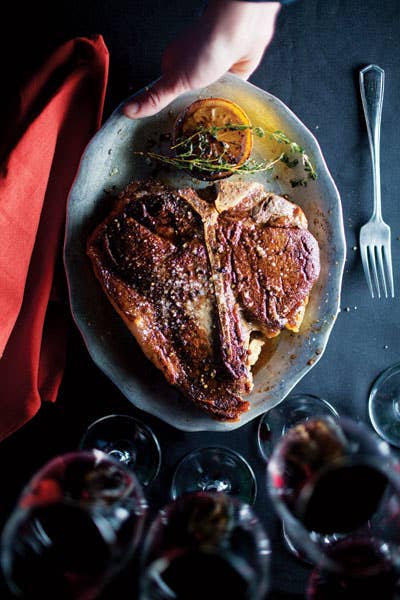 Travel
Dining Like a Rhinestone Cowboy
The history of Las Vegas can be told through its steakhouses
Nearly two decades ago, when I was a restaurant critic at the Los Angeles Times, I visited Las Vegas intent on eating a juicy steak at Binion's Horseshoe. The meat was raised on owner Jack Binion's ranch in Miles City, Montana. I made the mistake of entering Binion's with a card-counting friend who'd been banned from the casino for life. Spotted by a pit boss, we ended up running for our lives down a side street, with two goons in hot pursuit.
Fact is, beneath its neon veneer, Las Vegas remains the Old West. Most everyone who travels here, whether from Scranton or Singapore, wants to experience a legendary Vegas steak house, and it's been that way for as long as anyone can remember.
Mobster Benjamin "Bugsy" Siegel founded upscale Vegas in 1946 when he opened its first fancy "carpet joint," the Flamingo Hotel & Casino, but a restaurant scene didn't take shape until the 1950s, when gourmet dining rooms helmed by tuxedoed captains became the ne plus ultra. In the early '60s, my friend Larry Ruvo worked as a busboy at House of Lords in the Sahara, where everyone ordered the steak Diane, seared at the table with Worcestershire sauce and brandy in a copper pan. "Those were the days," Larry says. "At Chateau Vegas, the owner, Al Mangarelli, bought his meat directly from a Chicago stockyard. He'd bring Sambuca or Strega to your table. If you were a regular, he'd leave the bottle." (Today Larry runs Southern Wine & Spirits of Nevada, which sells top-drawer Bordeaux to every steak house in town.)
Business, official and otherwise, has always been conducted in the tufted-leather booths of the city's steak houses. Back in the 1970s, Las Vegas's former mayor, Oscar B. Goodman, was an attorney to a number of notorious clients; he held meetings with a knife and fork. "I loved Vegas in the '70s," he told me recently, hoisting a gin martini. Today his wife, Carolyn, is the city's mayor, and Goodman holds court at Oscar's, a steak house named for him at the Plaza Hotel downtown. We talked in his office behind the bar, as I dug into a flank steak marinated with onions, garlic, and peppers. "That was Tony 'The Ant' Spilotro's favorite," he said. Spilotro, the basis for Joe Pesci's character in the movie Casino, was Goodman's most notorious client of all.
The steak chains of the '80s—Ruth's Chris, the Palm, Smith & Wollensky, Del Frisco--all traded on that old-school vibe. The modern steak house didn't arrive until Charlie Palmer opened his eponymous place at the Four Seasons Hotel, and Jean-Georges Vongerichten launched Prime Steakhouse at the Bellagio. They were part of a wave of celebrity chefs that hit the city in the late '90s and just kept coming. By the time I moved to Vegas, in 1999, it was becoming a world-class dining destination. "Customers today are super discerning," Palmer says. "They care about everything from the beef's heritage to the aging program."
In 2012, a 35-day dry-aged steak seems almost prosaic. A porterhouse I recently ordered at Mario Batali's and Joe Bastianich's steak palace Carnevino, in the Palazzo, had been aged 260 days and tasted of rich meat and blue cheese; executive chef Zach Allen insisted that it be eaten rare, cut thin like an Italian tagliata, dressed with sea salt. But for my money, the city's best steak now is the designer-labeled Rangers Valley Angus wet- and dry-aged New York strip at Jean Georges Steakhouse, in the glittering CityCenter's Aria Resort & Casino. The grain-fed meat, cooked on a wood-burning grill, is intensely beefy with a firm yet yielding texture, and a finish as long as a premium Pomerol.
Meanwhile, the steak house at Binion's is still open, as are such shrines to old Vegas as the Golden Steer and Bob Taylor's Ranch House. Even in a town whose shape is constantly shifting, as one building implodes and another rises in the image of our latest heart's desire, we still love to play the cowboy.