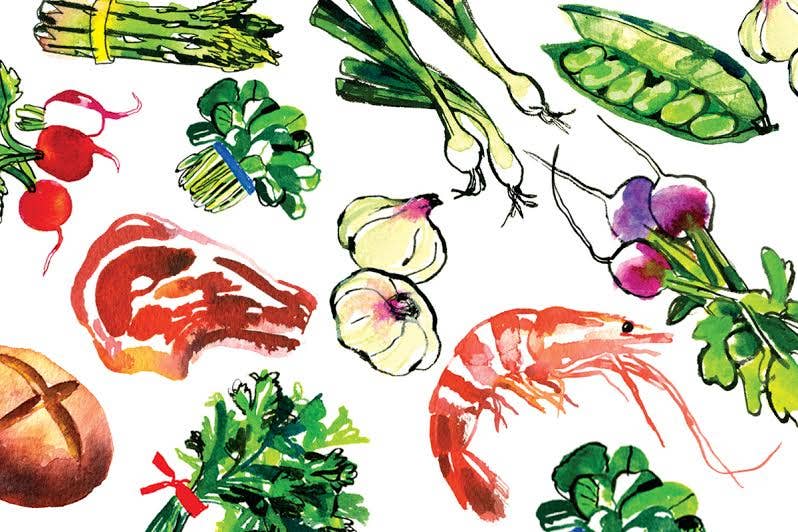 Each era has its breeding-ground restaurants—places whose kitchens act as incubators for pioneering young talent. One of the more famous in our own epoch is the 32-year-old River Cafe in New York City, which nurtured the successful restaurateurs Larry Forgione, David Burke, and Charlie Palmer. (See Fertile Grounds for other examples.) One of my favorite breeding-ground restaurants—one of my favorite restaurants, period—is perhaps less renowned nationally, but its graduates are no less gifted, and few places offer a more inspiring model for hands-on culinary education.
The restaurant, Crook's Corner, sits in a funky old taxi depot on the fringes of Chapel Hill, a university town in central North Carolina. I didn't have an inkling of its significance when I first visited, in the late 1980s; to me, Crook's—with its walls of folk art and bar covered in black-and-white tile—was simply the most popular place in town. The vibe was elegant but unstuffy, and the fare put a fresh spin on Southern comforts; the house favorite was and still is a rich mess of cheese grits with shrimp, mushrooms, and bacon, a riff on a Lowcountry staple.
The chef, a self-taught cook named Bill Neal, opened Crook's Corner in 1982, a few years after he and his ex-wife, Moreton, had launched their first restaurant, the more formal La Residence. When other restaurants were dotting their menus with sun-dried tomatoes, Neal was proudly cooking with and writing about Southern ingredients, like country ham, that had long been relegated to the home cook's repertoire. His first cookbook, _Bill Neal's Southern Cooking _(UNC Press, 1985), celebrates those foods, and it drew aspiring young chefs his way.
Neal had a thing against cooking-school kids; when the Culinary Institute of America grads Ben and Karen Barker, now the chef-owners of Magnolia Grill in Durham, North Carolina, applied for a job with Neal, he turned them away; Moreton later hired them at "La Res". His staff was untrained: people like Robert Stehling, who spent six years with Neal before founding the Hominy Grill in Charleston, South Carolina; and John Currence, who opened the now landmark City Grocery in Oxford, Mississippi, in 1991. In Neal's kitchen, talent trumped hierarchy. "I started at Crook's as a dishwasher," Currence told me recently. "It seemed like a week later, I was the pastry chef." Since Neal's death, in 1992, many of his students have spread the gospel of regional Southern cooking far and wide. But others (like Bill Smith, who now runs the Crook's kitchen) have stayed on in Chapel Hill, helping transform the area into one of the nation's most exciting places to eat.
A certain protege of Neal's not only worked at Crook's; he grew up there. I remember Matt Neal, the oldest of Neal's three children, when he worked behind the bar; he remembers peeling buckets of shrimp after school before graduating to the line. Over the years, I've run into Matt and his wife, Sheila, at the local farmers' market, and recently I stumbled across their first restaurant, a lunch counter not far from Crook's called Neal's Deli. Inside, the couple prepared biscuits, house-cured pastrami, and more. The food was darned good—rooted in the region but inspired by the world around it. His father, I imagined, would be very proud.