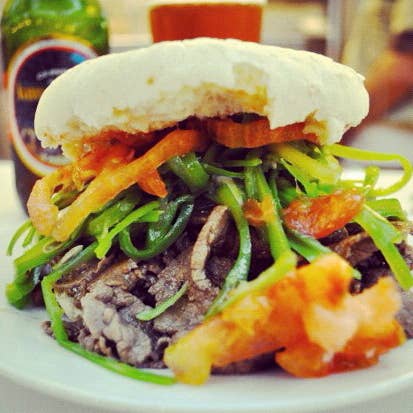 Travel
On the Chacarero Trail: Where to Eat Santiago's Favorite Sandwich
5 great places to try Chile's monster of a sandwich
Any city worth its salt has a signature sandwich. New York has pastrami on rye, Montreal is a mecca for smoked meat, and New Orleans is famous for its po'boy. In Santiago, the meat-on-bread of choice is the chacarero—a stout, round roll piled high with churrasco-style grilled meat, sliced tomatoes, a smear of avocado or dollop of mayo, a drizzle of aji verde (green chili sauce), and to top it all off, julienned green beans. The result is an orchestra of textures and flavors: soft bread, tender meat, creamy mayo or avocado mash, and bright, crisp legumes. Here are five great spots to pick up a chacarero in Chile's capital:
This no-frills German-themed lunch counter (and its second location in the Providencia neighborhood) is a mainstay for cheap food and draft beer. Best known for its lomito, the chacarero at this more than 50-year-old institution comes stuffed to the gills, making it hard to keep a handle on the sandwich, so don't be ashamed if need a fork to get the job done.
Fuente Alemana
Av. Libertador Bernardo O'Higgins 58, Santiago
Tel: 562/639-3231
Don't be surprised if one of the three Liguria locations is the first place your Santiago friends take you. A local favorite for everyone from artists to CEOs, the original is done up in a colorful pastiche of wallpapers, portraits, old posters and maps. The chacarero here can take on an Italian accent, like much of the menu.
Bar Liguria
Av. Providencia 1373, Providencia, Santiago
Tel: 562/235-7914
For 100 years, this tavern has served up traditional fare, like blood sausage, cow tongue, rolled pork and boiled potatoes. It also does a mean chacarero. Wash it down with the house drink, a Terremoto (earthquake), made with white wine, pisco and pineapple ice cream—sweet enough to double as dessert.
Taberna El Hoyo
San Vicente 375, Central Station, Santiago
Tel: 562/689-0339
With two locations, this minimalist sandwicheria specializes in fricandela—from the German frikadeller, akin to a flattened meatball—which, when slapped into a roll, is for all intents and purposes a burger. You can get it, as well as cow tongue, churrasco and several other fillings, in an array of sandwich formats, including the noble chacarero.
Fuente Chilena
Av. Apoquindo 4900, Las Condes, Santiago
Tel: 562/213-5524
A hip sandwich joint that opened its doors earlier this year, La Superior's brief menu of fresh takes on Chilean classics includes the pernil chacarero, a roasted pork sandwich with all the fixings. The country's German influence shines through the extensive list of craft beers, and there are fresh juices and smoothies for the not-so-beer-happy.
La Superior
Av. Nueva De Lyon 105, Local 9, Providencia
Tel: 56/2/232-9045