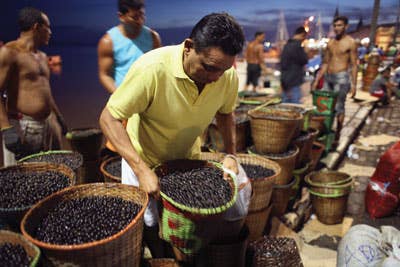 Travel
Belém
In this year's SAVEUR 100, we take stock of our favorite things: recipes, people, places. We consider every last one a new classic.
In Belem, everything I knew about Brazilian cuisine from my previous trips to the country fell away. Instead of the subtle, European-influenced dishes of the country's south, here were brash, dynamic foods I'd never conceived of, let alone eaten. This northern Brazilian port city of nearly a million and a half—people largely of African, indigenous, and Portuguese descent—is the gateway to the Amazon, the point at which rivers and ocean converge, where jungle foodways reveal themselves to the world beyond. Despite all the grand colonial edifices and modern skyscrapers, Belem has the feeling of a Wild West trading post. It's a city of markets, incredible markets; the one pictured here, devoted entirely to the sale of açai berries, starts every day at around 3 A.M. and runs until dawn. Many Americans have recently embraced the tiny purple "superfruit" as an antioxidant supplement; in this part of Brazil, it's a staple food. At breakfast time in a street stall, ordered a bowl of what looked like grape pudding—thick, nearly black. It was açai, pulverized into a kind of porridge. Sprinkled on top was farinha de mandioca, toasted cassava flour, puffed up into delightfully crunchy pebbles. I followed the lead of the other customers and dipped a hunk of grilled, salted fish into the bowl. Its flavor was a startling contrast to the unseasoned, pure grassy flavor of the açai. I polished off the meal in minutes.
At the Ver-o-Peso ("check the weight") market, a sprawling waterfront complex of mismatched structures—from the gothic, turreted Mercado de Peixe (fish market) to the canopied stalls that spill out into the streets—oceangoing fishing boats and canoes from up the Amazon arrive throughout the day to unload their bounty. There's a massive section devoted entirely to dried shrimp, dozens of species, some as big as a fist, others practically microscopic. And the fresh fish! River fish, ocean fish, creatures from another planet. One species in particular, called tamuata, blew my mind: layers of silvery scales, overlapping like the armor of an armadillo, and vivid mango-colored flesh. And the fruits. And the vegetables. Dozens of varieties of chiles, more exquisitely shaped and colorful than any I'd come across before, pink, yellow, and red jewels. I could have wandered there all day, but before long I was ravenous again. At another street stall, I ordered a bowl of tacaca, a soup that combines tucupi, a broth made of fermented cassava juice, with dried-shrimp stock. Jambu, a watercress-like green, floated atop the soup like lilypads. Native to this part of Brazil, the vegetable is prized for its palate-numbing properties—it's the Sichuan peppercorn of the Amazon. I dressed my soup with a generous shot of chile vinegar and brought a spoonful to my lips, savoring the silky texture, the fiery, floral chiles, the saline flavor of the dried shrimp. The tingling sensation from the jambu overtook my tongue, my gums, my whole mouth. I felt as though I was slurping down the essence of this hot and enigmatic city. I couldn't wait for seconds.