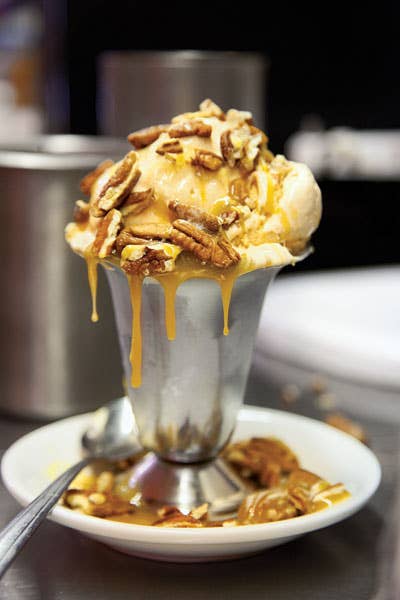 Travel
Itgen's Ice Cream Parlour
In this year's SAVEUR 100, we take stock of our favorite things: recipes, people, places. We consider every last one a new classic.
Itgen's Ice Cream Parlour is in Valley Stream, on Long Island, just outside of New York City, but it would not be out of place in Mayberry. Opened in 1967, it's an old-fashioned local hangout, with swivel stools and cozy booths, which draws plenty of characters who come for reasonably priced meals and to discuss the day's events with owner Walter Itgen, Sr., and his family. The burgers, breakfasts, and other savory foods are made from scratch, cooked to order, and delicious.
But what really sets Itgen's apart is its homemade ice cream. And homemade whipped cream, hot fudge, syrups, marshmallow sauce, and wet nuts (walnuts in sticky syrup). If it's topping a sundae, banana split, or Belgian waffle, it's made on the premises to scrumptious effect. Moreover, when it comes to portioning, it's a matter of pride for the staff to outdo themselves. Malteds and shakes are delivered along with a backup gulp in a frosty aluminum shaker. If the sundaes look a bit messy, that's only because the kids who work there don't skimp on the toppings. The cups they're served in are even set on plates to catch every drop of chewy butterscotch or thick strawberry syrup that slides off the ice cream and over the edges of the dish. It's not uncommon to see patrons licking those plates clean.
Itgen's Ice Cream Parlour
2211 Rockaway Avenue
Valley Stream, New York 11580
tel: 516/825-7444