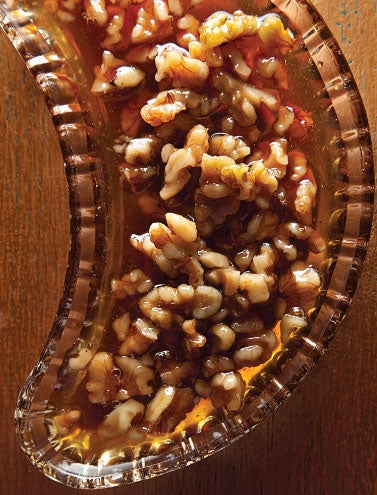 Well-made sundaes like the ones at Itgen's Ice Cream Parlour are rare treats. The secret to their success is really no secret at all; it's simply a matter of using top-quality toppings. Here's how to make wet nuts, the sweet-gooey topping that lends a sunday the essential crunchy texture. This recipe first appeared in the 2012 SAVEUR 100, with a story on Itgen's Ice Cream Parlour »
Wet Nuts
Well-made sundaes like the ones at Itgen's Ice Cream Parlour are rare treats. The secret to their success is really no secret at all; it's simply a matter of using top-quality toppings. Here's how to make wet nuts, the sweet-gooey topping that lends a sundae the essential crunchy texture.
Ingredients
1⁄2 cup light corn syrup
1⁄2 cup maple syrup
1 tsp. vanilla extract
Pinch of kosher salt
1 cup roughly chopped, lightly toasted walnuts
Instructions
Bring light corn syrup, maple syrup, vanilla extract, and kosher salt to a boil in a 2-qt. saucepan. Stir in walnuts, and cook until walnuts are warmed through, about 3 minutes. Let cool and transfer to a glass jar with a lid. Store in the refrigerator for up to 1 month.
See the recipe for Hot Fudge Sauce »
See the recipe for Marshmallow Sauce »