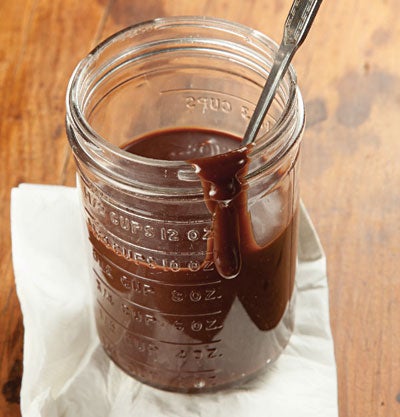 Well-made sundaes like the ones at Itgen's Ice Cream Parlour are rare treats. The secret to their success is really no secret at all; it's simply a matter of using top-quality toppings. Here's how to make a hot fudge sauce just like theirs. This recipe first appeared with the 2012 SAVEUR 100 item on Itgen's Ice Cream Parlour »
Hot Fudge Sauce
Well-made sundaes like the ones at Itgen's Ice Cream Parlour are rare treats. The secret to their success is really no secret at all; it's simply a matter of using top-quality toppings. Here's how to make a hot fudge sauce just like theirs.
Ingredients
8 oz. chopped, unsweetened chocolate
1 cup sugar
1 cup light corn syrup
8 tbsp. unsalted butter
1 tbsp. vanilla extract
1⁄4 tsp. kosher salt
1 1⁄3 cups water
Instructions
In a 2-qt. saucepan, combine all ingredients. Place over medium-high heat and bring to a boil. Cook, stirring constantly, until sauce thickens and becomes smooth and shiny, about 10 minutes. Let cool slightly before serving, or transfer to a glass jar with a lid and store in the refrigerator for up to 1 week. Before serving, reheat sauce in a saucepan over low heat or in a bowl in the microwave for about 30 seconds, as it will thicken when refrigerated.
See the recipe for Wet Nuts »
See the recipe for Marshmallow Sauce »