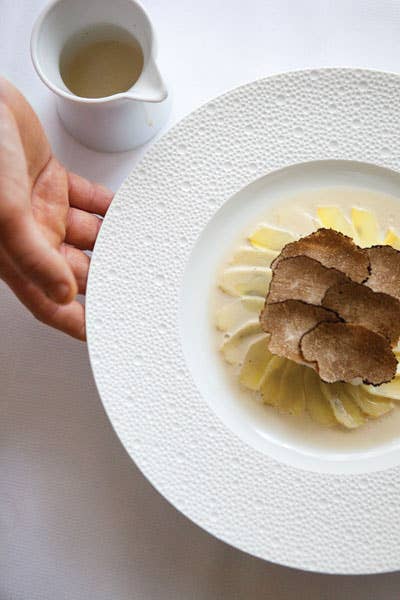 Travel
Le Bernardin
In this year's SAVEUR 100, we take stock of our favorite things: recipes, people, places. We consider every last one a new classic.
From the evening it opened in 1986, with Maguy Le Coze in Chanel and brilliant red lipstick welcoming the city's foodie aristocracy to marvel at her brother Gilbert's inspired fish cookery, Le Bernardin was already very proper, very ambitious, and thrillingly French. There was nothing in the States quite like it: the snap of service, the seductive Maguy, the way Gilbert boldly prepared raw and barely cooked sea creatures, his modesty as he wooed our town's crocodiles. "I am just a humble FEESH_erman," he used to say. _The New York Times succumbed only three months later, showering the place with four stars.
The brother and sister team had already made their names in Paris, where they opened the first Le Bernardin in 1972 after moving from Brittany, where their parents ran a hotel and restaurant. Fifteen years and two Michelin stars later, they set their sights on New York. They were lured to unfashionable West 51st Street by a deal they couldn't resist. Gilbert's early morning forays to the Fulton Fish Market became legend. Soon the way he cooked was influencing the way America cooked. The two of them realized they must close their Paris restaurant to focus on what would become this country's most creative shrine to seafood. After the wrenching loss of Gilbert, dead of a heart attack at 49 in 1994, his young second, Eric Ripert—prepped in the Parisian kitchen of Joël Robuchon—took the helm, paying homage to Gilbert's minimalist philosophy. In the years since, he has grown into mastery, creating his own distinct style, more global, bold, indulgent, yet never obscuring the fish. Sometimes I imagine them in conversation, confident, fun-loving Gilbert and earnest, ever-serious Eric, so opposite in personalities, yet both of the mind that nothing—no chef's whim, no creative flourish—shall ever upstage the gifts of the sea.
I rank Le Bernardin among my favorite restaurants in the world for its grace, as well. Quickly the illusion begins, as if you were a guest arriving at a château or a very grand home: a young woman unwinding your scarf, helping you off with your coat. A glass handed to you by the maître d' at the new bar by the entrance. I feel giddy and very rich as the captain leads us to our table and a waiter maneuvers my chair. Steel and leather have replaced wood in the restaurant's recent and luxurious makeover, and the old hodgepodge of art has gone to make way for Brooklyn artist Ran Ortner's giant triptych of a turbulent sea.
I don't see Maguy tonight but here comes the chef, clearly excited. "I have bergamot," Eric cries, brandishing what looks like an awkwardly overgrown lemon. He has discovered that bergamot is the fruit known as an etrog used by Jews during the holiday of Sukkot. "I got them from an Israeli friend," he says, not revealing how he plans to use it. It's this spirit of adventure that keeps Le Bernardin exciting, a quarter-century down the line. My fellow diners and I are sipping champagne when an amuse-bouche arrives: two cool satin ribbons of yellowtail in a pungent bergamot wash, garnished with a few crystals of Maldon salt and sprigs of purple basil. The salt and the smack of the bittersweet acid rush to my brain. I want to lick my plate.
There are two tasting menus at dinner; we choose the simpler four-course offering. Still, it takes much concentration and study to select from the categories: "Almost Raw," "Barely Touched," and "Lightly Cooked." Dinner might be all raw: a progressive tasting of oysters, then a carpaccio of Wagyu beef, then langoustine and caviar tartare or, possibly, glistening layers of thinly pounded yellowfin tuna with foie gras. But am I willing to bypass the seared langoustine with mâche and wild mushroom salad? It's easy to go through a whole bottle of champagne as one tries to decide.
The dance of attention never lets up, graceful but not smothering, not quite Fred Astaire, but smooth. The bread "sommelier" offers seven options, and the butter is excellent. (Thankfully, no one insists we be told the cow's name.) China and silver covers are whisked away in unison. Calamari filets rolled around sweet prawns look like nothing much; then comes a pour from a small creamer—almost everything gets a pour at the table—and the dish comes alive with an intense, almost iridescent pesto. One of our companions has ordered baked lobster with Mexican mole purée and stuffed baby cabbage in bacon bordelaise. I taste. The barely cooked lobster is impossibly supple. I want it all to myself—along with organic salmon with braised snails on a checkerboard of white and blue heirloom potatoes, with sweet garlic and parsley in a Pernod-tinged sauce. It's bettered only by cod with artichoke barigoule lavished with black Périgord truffles (pictured).
What matters is the fish, the impeccably cooked or uncooked fish. One prickly gourmand I know dismisses Le Bernardin: "It's not French anymore," he complains. "Every dish is Asian." And it's true that many ingredients have a non-Gallic provenance: yuzu, miso, white balsamic, saffron fideos (the small Spanish noodles). Ripert blends brown butter into dashi broth. That takes bravado. But, for me, what matters is that it's always about the fish, the impeccably cooked or uncooked fish. As it says on the menu in big letters on a page by itself: "Fish is the star of the plate," not the chef. First Gilbert, then Eric: Chefs of such mastery and imagination can afford to be modest.
Le Bernardin
155 West 51st St
New York, NY 10019
212-554-1515