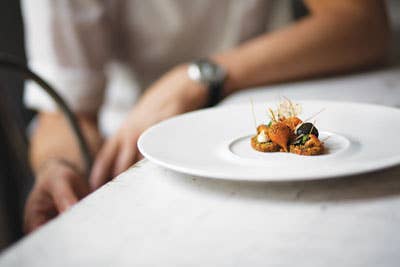 Travel
New Stockholm Cuisine
In this year's SAVEUR 100, we take stock of our favorite things: recipes, people, places. We consider every last one a new classic.
The alabaster square of seared cod sat primly in a bath of golden foam, nude except for a tiny corsage of watercress and a transparent veil of pickled cucumber. The dish looked so pure, so innocent, I was not prepared for its potent, primal flavors: The sauce's sea-buckthorn berries were tart and bright, tempered by the lactic richness of good butter. Course after course, my lunch at F12 embodied the kind of modern Swedish cooking that has quietly transformed Stockholm into one of Europe's most intriguing food cities. F12, named for its address on the thoroughfare Fredsgatan, may have one Michelin star, but a meal here comes with none of the tedious hauteur or wilting fussiness you might expect from restaurants of this caliber in other cities. Great food in Sweden, I've learned, has never been locked inside the gilded cage of Gallic gastronomic conventions. The country's best restaurants reflect Swedish values—egality, yes; pretension and privilege, no.
Having lived in Paris for 25 years, I was a little flustered by the warm welcome I received in F12's sun-filled dining room, and also by the pleasant alacrity of the service. There was a light, happy atmosphere in the restaurant, and as I made my way through the meal—from a smoked and barely coddled hen's egg with shavings of local black truffles, to the dessert, a refreshingly tart pudding of Åkero apples—it struck me that the Swedes just may be truer acolytes of the grand French gastronome and writer Curnonsky than the French themselves. What I discovered while eating my way through the Swedish capital recently is that the city's best chefs instinctively adhere to Curnonsky's famous adage: "Good cooking is when things taste of what they are."
I'd come back to Stockholm because I'd had a magical meal under the midnight sun at Mistral last summer. This restaurant is so plain it looks like the set of an Ingmar Bergman film. An endearingly frumpy doily hand-knit by chef Fredrik Andersson's mother decorated my bare wood table, one of only six in the dining room. A Swedish friend in Paris had raved about Andersson, insisting that despite the short Swedish growing season, he excelled at cooking with local seasonal ingredients.
Up to that point, aside from the "Swedish" meatballs that were among the best hot-lunch options at my elementary school, Swedish cooking didn't mean much to me. If pressed for other edible things that Scan-dinavia brought to mind, I suppose I might have said dill and herring.
So Andersson's tasting menu was a real education: A run of seven dishes, it began with an intriguing composition of cucumber, fresh almonds, candied fennel seeds, and yogurt ice cream served with cold green tea. There was also a stunning still life of baby beets, tomatoes, Swiss chard, kale, runner beans, zucchini, and just-set egg yolks with shellfish roe and powdered rhubarb; and roast veal with seared onions, a grassy herbal jus, milk "skin"—the layer that forms atop slow-boiled fresh milk—and sauteed nettles in brown butter with pike roe.
_ photo by Penny de Los Santos_
My second meal at Mistral, on this last trip, was just as intense. To start, there was hot rye bread made with stone-ground flour, served with raw-milk butter so good I wanted to eat a quart of the stuff alone in a dark room. Shards of fried yogurt were garnished with raw fava beans, raw yellow beans, and sliced red grapes. Griddled cabbage was punctuated by a wild blueberry coulis, nori, and pickled cucumber. The combinations were often surprising but always brilliant and delicious.
At Frantzen/Lindeberg, a two-star restaurant in the Gamia Stan neighborhood that occupies an old dairy shop, a server presented a fat langoustine waving its claws before it became part of my dinner. Bjurn Frantzen and Daniel Lindeberg's cooking involves witty, modern riffs on the traditional Swedish palette of smoke and salt, pickling and purity, the lactic and the wild. Tasting menus tend to overkill, but two days after my vivid meal at Frantzen/Lindeberg, I was still thinking about crabmeat in tomato water with fresh dill and pickled mustard seeds; langoustine tartare dressed with unfiltered grapeseed oil, pureed seaweed, and sweet woodruff, a leafy, flowering herb with a scent like fresh hay. I'd never eaten food like this before.
"Our food culture is very unknown," chef Mathias Dahlgren told me when I visited the neoclassical dining room of Matsalen, his two-star restaurant at the Grand Hotel that's probably Stockholm's most famous dining room. According to Dahlgren, "Swedes are still much closer to nature than people in other European countries, and this explains our preference for highly legible cooking in which the produce stars." He allowed that modern Swedish cooking has also been "broadened and deepened by immigration, first from Italy, Greece, and Yugoslavia, and now from all over the world." At Matsalen I ate amuse-bouches of charcoal-grilled spring onions reminiscent of Catalan calcots that came with surgical scissors so I could snip them into bite-size pieces to dip into a sauce of sour cream and "malt soil," a blend of malt and flour made to resemble fresh earth; sourdough tempura fritters filled with juniper-smoked haddock; oyster-and-cucumber water with cucumbers, tapioca, and caviar; and pickled elder flowers. The flan of foie gras with fresh and roasted hazelnuts and a white wine vinaigrette was spectacular, too.
The game changer in Stockholm, Dahlgren told me, was the late chef Tore Wretman, who rose to prominence in the 1950s. "He created good restaurants that were everyday gathering places—before that there were only special-occasion places," Dahlgren explained. "Wretman was also a big champion of really good Swedish home cooking, which is what this New Swedish cooking was born from."
Eager for a taste of the good Swedish home-style cooking Dahlgren was talking about, I went to the very popular Rolfs Kok__ for lunch. This amiable bistro with bare wooden tables, an eat-at bar, and busy but friendly service, has the same vibe as Le Baratin in Paris or The Spotted Pig in New York—that is, it serves first-rate comfort food to a hip crowd that includes a lot of off-duty chefs. Though my potatis-och purjoloksoppa (creamy potato and leek soup) and kottfarslimpa, gurka, och graddsas (spicy meat loaf served with glazed root vegetables, pickles, and creamy gravy) didn't come with any of the theater that animated Frantzen/Lindeberg, these homey, consoling dishes had clearly grown out of a shared respect for ingredients.
For me, a chef really succeeds when he or she presents a dish you know you'll never forget. At Esperanto, chef Sayan Isaksson, a soft-spoken Thai man who was adopted by a Swedish couple as a child, sent out the most delicious expression of umami I've ever eaten: fine batons of toast topped with scallop roe, Swedish truffle shavings, button mushrooms, and bone marrow, accompanied by a shot glass of oxtail and black tea consomme so rich my lips stuck together. At Lisa Elmqvist, fishmonger to the Swedish royal court and a noted eatery in the Östermalms Saluhall Market, it was toast Skagen, tiny, sweet Baltic prawns dressed with mayonnaise and dill, served on toast. And then a plate of smoked salmon topped with chanterelles in a perfect beurre blanc.
I had a hunch that a traditional smorgasbord would be the perfect finale to my Stockholm sojourn, and having asked for suggestions, I ended up at Ulriksdals Wardshus, a Hansel-and-Gretelish 19th-century inn with lacy gingerbread trim in a park six miles north of Stockholm. Though the term has been misappropriated in North America to signal a gluttonous buffet, a real smorgasbord is a finely choreographed self-service meal that Swedes eat in decorous increments.
Armed with a pilsner from Spendrups brewery and a shot of snaps, I hit the feast, which debuted with herring and salmon prepared in a variety of different ways, yellow carrot salad, boiled eggs topped with mayonnaise-dressed shrimp, and other hors d'oeuvres. Inspecting the array of seafood dishes and then the meats—cold reindeer, ham, Swedish meatballs, and more—I realized that a really good smorgasbord like this one parses out the palate of Stockholm, revealing its humble beauty. Here were the building blocks of the superb dishes I'd eaten all week long.
There were a lot of feathery green sprigs ornamenting the sumptuous spread, but by then I knew that dill is more than just the Nordic equivalent of North America's ubiquitous garnish of curly parsley. The difference between the ways in which these two herbs are used is that nothing on the Swedish table, modern or traditional, is ever superfluous. And that's its beguiling and very clear-eyed genius.
Where to Eat in Stockholm:
_F12
Fredsgatan 12
111 52 Stockholm
46/8/248-052
Mistral
Sockenvagen 529
Enskededalen
46/8/101-224
Matsalen
Grand Hotel Stockholm
Sodra Blasie-holmshamnen 6
46/8/679-3584
Rolfs Kok
Tegnergatan 41
111 61 Stockholm
46/8/101-696
Esperanto
Kungstensgatan 2
114 25 Stockholm
46/8/696-2323
Lisa Elmqvist
Östermalms Saluhall
Östermalmstorg
114 39 Stockholm
46/8/5534-0410