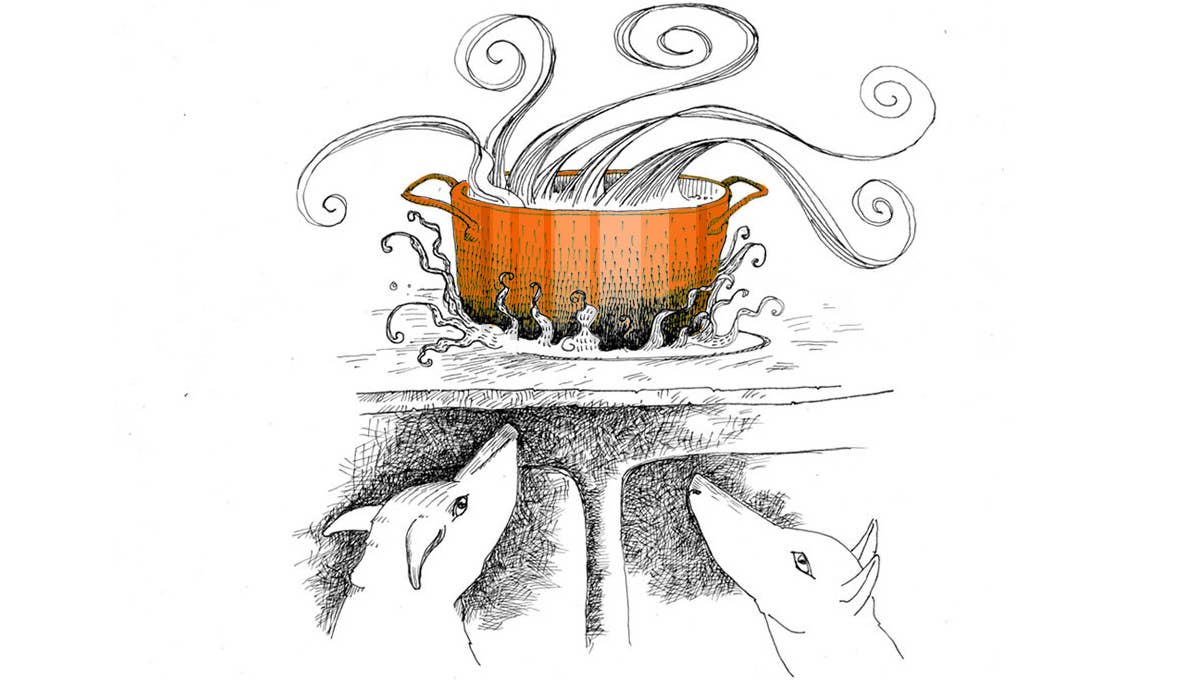 Culture
Food Poetry: The Sunday Milk-Pudding
The intersection of food and poetry is a natural one: both are subjects that concern themselves with experience, memory, sense, and self. In honor of National Poetry Month, we've asked some of our favorite poets from around the world to share works—each poem in print for the first time overall or in English—that fuse the poetic with the edible.
THEN—Sundays were bright with milk-pudding
That grandma cooked on her smoky stove,
Where fire ate her time and patience,
That cooked her eyes red and weepy that
Spilled like the seething milk coughing through
The lid that merged with her violent coughs.
We teased her with mock-coughs and jeers—Then
She would curse us like hell picking her way
Through wrinkling utensils, water jars,
Cobwebs, hanging laundry, —and we'd race
Across rooms, where shadows painted demons on walls—we'd
Giggle, howl, and cry like the crow that cleans curry pots,
We'd bark at her like dogs that bark at our late coming uncles
While she cursed and lost in the rooms, we'd return stealthily,
And emptied the pot, but then she'd scrub-gather the sweet
In a pool of white, and dripped in our muddy hands—that
Tasted sweeter than the stolen broth,—She'd then
Clasp and kiss us and we'd erupt into laughter—Then
The neighbourhood dogs would patrol about the home
Raising their voices and heads demanding a sense of order.
NOW—we eat ordered milking-pudding sitting around a table
Carefully muffling spoons, plates, teeth, tongues, grandma and all dogs.
VK Sreelesh is a journalist with_CHIPS, an English language weekly tabloid for teens published in the Gulf region. A postgraduate in English literature, he has published poems and articles in many publications. He lives in Thalassery, a sleepy town on the Arabian Sea, with his wife, Shyba, and five-year old son, Leo Zeus._