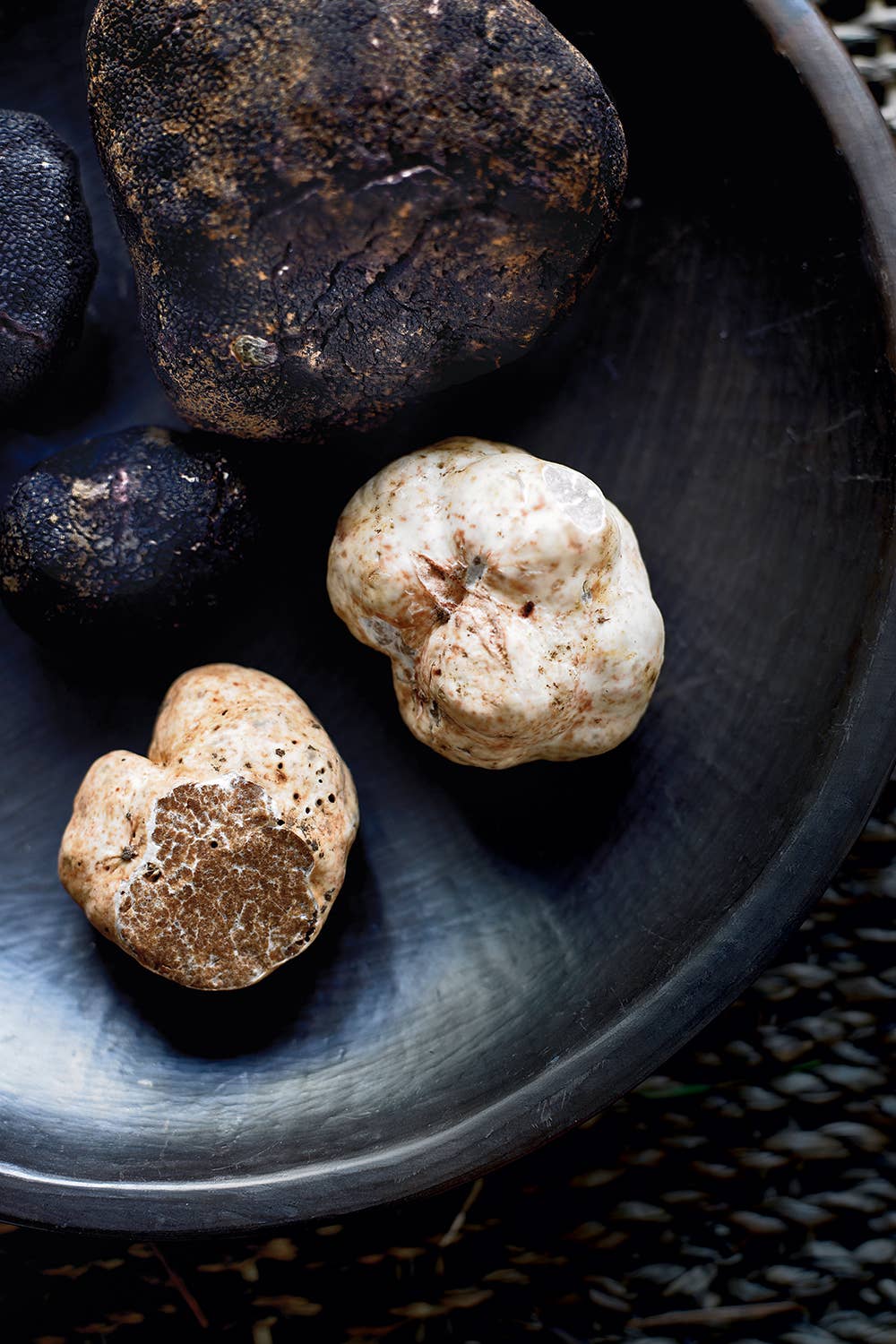 Culture
Buried Treasure
A bounty of black and white truffles grows in the forests of the Pacific Northwest
One morning last December, I found myself crouching over emerald green moss digging for truffles, those famously aromatic fungi that grow among the roots of oaks and evergreens, most notably in Italy and France. I wasn't in Europe, though. I was in Eugene, Oregon, with Chloe and Ilsa, dogs trained to smell for ripe truffles. They barked as they lit upon a promising patch.
Forager Connie Green, who has been truffle hunting since the 1970s, knelt beside me, pushing aside loose soil at the foot of a Douglas fir. As we worked, she explained the symbiosis between truffle and tree: The firs provide food (carbohydrates, basically) to the fungi, and the fungi break down organic matter that fertilizes the tree.
Finally, I caught a glimpse of ivory in the dirt, and soon I was holding six pale truffles ranging in size from marble to golf ball. These small white varieties, Tuber gibbosum and Tuber oregonense, taste like their Italian cousins, with notes of garlic, hazelnut, and nutmeg. Oregon's larger, black Leucangium carthusianum, found deeper in the soil, is muskier, with hints of chocolate and green apple.
West Coast chefs are having a field day with both: Sarah Schafer of Irving Street Kitchen slips black truffles into chocolate-hazelnut mousse cake, while Portland chef Dustin Clark purées the white ones with sunchokes for a silky velouté.
But I favor simplicity. Toting my pungent quarry back to New York, I used shavings to elevate everything from whipped cream to tagliatelle. And I stored them with my butter, rice, and eggs to infuse those staples with umami-rich flavor. This year, I'm ordering them online, keeping in mind that although they are far less costly than their European counterparts, their season is shorter. Maturing in December, they peak in January. Supplies don't last, so contact Umami Truffle Dogs early to order ($40 per ounce).