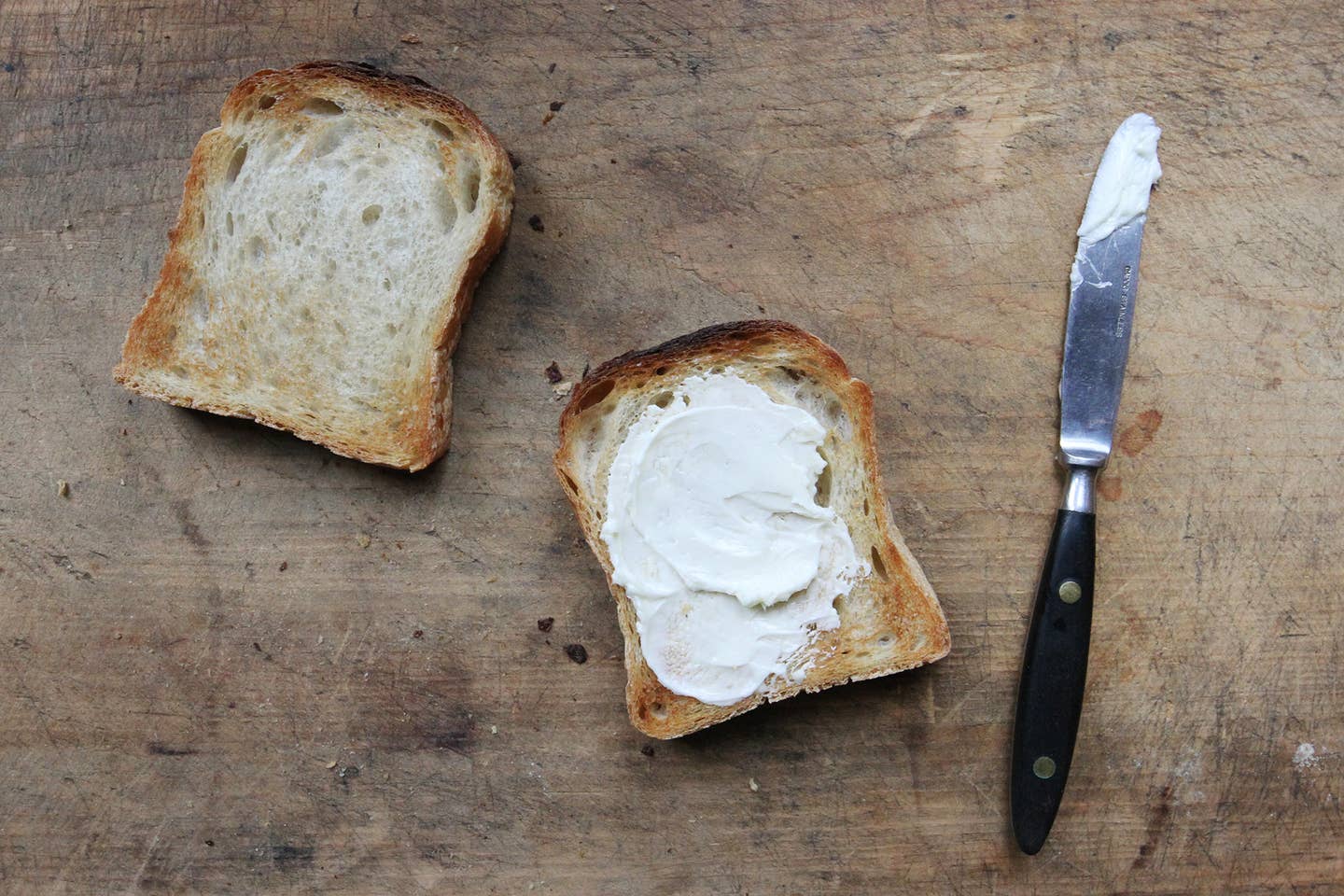 Culture
An Ode to Toast
Learning to appreciate the simplest of breakfasts
It's taken me years to hit my breakfast stride. I skipped the meal entirely all through high school and college, and with good reason: Oatmeal is bland, even livened with maple syrup and fresh fruit. Cake is delightful, but should be saved for special occasions, much as breakfast sandwiches (runny eggs and sausage and mayo, please) should be saved for hangovers. My ideal breakfast, it turns out, is toast.
I know. Toast is boring, monotonous. Cue Elwood's deadpan in Blues Brothers, right after Jake orders four fried chickens at the Soul Food Cafe: "And some dry white toast, please." It's a side dish at best, usually found on the edge of your plate at brunch, already looking stale.
Therein lies the solution to the problem: given the proper attention, toast turns into the main attraction. There's no other meal at which it's acceptable, nay, encouraged, to fill up on bread and butter—certainly not at dinner, where you risk spoiling your appetite after the requisite bread basket roll. Embrace it.
Toast offers endless opportunities for variation, each delightful in its own way. This might stress you out if you're used to having the same bowl of cereal for breakfast every morning, but it's the simplicity, the affordability, and the joy of switching up the "ingredients" of breakfast toast that keep me hooked.
First there's the bread itself. I'm fond of walking into new-to-me bakeries in search of a week's worth of breakfast—this is how, on a stroll in the West Village, I discovered Blue Ribbon's buttery, salt-topped rosemary Pullman loaf—but the grocery store can be a goldmine, too. Regular old whole wheat sliced bread, Thomas's english muffins (if they're good enough for Gabrielle Hamilton, who insists on them for her Eggs Benedict at Prune, they're good enough for me), and Levy's Real Jewish Rye all make their morning appearances. I like to switch between styles from week to week: rugbrød to cinnamon raisin swirl to sourdough, and back again.
Then there are toppings. Butter is a given, except for when it's replaced by a generous drizzle of olive oil (I like to do this when I'm having marmalade). Jam is optional, but I do love the contrast of a swipe of cold jam against melting butter and hot toast. Sometimes I skip the toaster altogether, as I have this week with a caraway and rye sourdough I picked up at the Union Square Greenmarket, in favor of a cool layer of waxy butter and a sprinkling of crunchy salt. As you can see, another benefit of morning toast is a daily excuse to eat good butter—at its best, it should feel like a daily reward, a tiny dose of self-care before you've even had your coffee.
Of course, you can get much more complicated here: avocado with shichimi togarashi, ricotta (or its prosier cousin, cottage cheese!) with honey and black pepper, and peanut butter with Sriracha are three favorites. I hear good things about frying slices of bread in olive oil before topping with honey or jam, too.
But you don't have to overthink it. In fact, you don't have to think at all. In my household, we get antsy when there isn't a loaf of bread on the counter; the ritual of toast has been baked into our morning routine. I saw off two fat planks from whatever bread we've purchased that week while my partner grinds coffee for the Chemex, I stick the slices in the toaster oven as he fills the swan-neck kettle to brew the beans, and I slather the toasted bread with butter and jam as the last drips of coffee filter through. With only slightly more effort than ripping open a granola bar, a rushed meal becomes a brief, buttery few minutes of calm. Breakfast is served.