Travel Guide: Paris
From pop-ups to picnics and everything in between, here's how to fill up and fit in when taking on France's capital.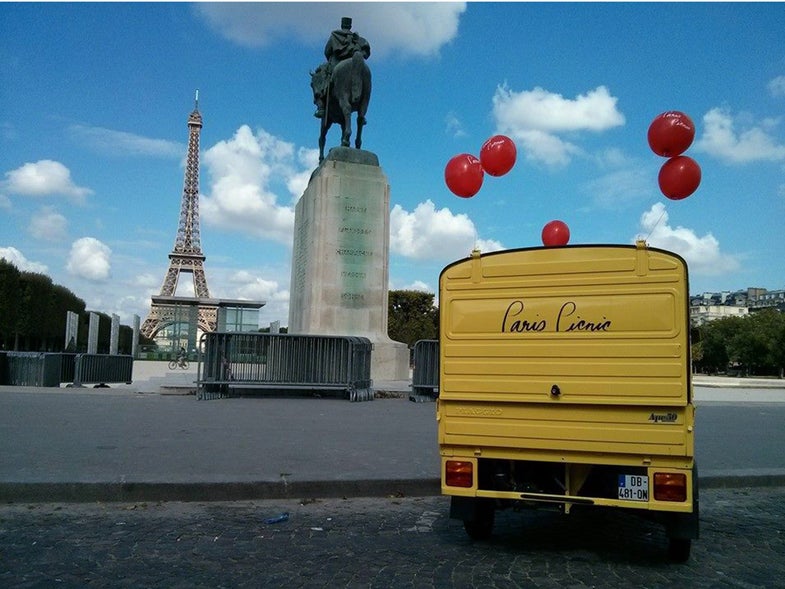 A few constants remain when it comes to eating in Paris: Service is slow by American standards, and you'll always have to ask for la carte (the menu, not to be confused with le menu—the prix-fixe option). It's also worth noting that an _entrée is an appetizer, a plat is an entrée, and the dessert, well, you can handle that one. Also, water isn't so important, so if you want une carafe d'eau (water for the table), prepare to ask for it, s'il vous plaît.
Opening and closing times vary drastically from place to place, too, with many spots being closed on Sunday and Monday, and several not even answering the phone for reservations on off-days or between lunch and dinner. (Sadly, online reservation systems aren't quite status quo just yet, though La Fourchette is trying.)
And just as not every bagel or pizza slice is created equal in New York City, the same goes for macarons, croissants, and baguettes in Paris.
All that being said, there is innovation shining brightly in the City of Light, with pop-up pairings featuring chef collaborations; food trucks dishing out artisanal burgers; really good coffee that doesn't taste like sludge; and even breakfast for those of us who like a few eggs with our baguette and butter. Whatever you fancy, be it snails or beef cheek, natural wine or un cocktail, mangez bien!
Where to Eat
Heimat
This minimalist, trés chic spot from Pierre Jancou, who became known for being a pioneer in the natural wine movement at his other dining destinations La Cremerie and Vivant, opened in January on a quiet street just around the corner from the Palais Royal. Exposed stone walls and wooden bar stools that'd look at home in a contemporary art gallery adorn the spacious, multi-room restaurant, which serves a mix between Italian and French dishes like rigatoni with rabbit and wild marjoram. There's a set-price menu at lunch, or the option to go a la carte for dinner.
Heimat
37 Rue de Montpensier, Paris, 75001
+33 1 40 26 78 25
Hero
In the last four years alone, the expat food group Quixotic Projects has opened the trendy taqueria Candelaria, the Peruvian tapas joint Le Mary Celeste, and Pigalle's rock 'n' roll dive bar Glass. Now, come mid-March, Paris will see the opening of their fourth spot in the up-and-coming, second-meets-tenth area by République. With the exception of a private, six-person, pre-bookable chef's table dubbed "Super Hero," this restaurant will maintain its open-til-late, small-plate, hip multi-lingual formula that's succeeded thus far. Instead of bringing Paris hot dogs, tacos, or ceviche, this time around, chef Haan Palcu-Chang of Le Mary Celeste is frying up Korean chicken.
Hero
289 Rue Saint Denis, Paris, 75002
+33 1 23 45 67 89
Le Servan
Run by Filipino-French sisters Tatiana and Katia Levha, the small, brightly lit space with a hand-painted ceiling in the hip 11th arrondissement opened in October and has been packed ever since. While the service is traditionally French (read: slow), the dishes on the ever-changing menu itself pack a punch once they arrive, from the bulot (cold, snail-like shellfish) served with mayonnaise to a lemon tart with candied hazelnuts for dessert.
Le Servan
32 Rue Saint-Maur, Paris, 75011
+33 1 55 28 51 82
Frenchie Bar à Vins
Forget "Jenny from the Block." In Paris' 2nd arrondissement, it's all about Gregory from the Block. Mr. Marchand is the Frenchie Man About Town who dominates this petite rue with not one, but three restaurants. Of the pack, his not-quite-casual but not-quite-posh Bar à Vins seems to be most adored by all, if only because it's easiest to get in. (That is, if you arrive when it opens at 7 p.m.) Dishes like burrata with peach and purple basil, and tortellini with ricotta, peas, and brown butter, have diners eating while standing up if a seat isn't available, proving that any which way one gets to taste Marchand's food is the right way.
Frenchie Bar à Vins
5-6 Rue du Nil, Paris, 75002
+33 1 40 39 96 19
Holybelly
The French don't typically eat large, American-style breakfasts, but for the rest of us that do, this is the morning must-eat in town. Anglos line up outside before Holybelly's 10 a.m. opening on the weekends for a taste of the stellar brunch, which features the likes of pancakes with noisettes (hazelnuts) and seasonal fruits, or fried eggs and hash browns, paired perfectly with coffee from Belleville Brûlerie. English is the language of choice at this friendly, communal meeting place run by a French pair who spent time in Melbourne and Vancouver. The décor is bright and modern with vintage touches throughout like a pinball machine, which is great for those getting restless from the wait.
Holybelly
19 Rue Lucien Sampaix, Paris, 75010
+33 9 73 60 13 64
Au Passage
You'll wonder if you made a wrong turn when heading towards this no-frills restaurant located on a passage in the 11th arrondissement, but once you've found it, you'll realize that it was worth the extra effort. While the chef has changed since Au Passage opened in 2011, the small, sharable dishes like Brussels sprouts with burnt hazelnuts and a hefty helping of crème fraîche are still inspired. The atmosphere itself may be oddly drab, and the daily menu is written on one large blackboard in the back (which you'll have to squint or get up to see), but you're there for the food and it's fantastic.
Au Passage
1bis Passage Saint-Sébastien, Paris, 75011
+33 1 43 55 07 52
Clown Bar
You'll be hard pressed to keep from smiling when dining at this always-busy bistrot a stone's throw from the haute Marais. The red-nosed, made-up faces on the ancient wall tiles, along with the mirrored bar and painted ceiling, remain in tact from its early-20th century days, but what's served on the tables is all fresh, unique, and ahead of its time. Take, for example, the raw and cold coquille Saint-Jacques served with warm burrata and basil purée, or the buttery foie gras and vegetable tartin, or the pamplemousse (grapefruit) creme brulée that's been bruléed to perfection. Whether you dine outside, at the bar, or at one of the wooden tables with hidden drawers for cutlery, this restaurant from Saturne alumni Sven Chartier and Ewen Lemoigne is no joke.
Clown Bar
114 Rue Amelot, Paris, 75011
+33 1 43 55 87 35
Le Bistrot Paul Bert
If you're looking for a traditional côte de boeuf or Julia Child's favorite poisson meunière (fish with lemon and brown butter), this affordable, 15-year-old mainstay will not disappoint. The worn décor looks more ancient than its decade-plus age, but it's all charm, complete with crooked artwork, scratched mirrors, and a blackboard menu of "plats du jour" that makes its way around the room whenever your server feels like it. The price is right, too, and if your French is comme çi comme ça, don't worry. Just come with patience and a willingness to succumb to whatever French flavors they've got cooking that evening.
Le Bistrot Paul Bert
18 Rue Paul Bert, Paris, 75011
+33 1 43 72 24 01
Le Grand 8
After climbing all those steps and hills near Sacré Coeur in Montmartre, it'd be easy to settle for something as simple as a seat and a carafe d'eau at one of the many tourist-trodden spots on the butte. But you shouldn't, because you'd be missing out on one of Paris' more quaint and homey restaurants, which also happens to have one of the best views in town. Hearty proteins like duck and cod come with potatoes and seasonal vegetables, and the menu option is a steal at 28 Euros for a plat, entrée, and dessert. The wine list is impressive, too, and service comes with an honest smile. Book ahead to request a table in the back, by the window overlooking the city below.
Le Grand 8
8 Rue Lamarck, Paris, 75018
+33 1 42 55 04 55
Breizh Café
Crêpes are not a Parisian specialty, but the Brittany-born pancake has become a national dish, so there are obviously a lot of places to go buckwheat or go home in the capital. That said, few are as traditional, flavorful, and varied as those from this popular café in the Marais, where a reservation is absolutely necessary. Whether you go savory with eggs, herbs, and salty sliced jambon, or sweet with nutella and strawberry, you won't be disappointed.
Breizh Café
111 Rue Vieille du Temple, Paris, 75003
+33 1 42 72 13 77
Where to Drink
Lockwood
By day, this multi-level space is a café with great coffee where Parisians and expats alike come for the free WiFi and fluffy pancakes with apples, or onion soup and le sandwich. But by night, in its cavernous, low-ceilinged rooms downstairs, good-looking people who are eager to pay a high price for speciality cocktails and loud 80s music come to mingle. From 9 a.m. to 2 a.m. everyday except Sunday, it's a veritable one-stop-shop for good food, good vibes, and bonheur, as the French say.
Lockwood
73 Rue d'Aboukir, Paris, 75002
+33 1 77 32 97 21
La Fine Mousse
While Paris isn't necessarily known for its beer, there's been an increase in demand for options beyond Kronenbourg—or "Kro," as it's called—which is essentially France's Budweiser. Thankfully, La Fine Mousse is happy to quench your thirst with its huge selection of beers (150 to be exact) from all over the world, like Old Crustacean Barleywine from Rogue Ales in Oregon, which packs a punch at 11.5% alcohol. Whether you want domestic or international, blonde, stout, or IPA, you'll find it in this happening hot spot near Oberkampf, where across the street they've opened a restaurant to help sop up all that hop.
La Fine Mousse
6 Avenue Jean Aicard, Paris, 75011
+33 1 48 06 40 94
L'Avant Comptoir
If you don't mind a bit of elbow or backside with your creamy ham croquettes, this standing-room-only spot, which opened on the Left Bank in 2009, is the place to go for stellar wine and small plates. But don't call them tapas if you want to get on owner Yves Camdeborde's good side—he classifies the place as an "hors d'oeuvres bar." This is France, after all. Whatever you call it, even six years after its debut, it remains packed like a tin of sardines, which may appear on the menu that changes daily. Stop in for one or two bites before a bigger meal (perhaps at Le Comptoir du Relais, Camdeborde's popular formal restaurant next door) or after a movie at the Odéon down the block.
L'Avant Comptoir
3 Carrefour de l'Odéon, Paris, 75006
+33 1 44 27 07 97
Lulu White
From the folks who brought thirsty bobos (French hipsters) the Little Red Door in the Marais comes this blink-and-you'll-miss-it cocktail den hidden on a small street in trendy South Pigalle (aka SoPi). Inside, a handful of crescent-shaped velvet banquettes provide an intimate atmosphere that's perfectly suited for the neighborhood's own haughty history and that of the New Orleans mistress the bar is named after. Whether served straight-up, shaken, or stirred, seven of the cocktails come with absinthe, and many get a slushy treatment, giving a nod to the Big Easy's most famous fête, Mardi Gras.
Lulu White
12 Rue Frochot, Paris, 75009
+33 9 83 58 93 32
Aux Deux Amis
You know those places in Paris where Parisians are laughing out loud and spilling onto the street with a drink and cigarette in hand? Where all seems right with the world and everyone's having a raucous good time? This is one of those places. With a huge selection of natural wine leaving stains on the wooden tables, and a small-dish menu that's scribbled on a tiny piece of paper that the server will pass around, this is a real local's gem. The atmosphere may not be glamorous, and the tables are super tight, but double kisses are given out quicker than you can say bonjour, so just take one (or two) and pass 'em on.
Aux Deux Amis
45 Rue Oberkampf, Paris, 75011
+33 1 58 30 38 13
Where to Stay
Jules & Jim
If hip and understated—in the coolest way possible—is your M.O., check into this four-year-old hotel in between the Centre Pompidou and Marché des Enfants Rouge, the city's oldest covered food market. Many of the 23 minimalist rooms may be small at only 14 square meters, but they're all uniquely shaped, and some (like No. 81 and No. 71) provide clear views of the Sacré Coeur way up in the 18th arrondissement. Mirror-like flatscreen TVs are hidden in plain sight, while fresh ranunculuses adorn wooden desktops, and sexy black-and-white images of men posing in the hotel's pre-renovated construction zone are hung on the walls. Molton Brown toiletries can be found in the bathrooms and rotating photo exhibits pop up in the lobby every two months. Rooms start at 190 Euros a night.
Hôtel Jules & Jim
1 Rue des Gravilliers, Paris, 75003
+33 1 44 54 13 13
The Grand Pigalle
Forget the bed and breakfast. The trio behind the internationally popular mixology haven Experimental Cocktail Club has dubbed this 37-room hotel in South Pigalle a "bed and beverage." When it opens this month, there's no doubt that visiting fashionistas and food lovers alike will be spilling from its super-chic rooms. Clever touches such as brass pineapples on every forest green door, martini glass-patterned carpets, and pre-made cocktails in the mini bar will help differentiate it from other boutique hotels in the area (namely Hotel Amour and the forthcoming, ever-opulent Maison Souquet). The "Under the Roof" rooms 601 and 602 on the top floor provide stellar views of Sacré Coeur just up the hill in Montmartre—either from the bed, or the fully open shower, while the smaller chambers on the 5th floor have terraces that overlook well-known Rue Frochot below. Rooms start at 200 Euros a night.
The Grand Pigalle
29 Rue Victor Massé, Paris, 75009
Park Hyatt Place Vendome
A mainstay for the last 13 years, this 153-room chain hotel, which is a stone's throw from the Jardin des Tuileries and trendy Rue Saint-Honoré, prides itself on being both "confidential and residential." Whatever that means, the warm and welcoming communal lounge areas on the first floor feature beige columns and a breakfast bar blooming with dozens of fresh white orchids. Just outside in the inner courtyard, heated lamps provide warmth if you haven't booked a table inside the seasonal chalet, where up to 8 people can dine on a special raclette menu for 175 Euros per person.The hotel exudes elegant artistic touches, with over 5,000 bronze sculptures by artist Roselyne Granet hung throughout—on the walls, the door handles, the lamps, and the windows. Those looking for a more contemporary escape can now book a manicure or pedicure in the newly-designated nail suite from Kure Bazaar on the sixth floor. Rooms start at 810 Euros a night.
Place Vendome
5 Rue de la Paix, Paris, 75002
+33 1 5871 1234
What to Do
Paris Picnic
Is there any other pastime that screams Paris more than a picnic? Weather permitting, Paris Picnic, which debuted last spring, will deliver a basket full of delicacies—wine, baguette, an assortment of cheeses, charcuterie, etc.—anywhere you'd like to take a seat. Just head to their website to choose from one of the four options including "Le Classique," which comes with all of the above, along with a blanket and cutlery for 55 Euro, and "Le Chic," which swaps wine for Champagne and adds in macarons and foie gras for 85 Euro. Whether you want something public and glitzy on the Champs de Mars just before the Eiffel Tower lights up, or private and quiet in the hilly Buttes-Chaumont, all you have to do is place an order and show up.
The Chamber
The Chamber is a cocktail club hosted in a different Parisian home each month. Founded by American Forest Collins of the popular blog 52 Martinis, it is meant to evoke the social salons of yesteryear by bringing together various food and drink lovers for an evening (or afternoon) of inventive cocktails and small bites catered by a local tastemakers. A yearly membership is 250 Euros and guarantees first access to all events for half price; without a membership, events are around 45 Euros.
Aligre Marché
So you want to food shop like a Parisian, do you? Head to this 6-day-a-week market in the 12th arrondissement—and don't forget your tote and cash. You'll want to load up on the wide variety of fresh produce, from candy-pink grapefruit to every fresh herb you can think of. Inside the covered area, there's a handful of vendors selling cheese, charcuterie, and flowers, but the outside bits are the most fun, with each stand proclaiming its unique personality via shouts for your attention. Tasting is encouraged. On your way out, stop for an oyster (or five) and a glass of vin blanc at nearby Le Baron Rouge.
Place d'Aligre
Paris, France, 75012
"Paris by Mouth" Food Tour
From the popular English food blog of the same name, these 3-hour tours in the Marais, Latin Quarter, or Saint-Germain will smarten you up and fill your belly. Launched by Kansas-born Meg Zimbeck in 2012, Zimbeck's guides—a mix of journalists and industry vets—are knowledgable and eager to share their food IQ with the group. Whether it's a baguette's shelf-life (5 to 6 hours) to what MOF stands for and why it's important (Meilleurs Ouvriers de France—it designates the best of the best among trade professionals), this is learning at its most fun and most delicious. There are only 7 spots on each tour, so book way ahead if you've got a tight schedule. And while it probably goes without saying, go hungry.
The Paris Pop Up
What began as a love affair at the ever-popular Frenchie restaurant has now blossomed into a booming business for Brit Harry Cummins and Canadian Laura Vidal, two 30-somethings who now travel around the world, knives and creativity in tow, hoping to feed hungry diners wherever they land. Of course, it all started here in Paris. After a few months spent in Morocco, they're back this spring hosting a series of wine-themed dinners called "Spin the Bottle" at the popular Table Ronde, a space that showcases the chef's every move in front of 16 guests. Dinner tickets aren't cheap (they cost 115 Euros), but considering you get six dishes paired with six different wines—all while watching Harry cook—it's a bargain. Be sure to follow the pair's whereabouts online, because you never know where they'll pop up next.
Sunday Bingo at Freddies
While Californian Kristin Frederick is best known around town for being the first person to bring a food truck to Paris (her Camion Qui Fume attracts people in droves for its gourmet burgers with artisanal toppings), she's also brought American deli meat to the masses with Freddies, a casual diner-like spot that opened in 2013. While you can get your pastrami or cheesesteak fix Tuesday through Saturday from noon until 4 p.m., Sunday evening (long known for being the night when most restaurants are closed) is the best time to go, as they stay open late and hand out bingo boards upon arrival. It's a real jovial, local, non-traditionally French vibe that'll provide a sense of home for those staying awhile (or those just ready to eat something other than fruit de mare or croissants).
Freddies
22 Rue Crespin du Gast, Paris, 75011
+33 1 84 16 33 75
Les en Dimanches #AtYourSundayBest
Launched in late 2014 by Michael Cohen, "The Wine Guy" at Le Perchoir (Paris' hippest, if not only, rooftop bar), these infrequent Sunday dinners attract both visitors and locals looking for a taste of something unique and totally hip. The third event, which occurred in February, saw two Aussie chefs—Henry James of Bones and Shaun Kelly of Yard—combine their techniques and flavors to serve up to 40 hungry diners a Middle Eastern feast of shawarma de mouton with dates, duck with za'atar, and cauliflower with sesame and spices. The wine flowed generously and by evening's end, musical chairs had begun, with groups mixing and mingling to the beat.
Promenades Gourmandes with Paule Caillat
Anyone who fancies themselves a budding Julia Child might want to take a cooking class from the bilingual Parisienne Paule Caillat, who teaches from her home kitchen in the Marais. While she's widely known for her Brown Butter Tart Crust, she'll customize the course based on the group's preferences and tastes. Like cheese? Hold your nose, and she'll bring out the Camembert. Have a thing for pastries? Out comes the sugar and flour. The intimate classes start at 290 Euros per person for a group of 4 and are capped at 8 students. They begin at 9 a.m. with a shop at a local market for ingredients and end after your four-course lunch around 3 p.m.
Promenades Gourmandes
38 Rue Notre Dame de Nazareth, Paris, 75003
+33 1 48 04 56 84
Pastry Classes with Christophe Michalak
Who doesn't love a star chef? The handsome pastry chef hosted France's Le Gâteau de Mes Rêves (Cake of my Dreams) and judged Qui Sera Le Prochain Grand Pâtissier? (Who's the Next Great Pâtissier?), but prior to becoming a TV personality, Christophe Michalak learned the pastry trade by working the ovens at Fauchon, Pierre Hermé, and Ladurée. In 2013, he opened his own training school, which offers a number of three-hour classes to students with a sweet tooth, one of which is taught by the master himself for 280 Euro.
Belleville Brulerie Tasting
While the image of a beautiful Parisian sitting on a wicker chair outside a café sipping a small coffee is quintessential Paris, what's in that cup is often far from fabulous. Thankfully, there's now a host of cool coffee shops and roasters putting a stronger emphasis on the coffee-making process from bean to pour. The 18-month-old Belleville Brulerie in the 19th arrondissement is one such example, where a duo of dudes named David Flynn and Thomas Lehoux are sourcing their beans far and wide, from Ethiopia and Honduras, to Mexico and Costa Rica, and roasting onsite two days a week. They then provide approximately 30 local restaurants and 10 others worldwide with "the opportunity to taste delicious coffee," says Lehoux. While they're mainly retail-focused, selling beans and brewing products alike, they do open their doors to the public on Saturday mornings for a pre-booked, one-hour dégustation. The class is limited to 8 people, costs only 20 Euros, and comes with a bag of coffee.
Belleville Brulerie
10 Rue Pradier, Paris, 75019
+33 1 98 37 56 08