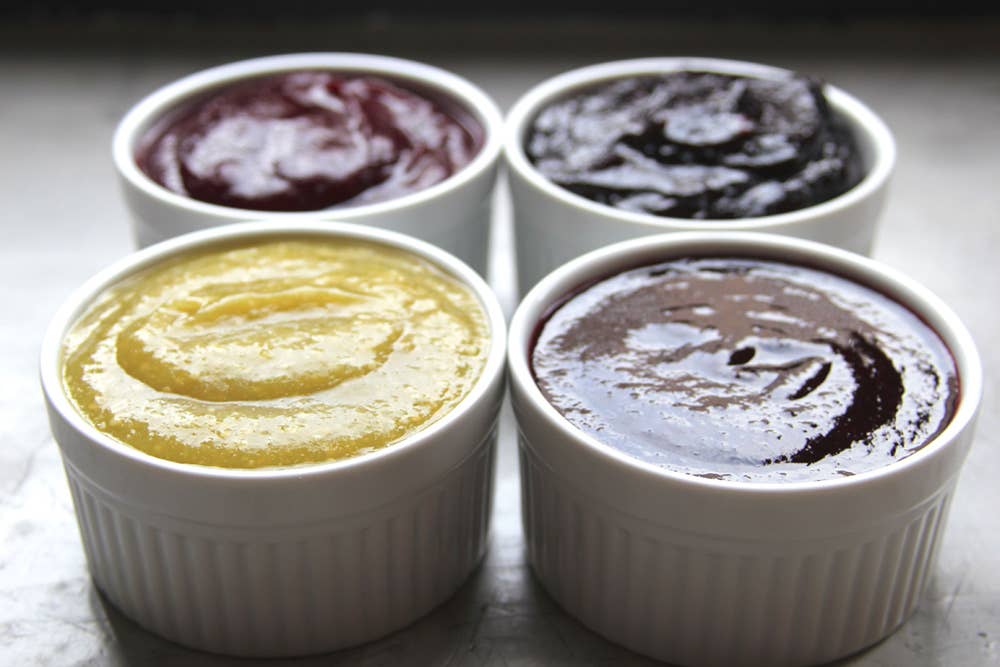 Culture
Beyond Tomatoes: Four Great Fruit Ketchups
Think ketchup starts and ends with tomatoes? Think again.
Ketchup: when you hear the word, you know instantly what we're talking about. It's a sweet and tangy, thick and glossy condiment made from tomatoes. And though there's more variety in ketchup now than there's been in years (stalwarts Heinz and Hunt's still dominate the market, but artisanal brands like Sir Kensington, First Field, and Portland Ketchup are making inroads), they all have that orange-red fruit in common.
But ketchup hasn't always been a tomato story. Look back just fifty or sixty years, you'll find that ketchup (sometimes also spelled catsup or catchup) referred to any number of condiments, all made from whatever fruit, vegetable, or even shellfish was available in abundance and needed to be preserved—they'd be combined with sugar, vinegar, and spices to make a sauce that was used to enhance meals during the colder months. Go back even farther, to the eighteenth-century Booke of Cookery written by Martha Washington (wife of George), and you'll find one of the earliest American recipes for ketchup, with no tomatoes in sight: it was made from pickled oysters and mushrooms. The New York Times Heritage Cookbook, an exhaustive collection of recipes gathered from across America in the late 1960s and early 1970s, features five recipes for fruit-based ketchups.
But after World War II, as more and more families moved away from the traditional farmstead and commercial food production boomed, home preserving underwent a steep decline. Prices for ready-made food products dropped, and visiting the local supermarket seemed far more appealing than standing over a steaming pot on a hot summer day. One of the results of this shift in food production and sourcing was that tomato ketchup, which had long been one of the more popular homemade varieties of the condiment, became virtually the only variety used in most households.
Happily, non-tomato ketchups are beginning to make a comeback, thanks both to creative-minded chefs wanting to serve interesting condiments to their guests, and a new generation of home canners who are looking for new ways to use local, seasonal produce. Over the years, I've made a number of fruit ketchups in my own kitchen. For roasted sweet potato wedges, there's no better dip than a puddle of blueberry-chipotle ketchup. Any time there's a cookout, I reach for a bright green tomatillo version to top my burger, and sweet cherry ketchup has become my new favorite stand-in for barbecue sauce. Think bigger than tomatoes: the ketchup possibilities are limitless.