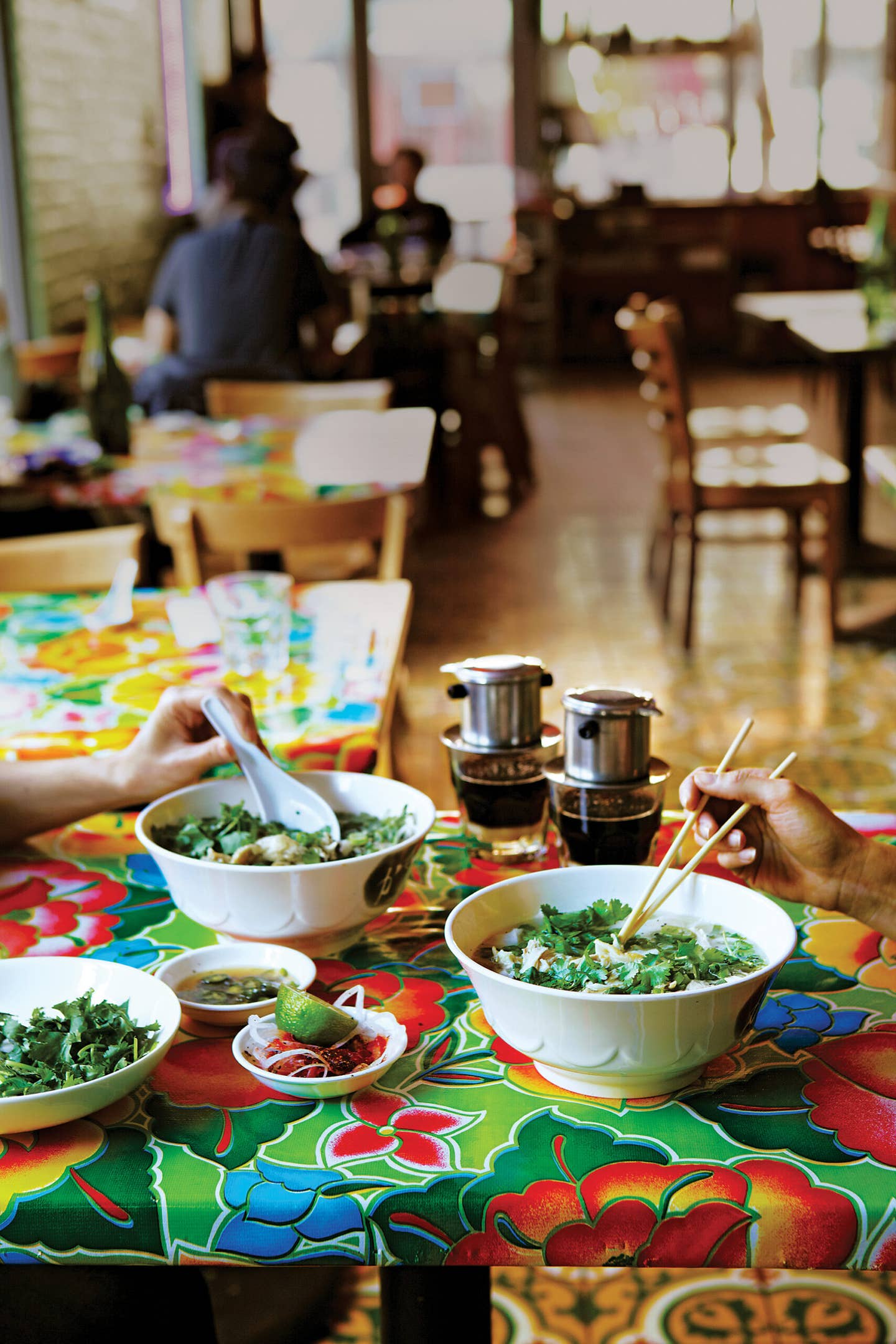 Culture
Better Eat Your Breakfast
The first meal of the day finally gets serious culinary consideration
It's 9:47 A.M. and I'm late to work. Really late. But I can't quit the Hanoi-style pho sitting in front of me at chef Danny Bowien's Mission Cantina restaurant in New York City. The ever surprising, always improvising Bowien went Asian instead of Latin for the morning menu at his Mexican spot—my bowl is brimming with pulled chicken, thick ribbons of rice noodles, and so much scallion and cilantro I can barely see below the soup's surface. Strewn across my table are more signs of a Vietnamese feast: an ample baguette smeared with duck liver pâté, lemongrass-flecked sausage patties nestled on a mound of broken rice, saucers of sriracha-doused shaved onions, and plates of Thai basil, mint, and sawtooth herbs. Breakfast made with the same thought and delicate balance as dinner—what a welcome revelation.
No restaurant wins Michelin stars for eggs Benedict, but even without the critical acclaim (or sexy lighting) that comes with evening cooking, breakfast still has a blank slate-style allure for more adventurous culinary explorers. "I feel like we're just getting going with breakfast," says Eli Kulp of Philadelphia's High Street on Market. "I secretly want to do a breakfast tasting menu." Not quite there yet, his breakfast offerings nevertheless include spicy coppa, braised kale, and an unabashedly weighty red-eye gravy danish with ham that is, in every way, the antidote to a joyless Greek yogurt to go. Alvin Cailan of Eggslut in Los Angeles goes one step further—he focuses his prodigious culinary talent almost exclusively on piled-up, feats-of-architecture breakfast sandwiches. On a special one he puts his contrast-colored, strikingly pretty marbleized egg, a sandwich component that makes a statement: Even at breakfast, a chef can show off some neat tricks.
By the time I get to the office, I'm practically giddy. Normally, I'm nursing a coffee, trying to jolt my brain out of start-up mode, but today I'm the perky person with a too-wide grin. Breakfast is worth it. Not for fueling up or detoxing or cleansing or any other performance-enhancing function; a good breakfast (like one of these four delicious recipes) is worth it because diving into a thoughtful, flavorful dish is the best way to welcome the day. Turns out being the perky morning person is pretty damn great.