Recipes
Danny Bowien's Breakfast Pho
This soothing Vietnamese-inspired chicken soup makes an exceptional morning meal.
Serves

8

Prep

8 hours 10 minutes

Cook

1 hour 45 minutes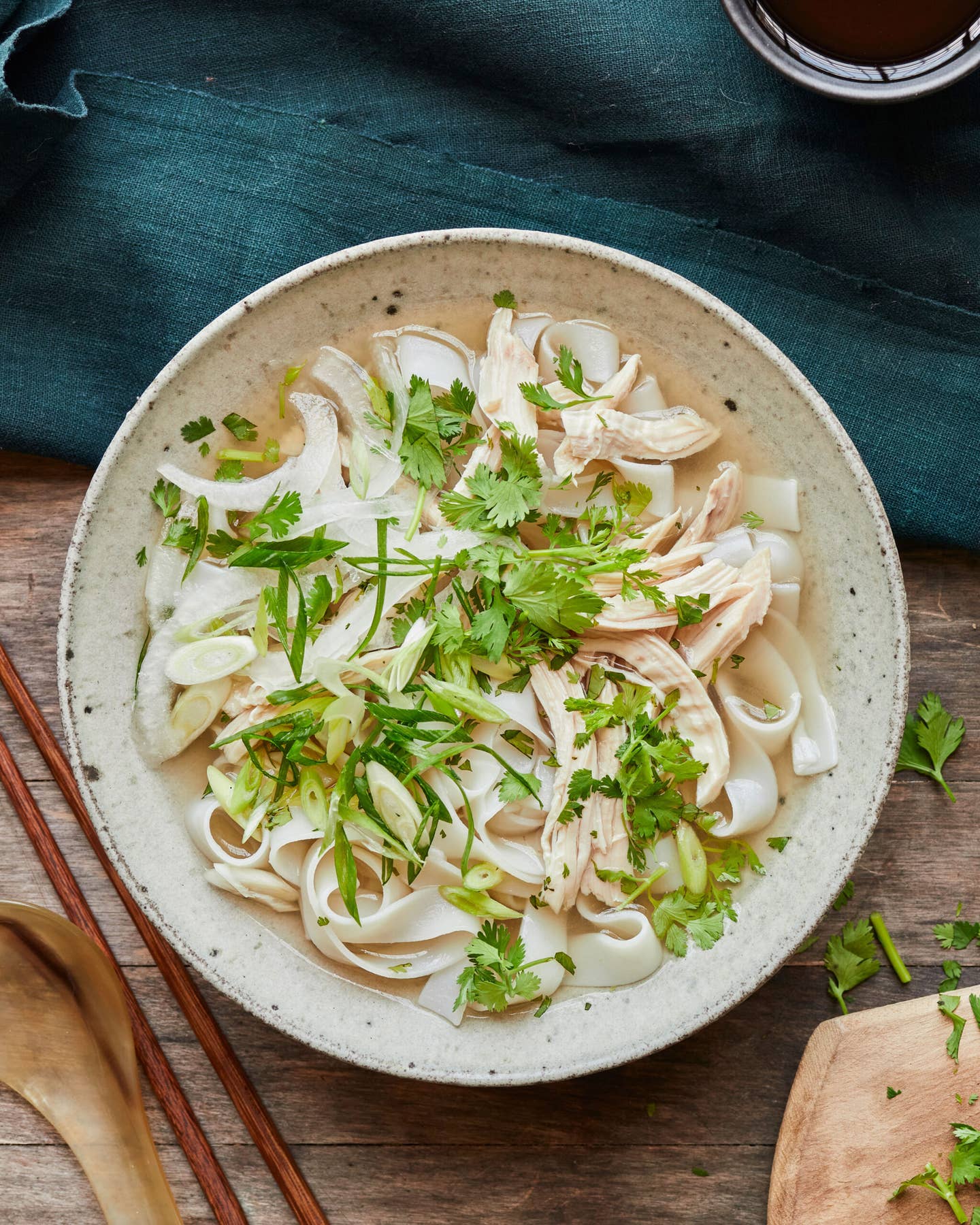 Danny Bowien likes to serves this steamy chicken pho for breakfast. The dish is inspired by the Vietnamese soups he ate at San Francisco's Turtle Tower when he was a culinary student. The chef simmers the simple chicken broth for just a short period after bringing it to a boil because he feels that overcooking causes the flavor of the aromatics to go flat.
Ingredients
One 3½ –4-lb. chicken
Kosher salt and freshly ground black pepper
½ oz. Thai rock sugar or 1 tbsp. sugar
3 Tbsp. plus 1 cup fish sauce, preferably Squid brand, divided
2½ lb. fresh wide rice noodles or 32 oz. dried noodles, cooked and drained
1 cup coarsely chopped cilantro leaves
4 medium scallions, thinly sliced
½ large white onion, thinly sliced, rinsed, and drained
Sriracha sauce, for serving
½ cup fresh lime juice
1 jalapeño, stemmed and thinly sliced
Instructions
Step 1
Using plenty of paper towels, pat the chicken dry, then place on a large rimmed baking sheet fitted with a wire rack. Season the bird generously with salt and black pepper inside and out. Transfer to the fridge and chill, uncovered, at least 8 or up to 24 hours.
Step 2
To a large pot, add the chicken and 1 gallon of cold water. Bring to a boil over high heat, then turn the heat down to maintain a gentle simmer. Cook until the chicken is just cooked through, about 40 minutes.
Step 3
Turn off the heat, then, using tongs, transfer the chicken to a cutting board or a clean rimmed baking sheet and set aside until cool enough to handle.
Step 4
Remove and discard the chicken skin. Shred the meat and set it aside, then return the bones to the pot of broth. Return the pot to medium-high heat and bring the broth back up to a simmer, skimming and discarding any scum that forms along the surface, until the liquid is slightly reduced, 35–40 minutes.
Step 5
Stir in the sugar and 3 tablespoons of fish sauce, then season the broth to taste with salt. Remove from the heat, set a fine mesh strainer over a clean medium pot and strain the broth into it. Add the reserved shredded chicken, set over medium heat, and cook just until warmed through. Divide the cooked noodles among 8 large soup bowls, then top with the hot broth and chicken. Garnish each serving with cilantro, scallions, onion, and sriracha. In a small bowl, stir together the remaining fish sauce, the lime juice, jalapeño, and a pinch of black pepper. Serve the chicken pho hot, with the dipping sauce on the side.