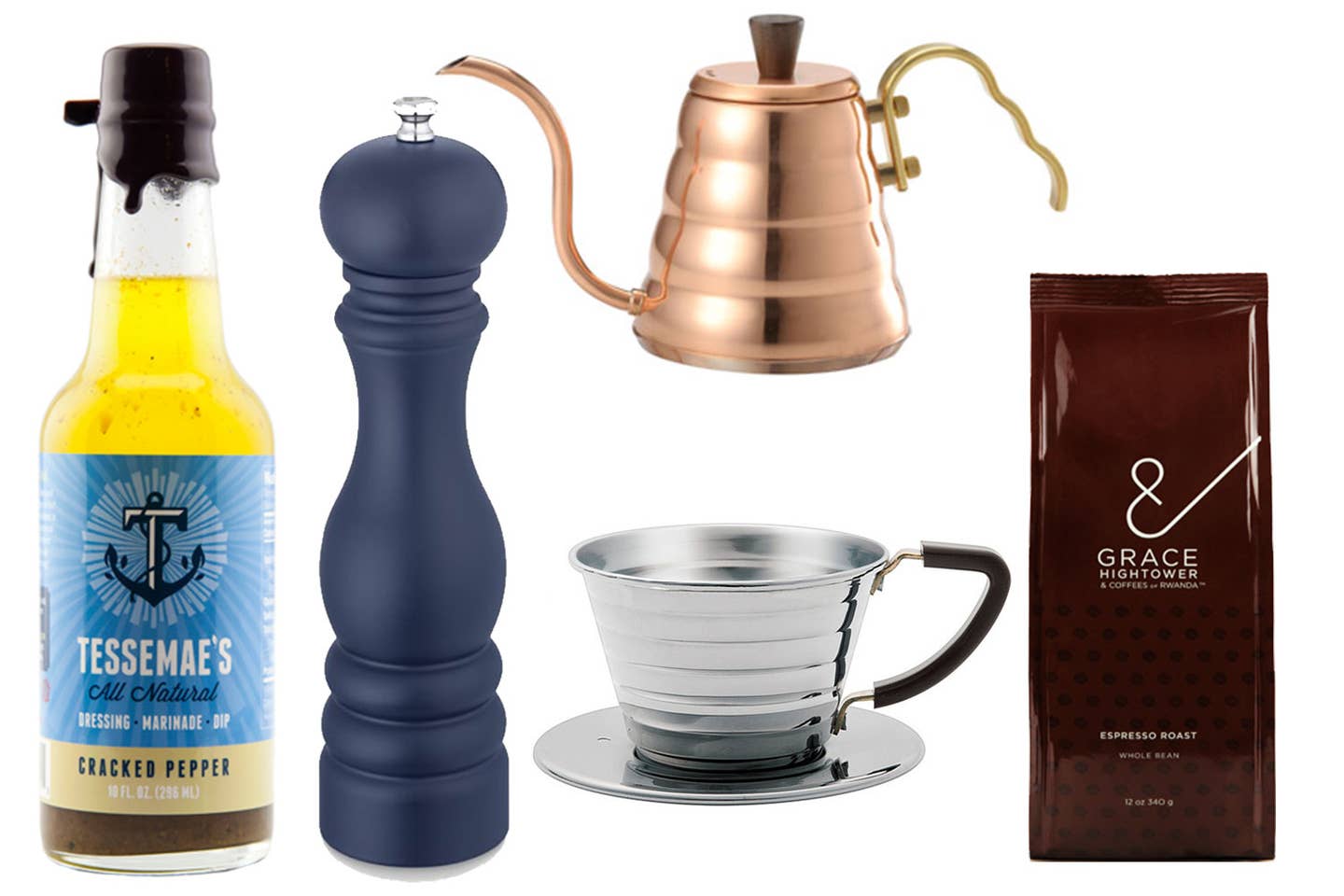 Culture
SAVEUR Selects: March 2015
We come across all sorts of great products in the SAVEUR office. Check out our favorites for March: a beautiful kettle, stylish salt and pepper mills, and more selected by design director (and coffee connoisseur) Adam Bookbinder.
This metal dripper is a simple way to make a very strong and flavorful cup of coffee. I love the retro-futuristic look of the design.
Kalita Wave #155 Dripper, $35 at wreckingballcoffee.com
I use my Hario kettle every single morning; it provides an even stream of water that's perfect for pour-over brewing.
Hario Buono Kettle in copper, $110 at amazon.com
I love using this dressing on salads and as a marinade for wings; it's got a little spice and tons of bright, zesty peppercorn flavor.
Tessemae's Cracked Pepper Dressing, 10 oz. bottle for $6 at tessemaes.com
Working directly with Rwandan farmers, Grace Hightower's coffee company ensures that their coffee is responsibly produced, every step of the way.
Grace Hightower Rwanda Espresso Roast, 12 oz. for $12.50 at coffeeofgrace.com
Stylish and functional, these salt and pepper mills produce a perfect grind that you can adjust from coarse to very fine—and they look great on the table for a dinner party.
Peugeot Paris Matte Navy Salt & Pepper Mills, set of 2 for $93 at williams-sonoma.com
Partner product: A layered, roll-forged Damascus blade has 71 alternating micro layers of high-carbon, high-chromium VG10/VG2 stainless steels. Thin, light, strong—and gorgeous.
Shun Cutlery Dual Core 8-inch Kiritsuket, $375 at shuncutlery.com
ADAM BOOKBINDER, design director
Favorite restaurant of late: Tazinna, in Forest Hills, Queens. Great Mediterranean fare; I love the broiled octopus!
Go-to dish for entertaining: Garlic hummus. It's so easy to make in the blender, and is always a favorite among guests. I serve it with small triangles of pita bread, toasted and drizzled with a little olive oil.
Next travel destination: Disneyworld! Taking the kids for the first time. Looking forward to the Star Wars Jedi training class at Hollywood Studios.