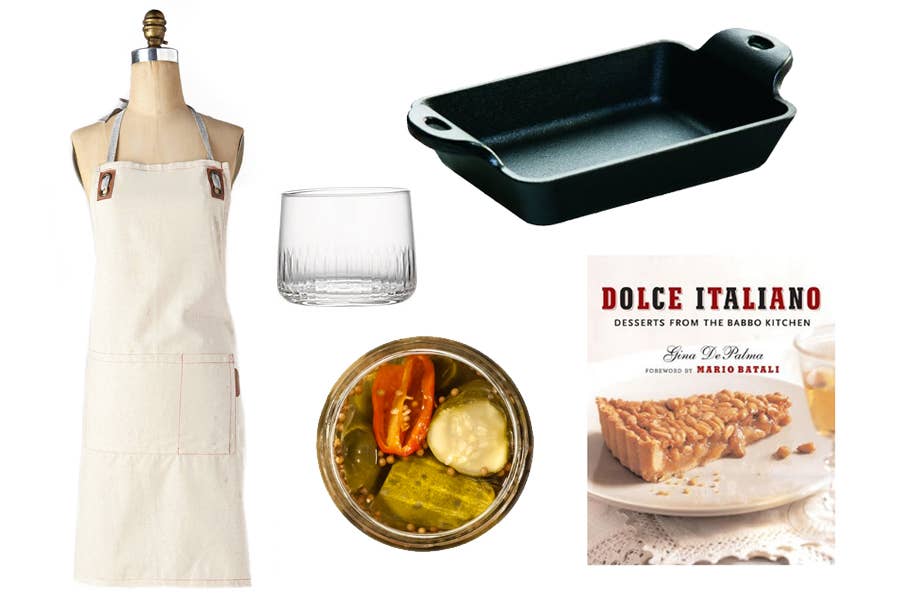 Shopping & Reviews
SAVEUR Selects: January 2015
We come across all sorts of great products in the SAVEUR office. Check out our favorites for January: spicy pickles, the perfect apron, and more selected by digital producer Michellina Jones. Sign up for the monthly SAVEUR SELECTS e-mail newsletter »
As a spicy foods addict, I love these pickles. You can taste the freshness of their locally sourced vegetables, and the addition of whole red chile peppers sends everything off the charts.
Brooklyn Brine Damn Spicy Pickles, $12 at mouth.com
I don't have a microwave, so these are ideal for reheating leftovers. They're also a fun way to serve things like baked eggs, eggplant parm or apple cobbler when entertaining.
Lodge LMSRC 10-oz. rectangular mini server, $10 at amazon.com
I received this book by Babbo pastry chef Gina DePalma as a wedding gift, and it's still one of the most cherished books in my collection. Her sweet tart crust is one of my go-to recipes.
Dolce Italiano, $26 at amazon.com
I've always been clumsy and have broken more glasses than I care to admit. These stubby rocks glasses are just right: They're perfect for whiskey, but I use them for juice and wine, too.
Orb short drink glasses, $8 each at crateandbarrel.com
An unexpected addition to hot chocolate, teas, cookies and even mixed drinks, Meso Nutso Pure Lavender Extract turns the ordinary into something special.
Pure lavender extract, $12 at mesonutso.com
If I'm frying or working with flour, I need a durable apron. This one features front pockets where I can keep my phone safe and within reach when it's time to snap a few shots of my progress.
Portsmouth apron, $32 at anthropologie.com
MICHELLINA JONES, digital producer
Favorite Winter Dish: Nothing comforts me like a warm bowl of garlicky fettucine with spicy sausage, tender broccoli rabe, and fresh Parmesan. I let it all swim in good extra-virgin olive oil and use a crusty piece of bread to sop everything up.
My Go-To Drink: It's hard to screw up a classic, so I'll usually turn to a Manhattan in cooler months or a gin and tonic when the weather heats up.
Where I'm Traveling Next: Montreal has been on my list for a very long time. I'm desperate to try an authentic smoked meat sandwich and compare their bagels to New York's.