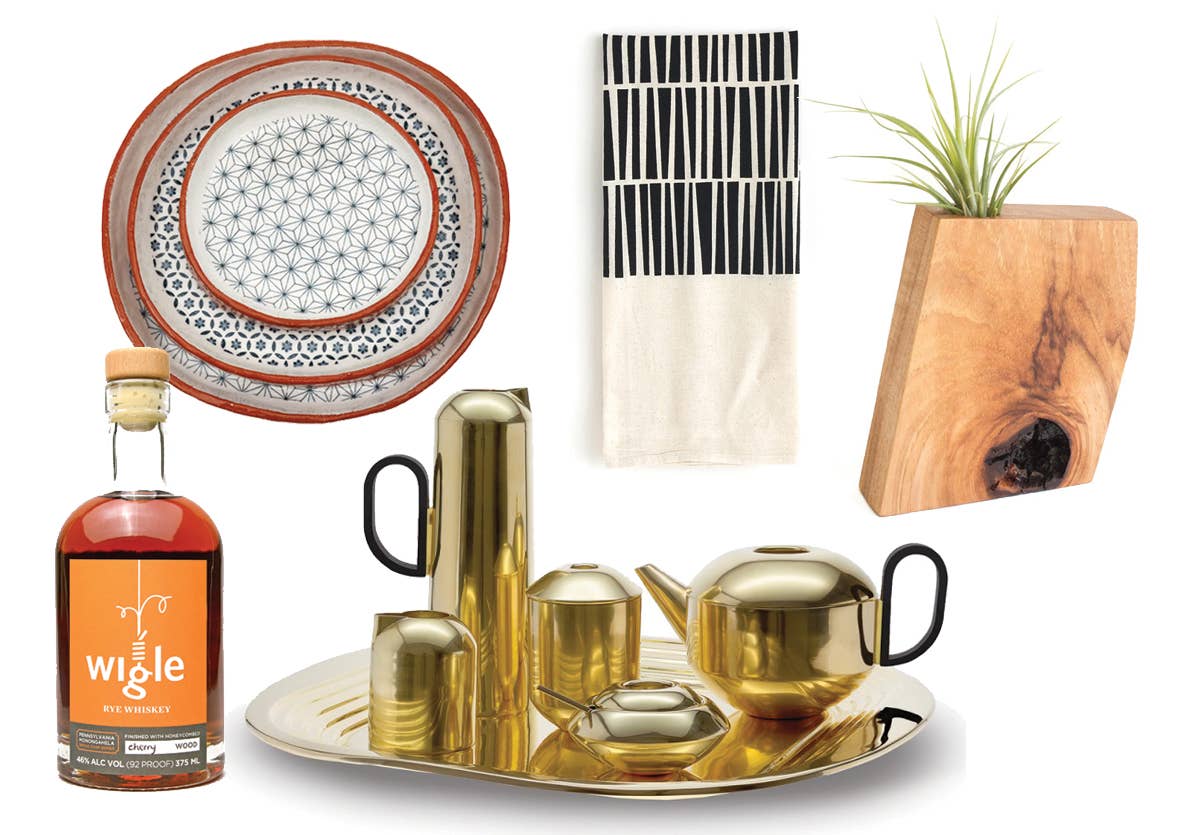 Shopping & Reviews
SAVEUR Selects: February 2015
We come across all sorts of great products in the SAVEUR office. Check out our favorites for February: a striking planter, excellent chai any time, and more selected by art associate Allie Wist.
This super-fresh, high quality tea concentrate is made with cold-pressed ginger, vanilla beans, cinnamon bark, black tea leaves, cloves, peppercorns—a whole host of spicy chai goodness.
Dona Chai, $10 for 16 oz.
Who says the planter has to be all about the plant? I'm in favor of gorgeous, geometric takes on plant holders like this one; it fits perfectly onto a narrow kitchen counter or windowsill.
Wyatt Jr. Wood Planter, $29 at few-bits.com
Susan Simonini creates these beautifully imperfect tapas plates from terra-cotta out of her home in Australia. Completely handmade, they feature intricate black and white patterns that peek out from under your antipasti.
Handmade Tapas Plates, set of three for $136 at etsy.com
I'm very into swanky Mad Men-era design, and this tea set truly deserves that description. It's part of designer Tom Dixon's Eclectic series, which explains the unexpected spout designs and luscious curved handles.
Form Brass Tea Set, $85-$220 at suiteny.com
This rye is a tribute to the man who unwittingly sparked the Whiskey Rebellion of 1791. Sipped neat, it boasts a big, spicy flavor and a caramel-like sweetness.
Wigle Organic Rye Whiskey, $50 for 750 ml at Wigle Whiskey
Beautiful towels make a kitchen feel complete—and they're great for quick Instagram prop-styling needs. This geometric keys pattern is a favorite of mine: simple, yet undeniably quirky.
Keys Flour Sack Tea Towel, $14 at makersmarket.us
ALLIE WIST, art associate
Go-to Cocktail: Whiskey sours, with agave and a dash or two of bitters. I've been making them at home with barrel-aged rye whiskey; they're perfect both for impromptu cocktail hours and Sunday movie nights.
Current Cookbook Obsession: The Futurist Cookbook. Which, in all fairness, isn't a "real" cookbook. It's a performative food and art manifesto by Filippo Marinetti, the eclectic leader of the Futurist movement who, among other things, suggested the abolition of utensils and served wafts of perfumes in place of edible appetizers.
Favorite Place to Visit: I developed a crush on South Africa when I was there in 2009. Between the wonderful people, the affordable shiraz, the ability to find live jazz at any time of the day or night, and the home cooked ostrich barbecue I was lucky enough to try, I'm dying to visit again soon.