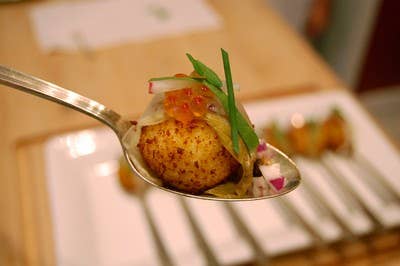 Culture
Sites We Love: Alinea At Home
Gorgeous photos? Check. Engaging writing? Check. Seriously inspiring recipes, tips, and culinary curiosity? Check, check, and check. The best food blogs all seem to have a lot in common — but what separates them out are the strong personalities behind them. In our Sites We Love series, we sit down with some of our favorite bloggers to find out how they do it — and why it's as much fun for them as it is for us.
A recipe with the name "Sponge Cake, tonka bean, dried cherry, vanilla fragrance" can seem just a little daunting at first — all the more so when it's straight out of Alinea, the cookbook-cum-technical document that maps out some of the dishes on offer at Grant Achatz's Chicago restaurant. But call it something else — say, "Twinkies for grownups" — and the whole game changes. That instant conversion from unimaginably ambitious to totally attainable is the magic of Carol Blymire's blog Alinea at Home, in which she's cooking through Achatz's entire volume.
Carol's no stranger to fancy cooking or ambitious book-to-blog projects: she first gained foodblog fame in 2007 when she launched the similarly structured — and similarly irreverent — French Laundry at Home, taking on Thomas Keller's famously exacting chronicle of the kitchen at his Yountville restaurant. Driven by her confessional, conversational voice, lovely step-by-step photographs, and the sort of wry sense of humor that's a necessity when you're dehydrating elephant garlic or making picholine olive brine candy, Alinea at Home is truly a site we love.
Here's what Carol told us about her site:
Proprietor: Carol Blymire
Posting rate: Four posts per month
Geographic location: Washington, DC
Why is the site called Alinea at Home? I'm a home cook with zero culinary training. I cooked my way through The French Laundry Cookbook and was able to show that despite the book's fancy-pantsness, you really can make those dishes at home. Same goes for the Alinea cookbook. Is my food as good as Thomas Keller's or Grant Achatz's? No freakin' way. But, I think too many people are afraid to cook, let alone stretch their wings in the kitchen and try new things, so in doing Alinea at Home, I want to show that it's okay to experiment and learn and have fun. Chefs inspire with what they serve us in their restaurants, so when they put out cookbooks, we'd be fools not to learn from them and be inspired by what they do as it relates to our very own kitchen.
What's been your most popular post? My favorite holiday — I know this is weird — is April Fool's Day. Every year that I've been blogging, I've enjoyed coming up with creative pranks to spring on my readers. and, true to form, my two most popular posts were both on April Fool's Day 2009 and 2010. In 2009, Grant Achatz and I convinced my readers that he had hired me to work in the kitchen at Alinea; and, in 2010, I announced I was taking Alinea on the road in a food truck that would travel the country.
What's your favorite post? My favorite post is the video I created when I made the Tomato with mozzarella balloons, and failed miserably with the balloons. I mean, they were so awful that Sad Keanu even made an appearance. I spent 24 hours working on that dish only to have the most dramatic element of it fall apart, so it made sense to roll with the punches and just have fun with it. I'd had such a hard time sourcing mozzarella curd, that I figured making the actual mozzarella would be the easy part. I couldn't have been more wrong. Lesson learned.
What's something great that you've learned or that's happened to you since starting your blog? I've learned that I'm human. I've learned that I'm not perfect, and that it's okay to fail at something. The world won't end. That's been a huge lesson for me. That, along with having to be patient, which is always a challenge for me.
What's the usual process for developing one of your posts? I go into each recipe with an open mind. Some dishes I think are going to be easy end up sucking. Others I think I can't pull off turn out to be some of the most beautiful plates of food I've ever put on a table. The posts really write themselves as I'm cooking, and as each dish's story unfolds. Sometimes, there's a personal connection to an ingredient or specific element in a dish, but oftentimes, a bigger story reveals itself as I'm waiting for something to simmer, or dehydrate, or set, or freeze. It's all about keeping an open mind and being more of a documentarian than anything else.
What are your favorite ingredients and tools? I can't live without my 8" Wusthof chef's knife. Also? My dishwasher. One of the most important tools in the kitchen for me. As far as ingredients go, I love veal stock (because you can turn it into so many things), shallots, sherry vinegar, and the roe I get from Steve Stallard at BLiS. That stuff will rock your world. [Also a Grant Achatz favorite! —Ed.]
What are your favorite food and cooking resources? I'd be lost without Harold McGee. His explanation of the science and alchemy of food in layman's terms is such a great resource. The good people at Terra Spice keep me stocked up on all my "crazy" ingredients for the blog. And, media outlets like SAVEUR, the LA Times food section, the Washington Post food section, and my farmer and producer friends give me so many great ideas all the time. And, I gotta say, my neighbor friends and their kids who eat all this food I make (especially when the 12- and 14-year olds provide critical, honest feedback) are such an incredible resource. I don't cook to show off. I cook to teach myself how to be better in the kitchen. The fact that my neighbors are such a big part of my blog is really important to me. It's made us one big family.
What photography equipment do you use? I use a Nikon D40 SLR camera, and edit in iPhoto.
_Do you know a blog or blogger who deserves to be featured in this space? Email a nomination — including a link to the site and a few sentences on why they're worthy of love — to_siteswelove@saveur.com.