Blue Plate Special
HONOLULU
11:15AM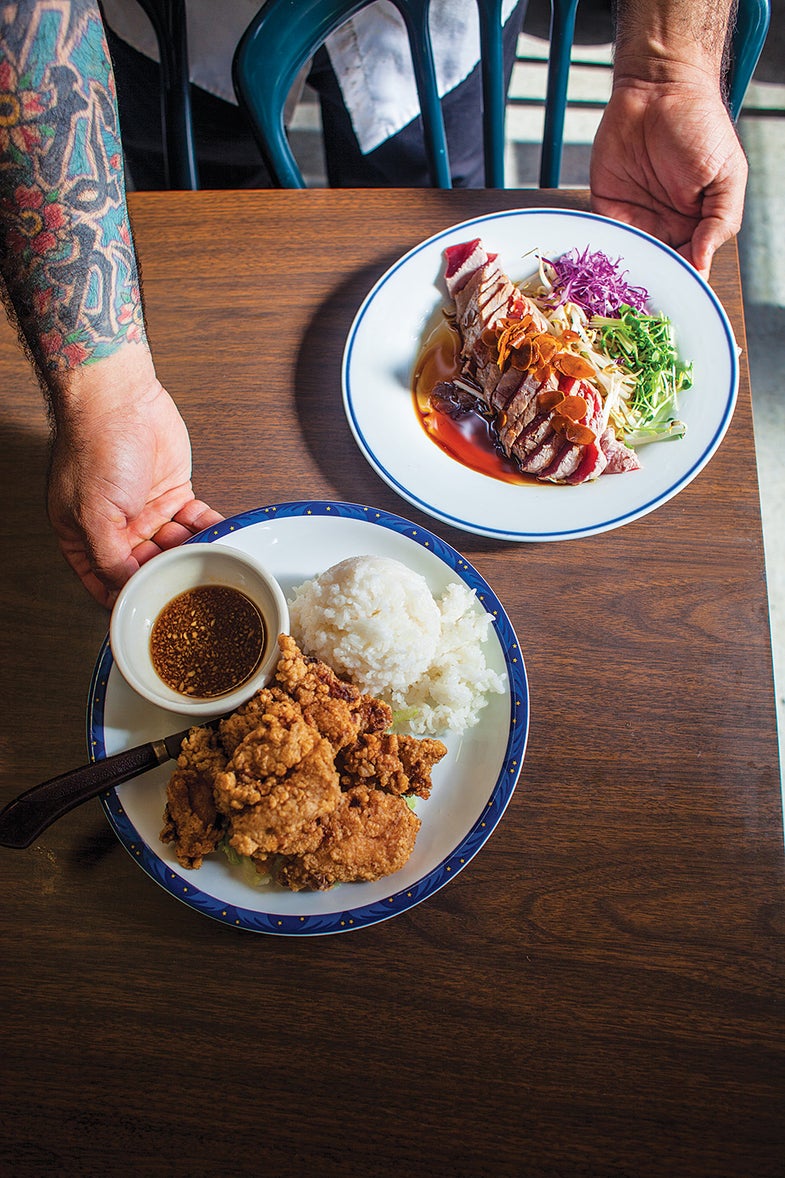 Though we do steady business all day, Ethel's Grill really starts rocking around eleven, when lunch kicks in. Our menu is based on Japanese home-style cooking—Mom and Dad grew up in Japan—so right now Dad and I are making plate after plate of a customer favorite, mochiko chicken, a dish usually made with rice flour. We roll our chicken—meaty thighs marinated in soy sauce, sake, and sugar—in potato starch, frying the pieces until golden brown and crispy, and serving them with rice and ginger-ponzu sauce for dipping. Mom works the grill, flipping the hamburger steak, an enormous pork and beef patty that gets covered with a pile of cool crunchy grated daikon and sprouts. We also start juggling a steady stream of orders for ahi tataki, lightly seared tuna that's dressed in our garlic-shoyu sauce and topped with slivers of garlic and finished with nutty sesame oil. Mom and Dad talk to each other in Japanese. I don't speak the language, but I know what they need by looking at them and try to stay a few steps ahead. Most of our customers are regulars, guys from Associated Steel next door who come in three or four times a week. Our menu hasn't changed much in 40 years, but cooking for them never gets old.
Ethel's Grill
232 Kahlihi Street
Honolulu, Hawaii
808/847-6747
See the recipe for Mochiko Chicken »
See the recipe for Japanese Hamburger Steak »
See scenes from Ethel's Grill »
Robert Urquidi is manager of Ethel's Grill.