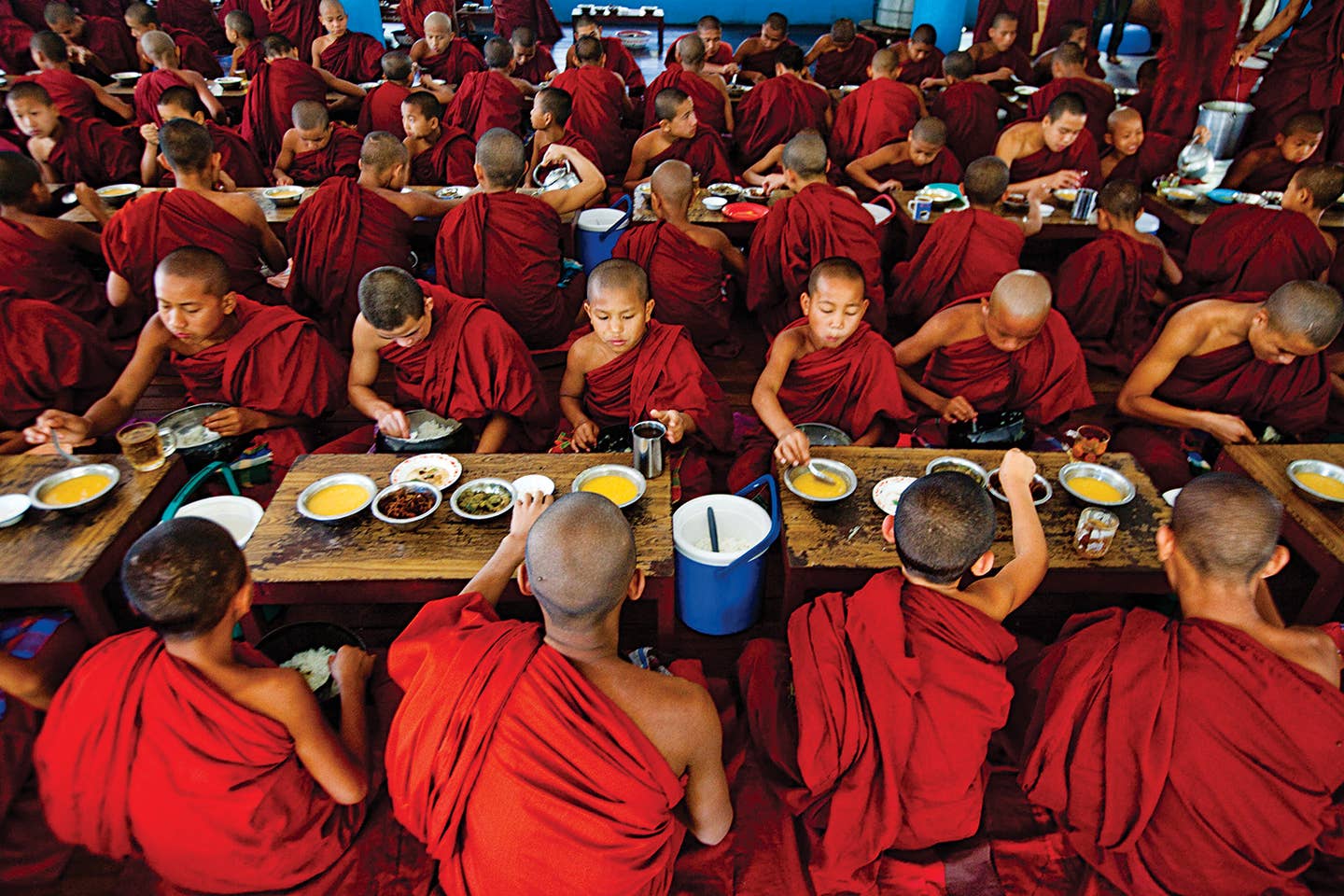 Travel
Food For The Soul
YANGON, MYANMAR 11:41AM
Three hundred years ago, Yangon was a small village with not much more than a jetty on the river for pilgrims coming to the Shwe Dagon Pagoda, a magnificent golden-domed Buddhist temple. Today, with a population of 4 million, Yangon is the biggest city in Myanmar. The smaller villages that once surrounded the city are now townships within Yangon, their own monasteries housed in modern buildings.
One of them is the Htu Par Yone Monastery, a six-story box topped by a pagoda, hemmed in by market stalls, with a deep concrete-walled canal running along its side. On some mornings a temporary kitchen shed is erected next to the canal, where volunteers prepare a ritual lunch known as soon kway for the monks. The lunches are sponsored by individuals who wish to earn religious merit for themselves or for deceased family members.
Most days I pass by without a second glance, as these offerings are part of the rhythm of everyday life here, but this morning I joined the volunteers in the kitchen. My cousin Thuzar is offering soon kway in memory of her youngest brother, Kyaw, who died suddenly four days ago of a brain aneurysm at 60. We are grieving, shocked by his passing; he had been laughing with his wife when he suddenly collapsed.
We started cooking early in the morning in the makeshift kitchen. Over the course of a few hours, a feast issued forth from the humble kitchen. We prepared wet_ thani chet_, red-cooked pork, simmering chunks of meat in a sauce of caramelized sugar, ginger, garlic, and soy sauce for nearly three hours until it was fall-apart tender. We stewed thick slices of turmeric-rubbed deep-fried carp with wedges of onion and rounds of tomato to make nga jin kyaw chet. And we made khayan thee hnut_,_eggplant simmered to melting softness in a fantastically pungent curry fortified by shrimp paste. There were more dishes, too, but they blurred together: As I cooked, I could not ignore the pain in my heart. I kept thinking of Kyaw. Memories of him as an unruly and funny kid flashed through my mind. As an adult he adored his wife and son, as well as his pampered cats.
In the monastery we set out our food on low tables. Thuzar, her other brother, Thaw, and I lifted each table a few inches off the shining wooden floor to symbolically present our dishes to the monks, who accepted the meal, resting open palms on the tabletop. The senior monks served the abbot first, spooning some food from each dish onto his plate of rice before helping themselves. They ate silently, heads bowed and robes tucked in neatly around their feet.
Now, at the end of the meal, the abbot leads us in prayer, calling out Kyaw's name so that he can share the merit from whatever realm he might be in. As Thuzar pours water in an uninterrupted stream to symbolize the unending flow of samsara, the life cycle, she calls out,"Please share my merit," three times, weeping quietly. We reply, "Well done!" as our tears too begin to fall unchecked.__