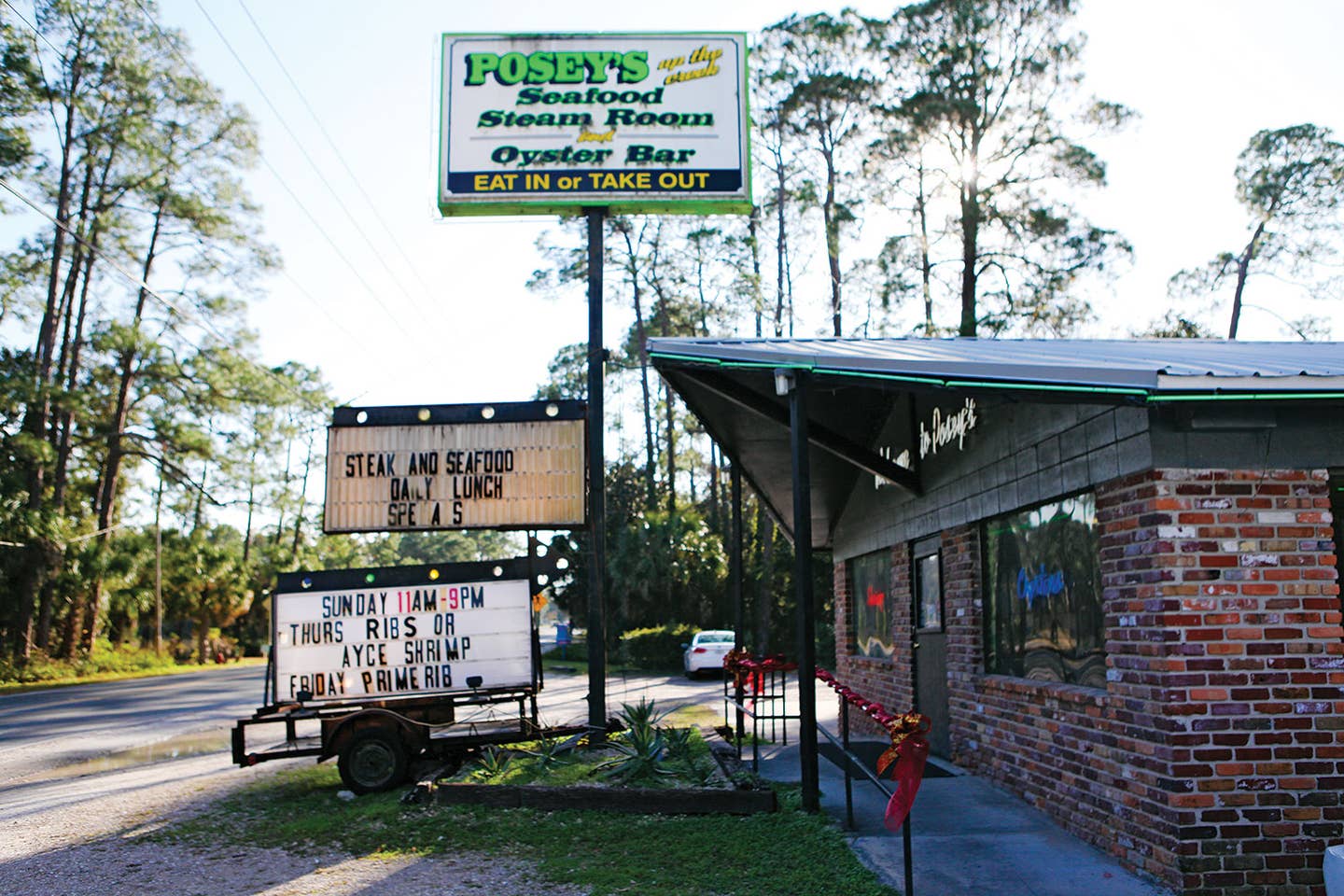 Travel
Forgotten Coast
The Florida panhandle offers a wealth of culinary treasures
Skirting the Florida Panhandle, Route 98 connects the fishing villages of Franklin County to the Apalachee Bay, where peninsular Florida joins the mainland. A 220-mile stretch of it is known as the Big Bend Scenic Byway, which makes sense, since the sweeping arc of asphalt edges one of the nation's most beautiful coastlines, with views of the Gulf of Mexico to the south and Spanish moss-draped forests inland.
This blessedly underdeveloped section of Florida is nicknamed the Forgotten Coast. But, for its culinary treasures, we find it unforgettable. Meaty, deep-cupped oysters, harvested from beds where the Apalachicola River flows into the Gulf, sparkle with creamy, briny freshness. The wild and cultivated mollusks lead a menu of other marine delights and Dixie fare; we've feasted here on shrimp, crab, grouper, mullet, and catfish, as well as fried chicken, biscuits, even casseroles.
We began our most recent journey on the waterfront deck at Apalachicola's Boss Oyster, sucking down some of the historic fishing hamlet's bountiful catch. Though we could have ordered the raw oysters crowned with flying fish roe or draped in Thai chile, wasabi, and ginger, they were so spectacularly plump and bright that we devoured them without embellishment. We also loved them fried, the oysters' lusciousness enveloped in a spicy coat of golden breading. Offering a big, scrumptious taste of the South were the Grand Grits—cheese grits topped with a cream sauce, smoky tasso ham, and fresh, juicy shrimp.
Speaking of shrimp, the best ones in town are at Apalachicola Seafood Grill, a lunchroom with a smattering of tables covered in oilcloth and a short counter where locals gather. Pulled from the waters of the Gulf, the shrimp are sweet and remarkably tender. They arrived at our table spangled with oregano and parsley, flavored with a tingle of pepper and a wisp of grill smoke.
Leaving Apalachicola the next day, we drove eastward on a segment of Route 98 that's as close to the water as a road can be. Turning off the AC and rolling down the windows, we breathed in the salt air until we pulled into the sleepy village of Carrabelle, 30 minutes away. Yay, We Have Oysters! read a chalkboard sign at The Fisherman's Wife, a small restaurant located in a clapboard house, painted white with baby blue shutters. Owner Pam Lycett really is a fisherman's wife; her husband was out on his shrimp boat when we stopped in. Cooled by slow-spinning overhead fans, we dug into an oyster po'boy. Splayed open and overflowing with bivalves, it was far too massive to pick up and eat, so we plucked at it, oyster by oyster, forking up the warm, sweet meat and zesty crust and blending it with bitefuls of fixings—lettuce, tomato, onion, and mayo—and pinches of airy bread. Fried green tomatoes in a veil of translucent breading and crispy hush puppies the size of eggs rounded out our meal in grand Southern fashion.
Then it was time for dessert. Miss Pam's Key lime pie, with its thin graham cracker crust, delivered a triumvirate of creaminess, sweetness, and citrus twang. Watching as we took photographs of it, a pair of diners wearing hunting camouflage approached. "If you want to see something pretty," they suggested, "go to Posey's for crabs." How could we refuse? As soon as the check was paid, we hopped in the car and headed farther east, following the road as it turned north over Ochlockonee Bay and leapt into the town of Panacea, named for the supposed healing qualities of its mineral springs.
With its wood-paneled walls, nautical doodads, and long foldout tables, Posey's Steam Room and Oyster Bar epitomizes the vacationer's dream of the Florida seafood shack. Bring your own fish and they'll cook it for you, at $8.95 per person. And their enormous blue crabs doused in Old Bay seasoning really are gorgeous. We feasted on them, our lips tingling, then dug into fried mullet in a toasty, snappy cornmeal crust, and a standout version of the Mobile Bay specialty known as West Indies salad: lump crabmeat marinated in vinegar and loads of tangy onion, with saltines on the side.
As the afternoon sun started to fade, we left Gulf waters behind, heading north into a Florida that is rainforest lush. Our destination: the Wakulla Springs Lodge, a two-story Moorish-Deco edifice built in the 1930s and little changed since. The lobby walls were adorned with backlit midcentury photos of bathing beauties frolicking and glass-bottom boats gliding over the adjacent spring basin. Next to the original walnut-walled elevator (close the iron gate yourself, please) was a poster from the 1954 movie Creature from the Black Lagoon, which was filmed hereabouts.
The lodge's restaurant menu includes deviled crab, ham-laced navy bean soup, and its legendary Oysters DuPont—bivalves broiled under a blanket of sweet crabmeat, briny capers, and feta cheese. But as good as our dinner was that night, our favorite meal here was breakfast. Bright and early, birds outside the dining room's great arched windows, busy on their morning errands, provided a colorful backdrop to our table, which was crowded with sizzled ham steak, cheese grits, biscuits and sausage gravy, and, best of all, fried chicken. Cooked to order, the chicken arrived after a 25-minute wait, still too hot to handle. But we gobbled it down as soon as we could, ripping into its crunchy crust and tearing off pieces of steaming meat. It was fried chicken at its finest.
Later that day, we drove to the nearby town of Crawfordville to visit Spring Creek Restaurant. At this tree-shaded fish-camp lodge, we dug into the legendary fried soft-shelled crabs and a side of cheese grits, stuffed tomatoes, and crispy hush puppies.
The final stop on our Panhandle journey was Mineral Springs by the Bay, not a restaurant but a smokehouse and bait shop that we entered through a haze of smoldering hardwood. Proprietors Tim and Kim Williams insisted we take some of their Leftover Spread, which was chock full of capers and big hunks of tuna, cobia, and salmon. Lacking crackers or suitable crudités, we consumed a pint with a plastic spoon as we peeled off Highway 98 and headed north toward Tallahassee.
Boss Oyster
125 Water Street, Apalachicola
850/653-9364
The Fisherman's Wife
201 8th Street, Carrabelle
850/697-4533
Mineral Springs by the Bay
1612 Coastal Highway, Panacea
850/984-2248
Posey's Steam Room and Oyster Bar
1506 Coastal Highway, Panacea
850/984-5243