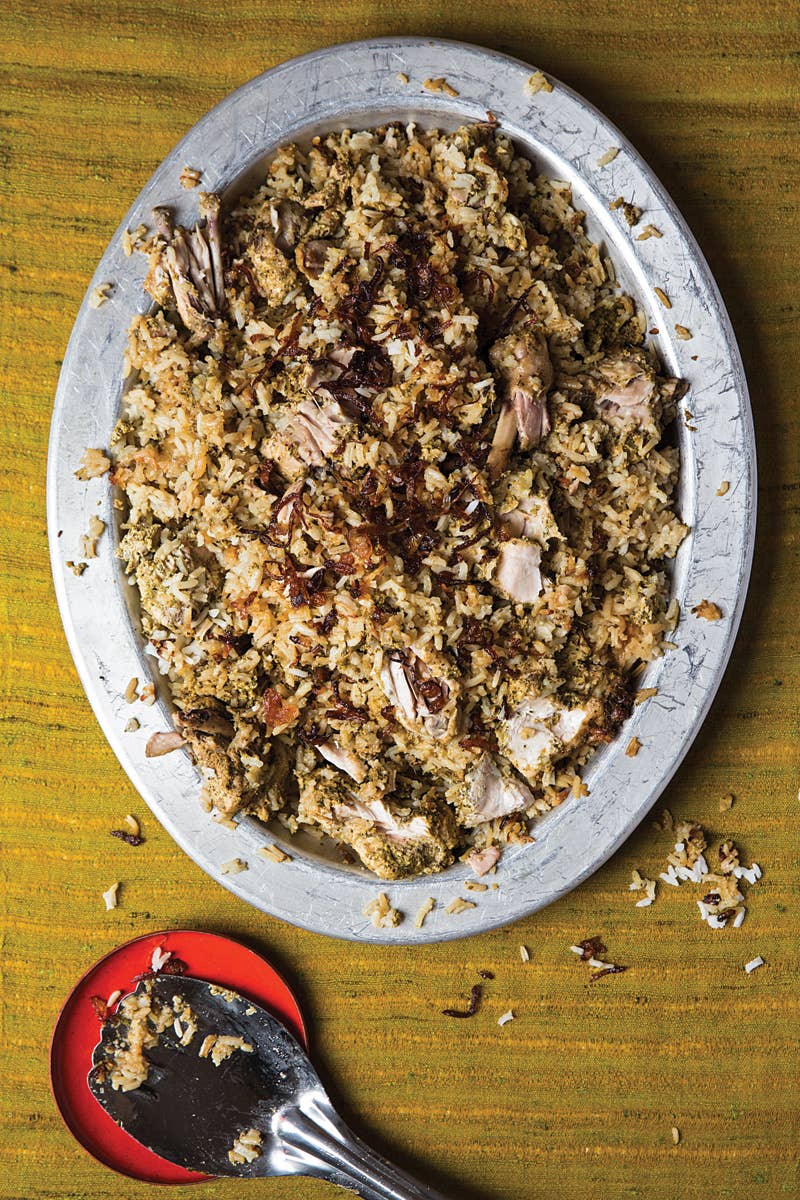 Travel
Acquired Taste
A persnickety eater comes around to a famous ancestral Indian dish
My prandial pickiness merits its own chapter in our family lore. Growing up, the list of items I eschewed—nuts, lamb, seafood—far surpassed those I ate. The most trying time for my parents was a brief childhood spell during which I subsisted on nothing but bread and butter.
A fussy palate is particularly burdensome when your family hails from one of the world's great culinary cities—in our case, Hyderabad, the capital of the Indian state of Andhra Pradesh. The city's position in the south-central part of the country makes it a prime crossroads for culinary cross-pollination from the north and south. Its role as a wealthy seat of cultural influence in the Muslim world led to the assimilation of ingredients from the Middle East, Central Asia, and Persia. The result is a refined medley of flavors that has earned die-hard devotees the world over.
And yet, I'd never counted myself among them, not even when it came to Hyderabad's most famous dish: biryani, a gossamer cloud of spiced rice layered with meats, seafood, vegetables, and even fruits. The dish is served in many parts of the subcontinent, but according to Mumtaz Khan, a doyenne of the city's cuisine and an old family friend, "Hyderabadi biryani is very different. It's the only place where they make it with raw meat." Elsewhere, the meat is an add-on; in Hyderabad, the rice and meat mingle, cooking together in one pot, the ghee steaming, to create the harmonious version of the dish known as kachchi biryani.
Though I'd visited my grandparents frequently throughout my adulthood, traveling from my home in Cape Town to see them, I'd managed to avoid biryani, a staple of my grandmother's table. But when my grandfather passed away last year, the threads connecting me to my past became more tenuous. So I flew to Hyderabad to be with my grandmother, Hya. This time, I was ready to give her biryani its due.
A few days into my trip, Hya took a seat by the stove, where her cook, Khaja, had amassed a trove of ingredients. What followed was a scene that plays out in many kitchens of a certain social strata: matriarchs guiding cooks, rarely dirtying their own hands in the process. Maintaining appearances is critical.
"I used to teach them, but I didn't know how myself, so I'd hide a cookbook in the pantry," Hya confessed. "I'd go sneak a peek, then return and act like I knew what I was doing."
Now, my grandmother's attitude was confident. Khaja followed her directives, and, once the cooking was done, I stole a bite from the pot. A surge of elaichi (cardamom) wafted down my throat, followed by an ambrosial blend of clove, cinnamon, ginger, and garlic. The kinetic composition of flavors, long banished from my palate, resonated deeply with my taste buds. Despite a lifetime of resistance, the biryani tasted like home.