Recipes
Kachi Yakhni Biryani (Hyderabadi-Style Steamed Chicken and Rice)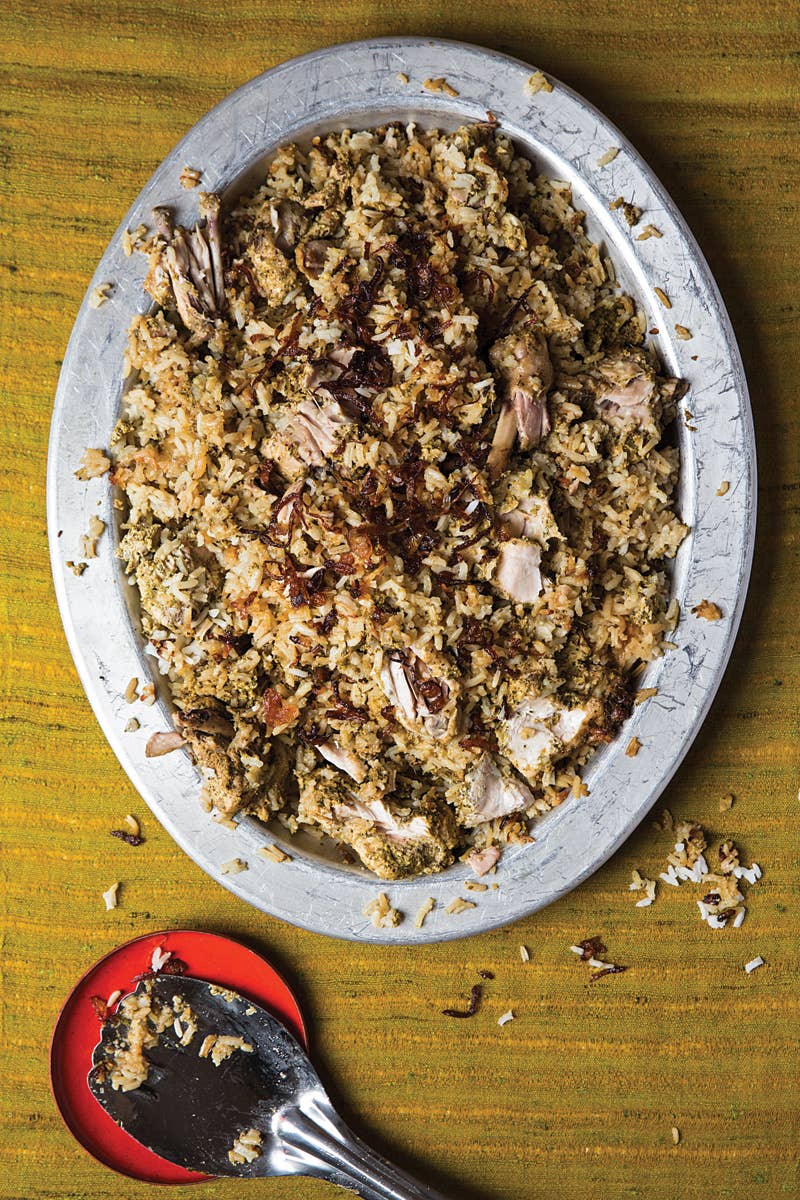 Biryani from the south-central Indian city of Hyderabad is something special: The dish is served in many parts of the subcontinent, but elsewhere, the meat is an add-on. In Hyderabad, the rice and meat mingle, cooking together in one pot, the ghee steaming, to create the harmonious version of the dish known as kachchi biryani. This recipe first appeared as part of the digital edition of our August/September 2014 special India issue with the story Acquired Taste.
Ingredients
1 cup canola oil
1 large yellow onion, thinly sliced
1 (3 1/2-4-lb.) chicken, cut into 8 pieces
1 cup roughly chopped cilantro
1 cup roughly chopped mint
3 tbsp. garam masala
1 tsp. red chile powder, such as cayenne
1⁄4 tsp. ground turmeric
6 cloves garlic, peeled
2 small green Thai chiles or 1 serrano, stemmed
1 (4") piece ginger, peeled and thinly sliced
Juice of half a lemon
Kosher salt, to taste
2 cups plain, full-fat yogurt
1⁄2 tsp. kala jerra (black cumin seeds)
3 whole cloves
2 green cardamom pods
1 stick cinnamon
2 cups long-grain white rice
1⁄2 cup ghee, melted
Instructions
Step 1
Heat 1 cup oil and the onion in a 6-qt. saucepan over medium heat. Cook, stirring occasionally, until onion is caramelized, about 25 minutes; using a slotted spoon, transfer onion to a bowl and reserve oil for another use.
Step 2
Cut chicken into 18 pieces: Cut chicken into 8 pieces, discarding wing tips. Cut each drumstick, thigh, and wing in half and cut each breast crosswise into 3 pieces; transfer to a bowl.
Step 3
Purée 1⁄3 the reserved onion, the cilantro, mint, garam masala, chile powder, turmeric, garlic, green chiles, ginger, lemon juice, and salt in a small food processor into a paste; set half the paste aside. Add remaining paste to bowl with chicken. Add yogurt; toss to combine. Cover with plastic wrap; chill 1 hour.
Step 4
Wipe pan clean and add cumin, cloves, cardamom, cinnamon, and 6 cups water; boil. Stir in rice; cook until rice is slightly tender, about 5 minutes. Strain rice and spices, discarding water. Spoon 1⁄3 the rice and spice mixture into pan; top with half the chicken and its marinade. Sprinkle with half the remaining herb paste, drizzle with 1⁄3 the ghee, and sprinkle 1⁄3 the remaining onion over top. Repeat layering the remaining rice, chicken, herb paste, and ghee. Steam, covered, on low heat until rice and chicken are completely cooked, 35–40 minutes. Garnish with remaining caramelized onion.