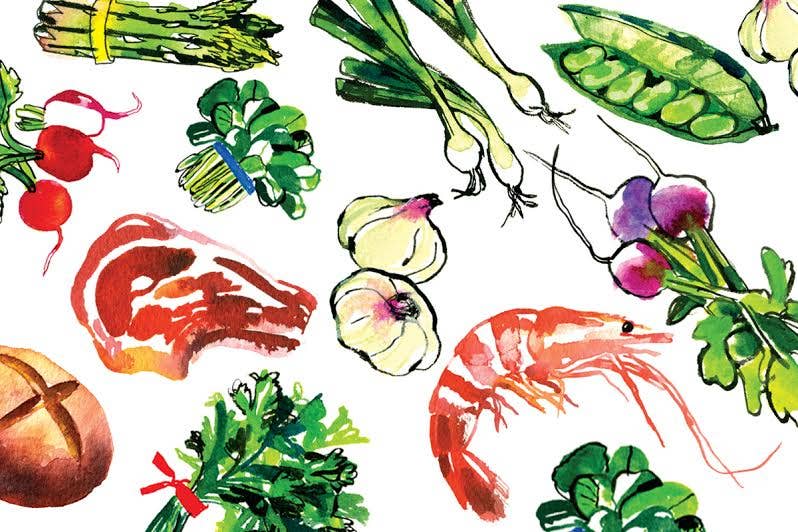 Chiles, an import from the Americas, were never as widely adopted in the Levant as they were in South Asia or Africa, so most of the food of the Middle East, while flavorful, isn't spicy. But when we traveled the length of the Gaza Strip, the 25 miles of Palestinian coastline featured in our cookbook, The Gaza Kitchen (Just World Books, 2013), we discovered dishes packed with heat. Thanks to its access to the Mediterranean Sea, Gaza City was once a bustling port for ancient trade routes: Caravans brought chiles via South Asia, dill from Egypt, cloves from Zanzibar, and more. With such a diversity of richly flavored imported ingredients, Gazans developed a cuisine that is fiery, generously spiced, and bright with aromatic herbs.
The urbanités of Gaza City are particularly known for their liberal use of spices. Classic Middle Eastern dishes like the upside-down rice casserole known as maqloubeh, baked meatballs called kofta, and stuffed vegetables and grape leaves are transformed here with lavish applications of cardamom, nutmeg, and garlic. Regional Palestinian dishes, like rumaniyya, a chile-laden stew of eggplant and lentils laced with sweet-tart pomegranate molasses, are similarly amped up. Even the sesame seeds for tahini are fire-roasted, imparting greater intensity and a reddish hue.
In contemporary times, blockades and border controls have made Gaza a sort of bubble, gastronomically and otherwise. Despite limited access to many staple ingredients, home cooks have managed to keep their families' food traditions alive, many of them reflecting the area's complex history. So Gaza, the only part of Palestine with access to the sea, has become a unique repository for spectacular Arab seafood dishes—from simple grilled fish basted with coriander and garlic to elaborate dishes like rich shrimp stews baked in handmade clay bowls and samak imtabal maqli (whole fried fish rubbed with green chile paste, then stuffed with lemon)—many of the dishes introduced by refugees from the historic Yaffa port in Tel Aviv.
In Gaza's hill towns, you'll find hearty rustic stews, the legacy of recipes brought by the thousands of peasants who piled into refugee camps in 1948 after the British Mandate sliced up Palestine. For many families, not a trace remains of the villages they left behind, yet one can still taste something of that former life in the pumpkins, legumes, wild greens, and hand-rolled grains of maftoul on their tables.