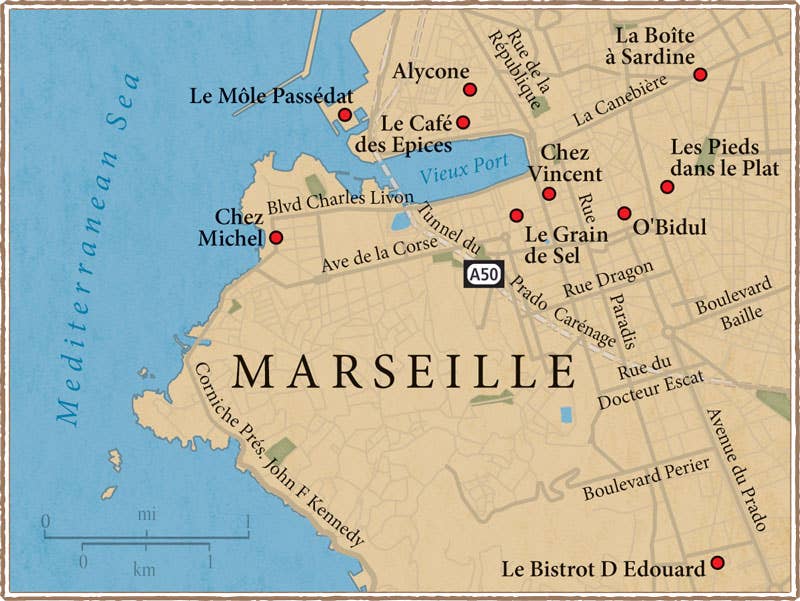 Travel
Travel Guide: Marseille
Marseille's rich history of Mediterranean influences combined with a new wave of young chefs and excellent local produce adds up to a vibrant restaurant scene
Dinner for two with drinks and tip: Inexpensive Under $25 Moderate $25–$75 Expensive Over $75
Le Bistrot d'Edouard
150 Rue Jean Mermoz (33/491/711-652). Moderate. Chef Edouard Giribone serves delicious tapas and bouillabaisse at this small, handsomely renovated provençal villa.
La Boîte à Sardine
2 Boulevard de la Libération (33/491/509-595). Moderate. Dazzlingly fresh Mediterranean seafood, grilled to perfection, is front and center on the daily changing menu at chef Céline Bonnieu's bistro and fish stand.
O'Bidul
79 Rue de la Palud (33/491/339-378). Inexpensive-Moderate. At his 17-seat establishment, the talented Fabrice Bazin offers an inventive market-driven menu, featuring the likes of trotters with creamy polenta.
Le Café des Epices
4 Rue du Lacydon (33/491/912-269). Moderate. At chef Arnaud Carton de Grammont's cosmopolitan bistro, try the grilled turbot with a garlicky eggplant purée.
L'Eau à la Bouche
120 Corniche Kennedy (33/491/521-616) Inexpensive. Superlative pizza from chef-turned-pizzaiolo Rodolphe Bodikian.
Le Grain de Sel
39 Rue de la Paix-Marcel-Paul (33/491/544-730). Moderate. Enjoy excellent new Mediterranean cuisine like salt cod tartare with chickpea purée from chef Pierre Giannetti at this loftlike bistro.
Chez Michel
6 Rue des Catalans (33/491/523-063). Expensive. Ask a local where to go for the city's best bouillabaisse and he'll send you here.
Restaurant Le Mistral
3 Rue Fortia (33/491/330-973). Moderate. Classic, old-school bouillabaisse by the waterfront.
Les Pieds dans le Plat
2 Rue Pastoret (33/491/487-415). Moderate. Chef Xavier Zapata has a way with fish at his friendly bistro in the artsy Cours Saint Julien quarter.
Chez Vincent
25 Rue Glandevès (33/491/339-678). Inexpensive-Moderate. For exceptional pizza, visit this beloved old Sicilian eatery. And be sure not to miss Rose Suggello's roasted red peppers with calf's liver, a house specialty.
Hotel InterContinental Marseille-Hotel Dieu
1 Place Daviel (33/413/424-242). The new InterContinental is housed in a magnificent 18th-century former hospital. At the hotel's restaurant Alcyone, chef Lionel Lévy serves witty dishes such as a consommé of "Bouille-Abaisse," a deconstructed riff on Marseille's classic seafood stew.