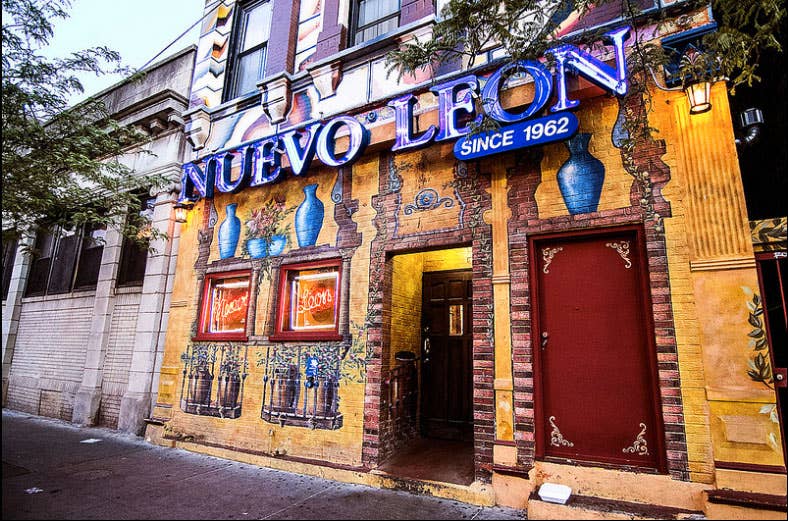 Travel
A Dozen Places Eat and Drink in Pilsen, Chicago
A vibrant new food scene joins fantastic Mexican food in this cozy southside neighborhood
Many Chicagoans eat well and drink plenty without ever bothering to venture south of Roosevelt—and that's a crying shame, because Pilsen, a cozy neighborhood centered on 18th Street between Halsted and Ashland, is home to some of Chicago's most vibrant new restaurants, bars, and cafés, side-by-side with established, decades-old Mexican homestyle restaurants and taquería joints.
Built through successive waves of Irish, German, Czech, and then Mexican immigration, Pilsen is one of Chicago's most animated neighborhoods and has been remade in recent years as something of an art community. For the last half-century the neighborhood's been home to a tightly-knit Mexican immigrant population; unsurprisingly, Pilsen has long been the place to go in Chicago for Mexican cuisine. Now, however, in keeping with the creative spirit and bright colors of the neighborhood, new restaurants are arriving thick and fast, pushing beyond the familiar to inventive interpretations of Latin traditions or different directions entirely. Whether you opt for a family-style carnicería, a craft beer bar, or an imaginative farm-to-table restaurant, the options in Pilsen are never dull.
Opened in 1962 by the Gutiérrez family, Nuevo León is Pilsen's favorite homestyle Mexican restaurant. The dining room bustles pleasantly to jukebox norteño melodies, the food is infallibly fresh and filling, and the servers seem to know half the guests by name. You'd probaby leave satisfied after nothing other than Nuevo León's complimentary chips and salsa (the basket comes piled high with paper-thin triangles of tortilla fried to a perfect crisp and salted with a generous hand), but here you'll find all your favorites done spectacularly well, from salsa-simmered chilaquiles to tostadas topped with carne asada, or slightly more adventurous dishes like menudo (clear soup with beef stomach) and soft corn tortilla tacos stuffed with tender lengua (beef tongue).The rib-sticking refried beans are also one of a kind—dense, smoky, and deep.
Restaurante Nuevo Léon
1515 W 18th St
Chicago, IL
312/563-0828
This magnificent family-owned bakery and cake shop has enlivened a corner of Cermak Avenue in West Pilsen for 35 years. Spacious and sunny, the self-serve panaderia is filled with an astonishing number of charmingly old-fashioned sliding glass door bakery cases, enclosing shelves piled with silver trays of Mexican pastries, each more colorful than the last: guava- or pineapple-filled empanadas; perky puerquitos (gingerbread piggies); conchas (pink, yellow, or white sugar-crusted rolls in the shape of seashells)—there are so many you'll lose the morning just looking. Choosing from such a tempting selection is a hard task, but there's no need—with Central's unbelievably low prices, a sack of more pastries than you can possibly eat will set you back fewer than five dollars.
Central Bakery
2100 W Cermak Rd
Chicago, IL
773/847-2824
There are a lot of bars selling good craft beers in Chicago, but there aren't many that were around to serve their patrons' grandfathers. The building housing Harbee's liquour store and tavern was erected in the 1870s, and Harvey's—as the bar was formerly known, before a 1960s license error inadvertently changed the name to Harbee's—was opened in English tied house tradition as a sampling room and carry-out point of purchase for alcohol. During the Prohibition you could buy a bucket of beer for a nickel, but nowadays you'll find a menu of over 100 (for every year of business) excellent craft and local beers from breweries such as Founder's, 3 Floyds, and Revolution, along some of the best art in Pilsen on the walls (including celebrated local Marcos Raya, courtesy of owner Steve Fritz's personal collection). The unusually long bar, stretching from the entrance to the back of the room, is a remnant of the days when imbibers would drink side-by-side, standing up at the counter.
Look over your shoulder as you enter Don Pedro's and you'll be greeted by two bulls' heads mounted over the door. Equally intimidating is the heaping pile of chicharrónes (pork rinds) in the window, warming next to a giant cart of carnitas, pork meat braised in its own fat until marvellously juicy and tender. The menu here is minimalist, small enough to be displayed on the side of the napkin dispenser—after all, the only real choice to make is between shoulder, ribs, skin, stomach, or all of the above (choose the latter for the best combinations of flavor and texture). If you're bold enough to try the tacos de sesos, you won't be sorry; mixed with onion, tomato, cilantro, and lime, beef brains make a creamy, rich filling for corn tortillas that are then stitched shut with toothpicks and fried to a golden crisp. Plan on getting there early—on weekends the line stretches so far out the door that juice vendors set up camp on the sidewalk, and on many days the carnitas runs out by the afternoon.
Carnitas Don Pedro
1113 W 18th St
Chicago, IL
312/829-4757
Don Pedro may be a Pilsen institution, but Sabas Vega's plates of succulent carnitas are every bit as good as the best, and for those not keen on a meal of meat and tortillas here's a menu that boasts more than just pig parts. This friendly family spot—the original of three locations opened over four decades by Don Sabas, whose sepia-toned portraits grace the walls—offers appetizers like a platter of thick slices of salty queso fresco with buttery guacamole and sliced cactus salad, a refreshing accompaniment (or alternative) to a plate of carnitas. Jewel-toned agua de jamaica, a mildly tart juice made from dried hibiscus flowers, or the vanilla-cinnamon rice drink agua de horchata, is tasty rejuvenation after an afternoon of strolling down 18th Street.
Sabas Vega
1808 S Ashland Ave
Chicago, IL
312/666-5180
Sophisticated yet unpretentious, playful yet smart, Nightwood, the sister restaurant of Logan Square's farm-to-table innovator Lula Cafe, is a gem on the quiet stretch of art studio-studded East Pilsen. Chefs Jason Vincent and Jason Hammel's super-seasonal menu changes daily, so while popular dishes like the buttery, maple-sticky, crispy pig ears appear regularly, there's always something new to discover. When I last visited, a cured foie gras with Michigan fish sauce caramel, Illinois ginger, and a drop of orange sauce married exquisite richness with an incredible range of bright, tangy, pungent, and salty flavors. Nightwood also stays true to its hometown with Midwestern farm-focused ingredient list and sure-to-satisfy preparations, such as chicken thighs with housemade gnocchi in dried chili and yogurt sauce, or crisp asparagus topped with a 4-minute egg wrapped inside cream-soaked mozzarella. Exceptionally well-made house cocktails and simple, bold desserts ensure delightful surprises to start and end the meal.
Nightwood
2119 S Halsted St
Chicago, IL
312/526-3385
Pl-zeň, the spelling recalling the neighborhood's original 19th century Czech name, is the kind of restaurant embraced by so-called "New Pilsen." It's a hip gastropub with a seasonal, locally-sourced, Latin-influenced food and drink menu that's heavily involved in Pilsen's art community. Colombian muralist Alejandro Arango's tongue-in-cheek painting of Red Riding Hood covering the facade makes the restaurant hard to miss, and you wouldn't want to—dishes like juicy duck tacos and rib sliders with chipotle ketchup and horseradish mayonnaise are clever as they are tasty. What really shines at Pl-zeň, however, are the menu items paired with beers from Chicago's craft breweries. A shake with vanilla ice cream and Finch's Secret Stache Stout, served with a cinnamon stick twirler, is a boozy and fun dessert to sip on the street-facing patio, and an indicator of Pilsen's support for local businesses.
Pl-zeň
1519 W 18th St
Chicago, IL
312/733-0248
This quiet, spacious, and comfortable coffee shop advertises an authentic 3,000-year-old recipe for Aztec chocolate. Supremely rich and thick, the potent and nourishing drink is served tepid in a shot glass—an unusual and stimulating refreshment. On the walls of La Catrina are dozens of superb original prints of the Mexican revolution as documented by photographer Agustín Casasola; these fascinating portraits of people, everyday life, and the effects of the war in Mexico in the 1910s merit a visit in and of themselves.
La Catrina
1011 W 18th St
Chicago, IL
312/434-4040
The Cafe Jumping Bean is one of the oldest and most recognizable coffee shops in Pilsen, and its popularity has endured for good reason. The bright interior and walls decked with art make it a pleasant spot for a cup of coffee and a pastry while people-watching, reading a book, or playing a game of low-stakes dominoes. The cafe's Mexican iced chocolate mocha is a treat, transforming the heat of a chile-spiced Aztec hot cocoa into a frothy and cooling drink. In true Pilsen neighborly spirit, you pay when you leave.
Cafe Jumping Bean
1439 W 18th St
Chicago, IL
312/455-0019
The stellar idea behind this take-out tamales storefront is to make tamales stuffed with unconventional, globally-flavored fillings such as Chicago Italian beef, roasted pepper and goat cheese, coconut curry chicken, and even chocolate peanut butter. True to the spirit of New Pilsen, the restaurant is fun, visually bold, and colorful, and its ingredients are farm-sourced with attention to the environment.
Skylark is the kind of bar where, looking from the outside, you might expect to find huddles of men with cigars betting on horses, but where you'll actually find fantastic American craft beers on tap—my favorites include Lagunitas Little Sumpin' Sumpin' and Two Brothers Ebel's Weiss—along with the requisite PBR. Free experimental jazz strikes a discordant tune (and long, frenzied shadows on the walls) every Monday evening. If you're in the mood for bar food, Skylark is justifiably famous for its plate of tots and trio of dipping sauces.
Skylark
2149 S Halsted St
Chicago, IL
312/948-5275