Travel Guide: Tasmania
The best places to eat, drink, and stay once you hit Tasmania's shores.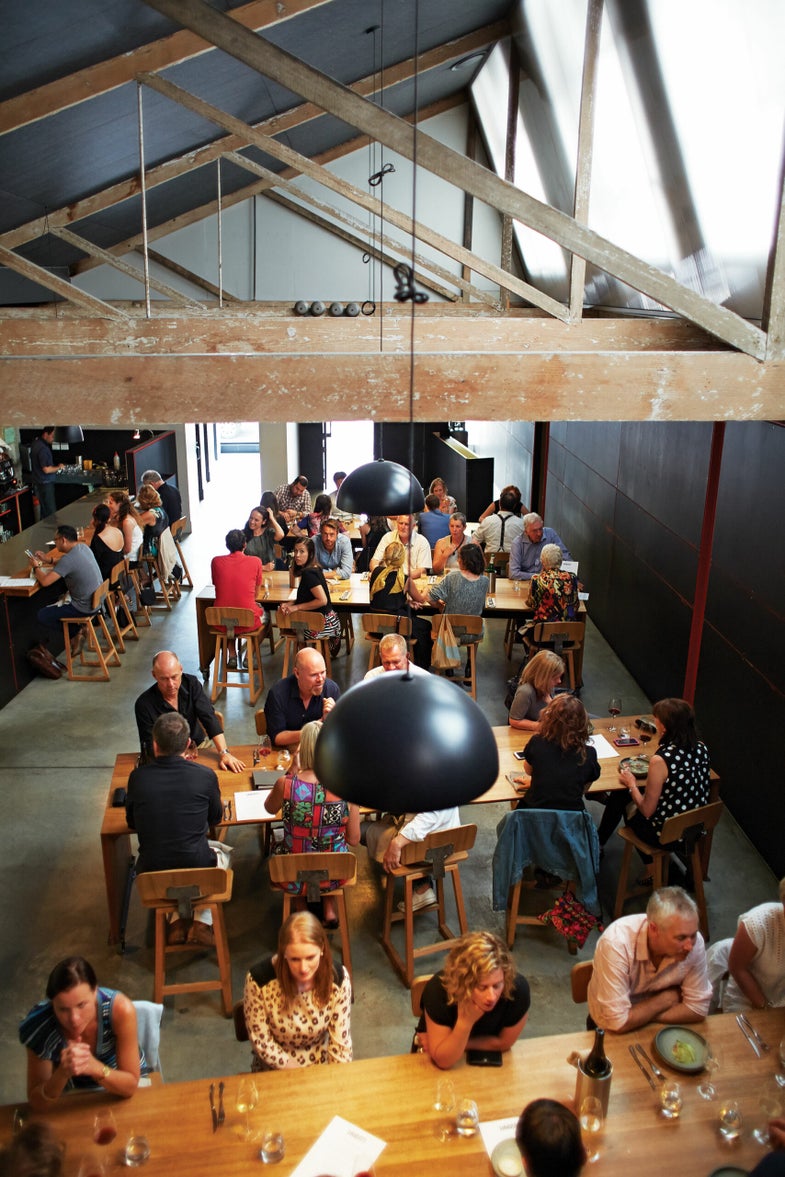 Tasmania, sitting off Australia's southeastern coast, is home to a bounty of natural (and edible) wonders: wildflowers and indigenous herbs; forests of kelp where wakame, kombu, and more exotic seaweeds grow; abalone and periwinkles off its shores; and local plants like sheep's sorrel, shepherd's purse, and sow thistle. A devoted food scene has developed around the unique ecology of this wild "island off the island," with chefs foraging for their own ingredients and nurturing relationships with farmers to make the most of all the land and sea have to offer.
GETTING THERE
Virgin Australia has daily nonstop service from Melbourne, Brisbane, and Sydney to Hobart. virginaustralia.com
WHERE TO STAY
A design-minded hotel with views of the waterfront in a converted 19th-century jam factory. The IXL Long Bar has an extensive list of Tasmanian wines from the Tamar and Coal River valleys.
25 Hunter Street, Hobart; thehenryjones.com
#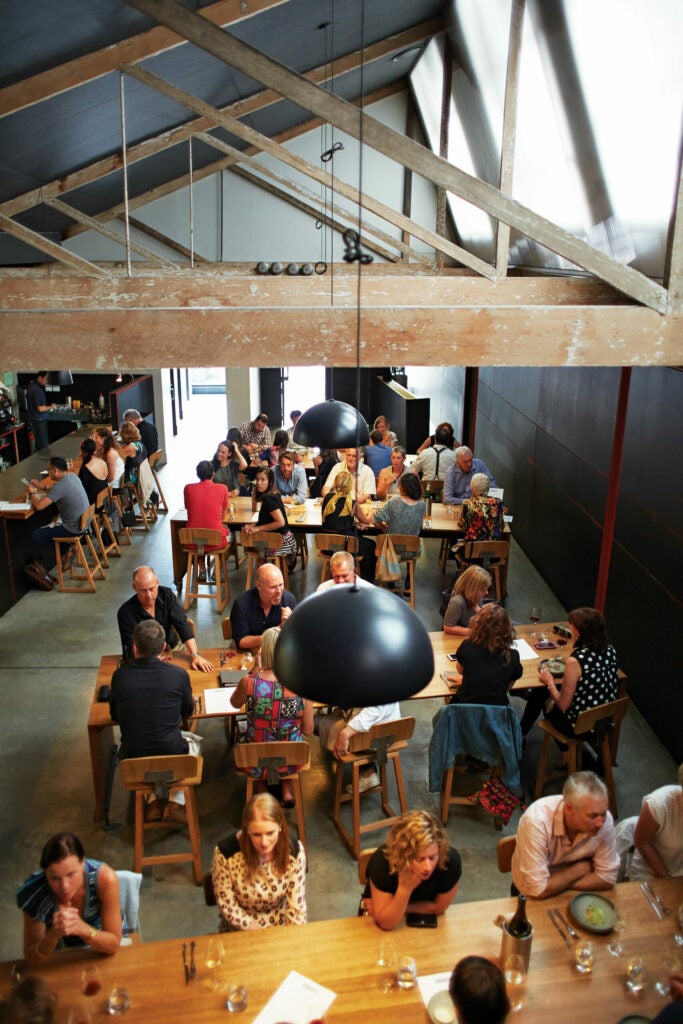 WHERE TO EAT
Tasmanian pastry chef Alistair Wise's cakes, cookies, and ice creams are tasty works of art. He also turns out savory items, like the excellent harissa lamb sausage roll.
341 Elizabeth Street, Hobart; sweetenvy.com
Book a table for dim sum on Sundays at this classic Cantonese restaurant. Pan-fried daikon with XO sauce and roasted duck with tangerine plum sauce are standouts.
16 Magnet Court, Sandy Bay Road, Hobart; mewah.com.au
Betsey Cafe and Pigeon Whole Bakers
Chef David Moyle's breakfast café offers superb poached-fish sandwiches. At the nearby Pigeon Whole Bakers take-out window, donuts, scones, bread, and an amazing parmesan Eccles tart are on offer.
24–32 Argyle Street, Hobart; pigeonwholebakers.com.au
Three Japanese
Don't miss the chawanmushi custard topped with local sea urchin roe at this informal yakitori restaurant and bar.
133 Elizabeth Street, Hobart; +61 3-6231-8035.
Dunalley Fish Market
This market-restaurant may just have the best fish-and-chips you'll ever eat. But no special requests: Whatever comes out of the ocean goes into the fryer.
11 Fulham Road, Dunalley; +61 3-6253-5428
Chef Luke Burgess serves an all-Tasmanian five-course menu at his renowned contemporary restaurant.
103 Murray Street, Hobart; garagistes.com.au
Next to The Betsey Café is David Moyle's flagship restaurant, where he serves wood-fired meats and composed small plates made with local ingredients.
30 Argyle Street, Hobart; franklinhobart.com.au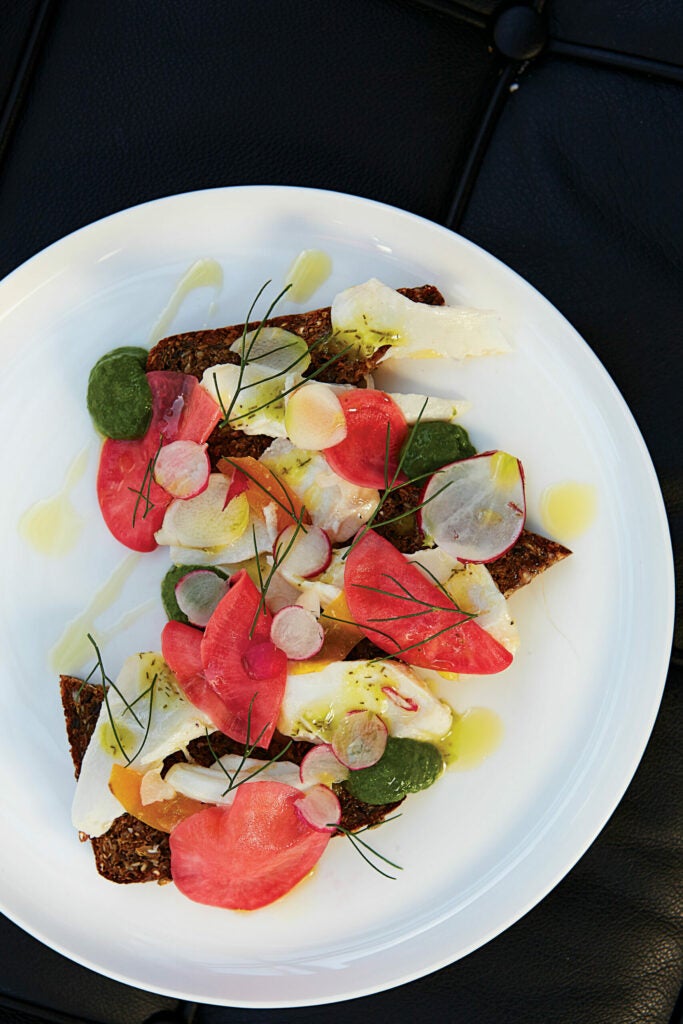 Open-Faced Rye, Poached Red Snapper, Pickled Radish, and Salsa Verde Sandwich
Open Faced Rye, Poached Red Snapper, Pickled Radish, and Salsa Verde Sandwich, Tasmania
WHAT TO DRINK
Native Tasmanians Vaughn Dell and Linda Morice are next-generation winemakers in the Tamar Valley.
4232 Bridgport Road, Pipers Brook; sinapius.com.au
Dirk Meure's 2.5-acre vineyard south of Hobart is close-planted with pinot noir, pinot gris, chardonnay, and sauvignon blanc. His 2011 pinot noir is served at Garagistes.
dmeure.com.au
Bill Lark is the mastermind behind the Tasmania whiskey movement. He offers tasting flights of exceptional cask-aged single-malts at his cellar bar.
14 Davey Street, Hobart; larkdistillery.com.au
WHERE TO GO
Farmers and artisanal food producers set up stalls at this market every Sunday and offer a great overview of Tasmania's bounty. Paulette and Matt Whitney sell their plants here. Ross O'Meara offers his mustard, sausages, and pork rillettes.
Bathurst Street between Elizabeth and Murray streets, Hobart; farmgatemarket.com.au
Sign up for one of Rodney Dunn's immersive paddock-to-plate cooking classes at his 19th-century farmhouse in the Derwent Valley.
650 Lachlan Road, Lachlan; theagrariankitchen.com
Nick Haddow produces exceptional raw milk cheeses on Bruny Island. Visit the farm itself near Adventure Bay or the cellar-door shop at Salamanca Arts Centre in Hobart.
brunyislandcheese.com.au
Order the sample platter at this new wine bar near the oyster farm at Great Bay on Bruny Island.
Lease 204, 1735 Bruny Island Main Road, Great Bay, North Bruny; getshucked.com.au