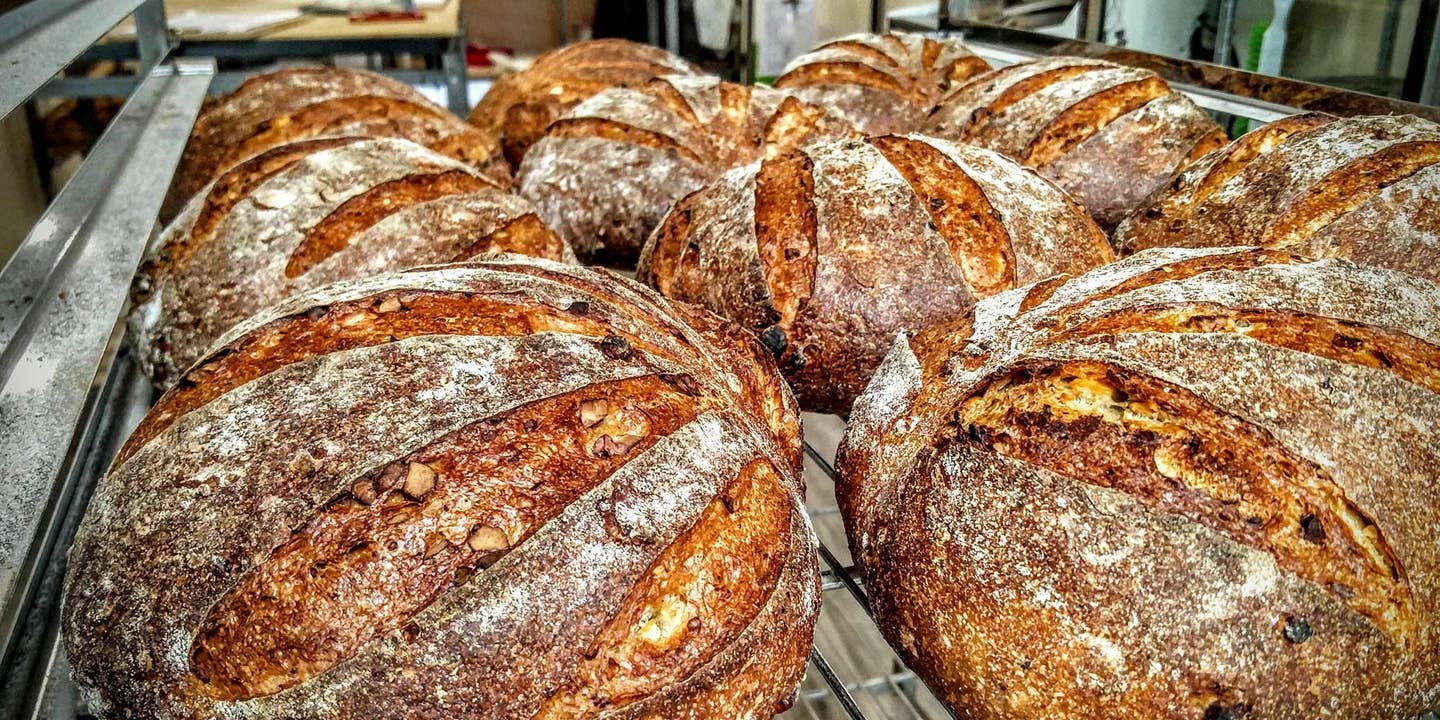 Travel
Artisan Baking is on the Rise in Madrid
New school artisan bakeries are bringing craft bread back to to the Spanish capital
Italians have their penchant for pasta, and New Yorkers have a thing for bagels. For Spaniards, one of the cornerstones of their culinary identity is, and always has been, bread.
Historically, regional Spanish panaderías produced rustic loaves in all sizes and shapes, but in the post-Franco era, Spanish breads fell a little flat. Over-reliance on commercial flour and production methods and under-development of fermentation, especially in the cities, led to flavorless loaves that sold their yeasty souls for easy mass-production. The difference in quality between the traditional breads of the Spanish countryside and mass-produced urban loaves became a disparate fact of modern Spanish cuisine.
Fortunately, a revolution is afoot. The toasted smell of darkened loaves baked with masa madre, aka Spanish sourdough, has sent shockwaves from the movement's epicenter in Madrid out to Barcelona and beyond. With names like pan Gallego, pan de aceite, and pan de tritordeum, this new wave of breads and the Madrid-based bakers producing them are guiding carb-loving Spaniards back to Spain's artisan baking traditions.
A graphic artist by trade, Javier Marca's personal journey began with fermenting and baking experimental loaves from his home in Madrid, eventually unlocking a passion that has captivated Madrileños—so much so that his loaves generate lines around the block at his aptly-named bakery, Panic, and almost every one of his loaves sells out every day.
Marca doesn't mince words about his disdain for the Spanish breads of recent years, and his dissertations on the subject are equal parts reflection and retort against Madrid's history of industrialized baking.
"Once I started baking bread regularly at home, I realized I wasn't able to find really good bread in any of the hundreds of bakeries around Madrid. They all had the same bread: overly-yeasted, fluffy, tasteless… In Spain, bread is such an important item to have at the table when you start your meal, but we have actually paid no attention to it. It was treated more like a tool than a part of the food. So when I took my first bread out of the oven and had it for dinner, I [felt] really shocked. Knowing nothing at all about fermentation, bacteria or enzymes, just following the steps by mixing and letting rest, I got a bread that had a taste… and then I got those lost flavors from my childhood and the memories about my grandpa cutting along that big, dark loaf with a thick, chewy crust, that I actually used to reject because I was used to the plain, white, thin-crust and pale bread I got at the city."
Energized by experiments in his home kitchen, Marca's passion led him to recreate the charred-dark, sour Spanish loaves that only existed in his memories so he traveled to Gloucestershire, England to study under the master bakers at Daylesford Organic Farm. A year later, in 2012, he took a chance in opening a small bakeshop around the corner from his home in Madrid, and the local bread scene hasn't been the same since.
Nowadays, Panic could be considered the Tartine of Madrid and, much like Chad Robertson, Marca has reintroduced Madrileños to the masa madre of the past. He presides over a sea change in the way Spaniards view bread, and he is turning the tide against the forces of industrialized baking with each new convert.
A Pair of Bakers, a Team of Fighters
Marta Valcuende and Begoña San Pedro call themselves luchadores: 'fighters' who own and operate their bakery, La Miguiña, with an eye toward long-fermented loaves like Galician pan de maiz and traditional pastries (like torrijas), cookies, croissants, and sweets.
La Miguiña came about in response to a desperate lack of supply: an inability to find the sorts of breads that San Pedro had learned about in baking school. "We wanted Madrid to have good bread," she says. "Locals shouldn't need to travel to the villages in the outskirts of Spain to buy it."
In addition to baking rustic, handmade sourdough breads and towering bizcocho cakes, La Miguiña is also a leader amongst a network of popular women-led bakeshops, which also includes Horno de Bebette, 180 Obrador, and Amasa. These bakeries not only turn out some of Madrid's best new-wave breads; they are are also revitalizing long-forgotten culinary traditions and redefining the landscape for bakeries across Madrid.
Part workshop, part minimalist display, Panifiesto stands for making products with a real and hyper-local purpose. Owners Ander Gómez (the baker) and Alberto Sanz (the scientist and agroecologist) specialize in edible political statements: breads that intentionally include environmentally-aware ingredients like organic, stone-ground wheat, rye, and tritordeum—a relatively new hybrid cereal crossed between barley and durum wheat, grown in Catalonia, and the base for one of the best loaves in Madrid.
"My idea is to make a simple bread", says Gomez. "A simple process: flour, water and salt, with nothing else. We use organic ingredients and sourdough, without one gram of industrial yeast in the workshop, of which I am proud. That means that yeast and bacteria that populate our masa madre are indigenous to [the neighborhood of] Lavapies."
With this new wave of bakeshops guiding Madrileños back to the traditional breads of Spain, one could easily, and happily, spend a month eating through Madrid's many great new bakeries. Each shop, and each baker, offers something new and exciting to the delicious ongoing conversation. Here are a few of our favorite places to buy our daily bread while visiting Madrid:
The bread at Panic—8 basic daily loaves, including a baguette, and a large ciabatta— are alive with the flavors of Javier Marca's masa madre and a variety of whole wheat flours, grains, seeds, and nuts. Be sure to call ahead and reserve a loaf—they sell out daily—and order the pan con tomate whenever it is available.
Much like the hyper-local guerrilla bakers over at at Panifesto, the Valdezarza bakery 3 Letras uses a selection of new and heirloom grains to produce their excellent range of sourdough breads. Look here for pastries as well, especially the magdalenas—a sort of Spanish tea cake—and anything with the ingredient azahar (orange blossom water).
This Lavapies institution is minimalist, adorned only with racks of bread that sell out fast. Get there early for a taste of the pan Gallego, made with rye and wheat flours, and the very special pan de tritordeum, a bread loaded with crunch and hearty flavor from its unique namesake grain.
Get to this Tetuán neighborhood favorite early in the day to catch the fresh pastries coming out of the oven—especially the torrijas if they are ready, and an avocado toast on their pan levain if not (yes, avocado toast is a thing in Spain now, too).