Recipes
Spanish Olive Oil Bread (Pan de Aceite)
Serves

makes 6 Loaves

Cook

8 hours 30 minutes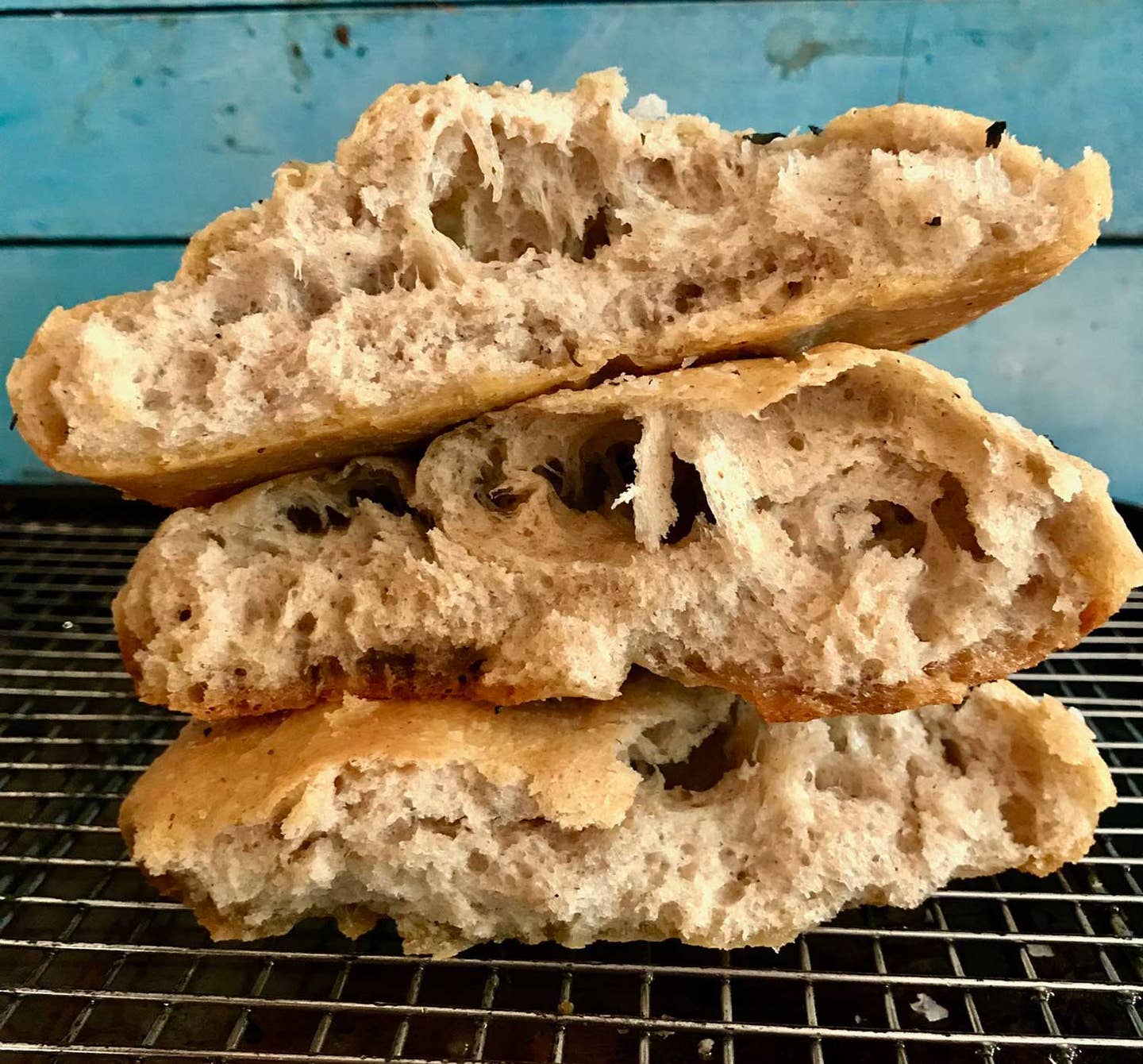 Pan de aceite, sometimes called torta de aranda, is no more difficult to make than focaccia—in fact, this is basically focaccia's long-lost Spanish cousin.
The trick with this bread comes from laying the dough on a sheet pan coated in good quality extra virgin olive oil, then dousing the bread with more oil right before it goes into the oven. At high temperatures, the dough basically begins to fry, creating a crunchy, golden bottom crust and steamy, pillow-soft bread.
This bread is best served hot, with a side of a whipped cheese to slather on it. Ricotta works well, but if you can get your hands on some Miticrema, a spreadable sheeps' milk cheese from Murcia, that's the money move.
Ingredients
1 tbsp. Active dry yeast
1⁄2 tsp. sugar
1 cup active sourdough starter (masa madre), fed 6–8 hours prior to mixing
2 1⁄2 cups bread flour
3⁄4 cup dark rye flour
1 tbsp. plus 1 tsp. Kosher salt
2 tbsp. extra virgin olive oil, plus more for drizzling
2 tbsp. fresh thyme or rosemary, minced
1 tbsp. coarse or flakey sea salt for topping
Instructions
Step 1
In the bowl of a stand mixer fitted with a dough hook, combine the yeast, sugar, and ¼ cup lukewarm (95°F) water. Set aside until the yeast has risen to the surface and formed a foam (5-7 minutes).
Step 2
Add an additional 1 cup plus 2 tablespoons of lukewarm water and the sourdough starter to the bowl followed by the bread flour and dark rye flour. Mix on the lowest speed until all of the flour is hydrated and a shaggy mass begins to form (2–3 minutes). Turn off the mixer, cover the bowl loosely with plastic wrap and set aside at room temperature for 30 minutes to allow the gluten to develop.
Step 3
Lightly oil a large bowl. Uncover the mixer bowl, add the salt, and then turn the mixer to medium-low speed. Slowly stream in the olive oil and continue mixing on medium-low until all the oil is absorbed and the dough forms a smooth, elastic ball around the hook, about 15 minutes. Remove the hook and the bowl from the mixer and transfer the dough to the oiled bowl. Cover tightly with plastic wrap and refrigerate at least 6 and up to 10 hours.
Step 4
The next day, set 2 racks spaced evenly apart in the oven and preheat 450°. Oil 2 rimmed baking sheets with ¼ cup of olive oil per sheet. Lightly dust a clean work surface with bread flour and turn the dough out onto the surface. Use a knife or bench scraper to cut into 6 even pieces, about 6-ounces each. Roll each piece into a tight ball. Place 3 pieces of dough on each pan, turning it over once to coat it in oil, then spacing them out evenly on the pans. Set the loaves aside, uncovered, in a draft-free area to rise. They will puff slightly to about 1½ times their original size, about 45–60 minutes, depending on the ambient temperature.
Step 5
When the loaves are fully risen, sprinkle them evenly with thyme or rosemary and sea salt. Dimple the dough all over with your fingers, flattening and spreading the balls slightly as you go. Drizzle each loaf with an additional 2 tablespoons of olive oil, then transfer to the oven and bake for 8 minutes. Without opening the oven, increase the temperature to 525° and bake until the bread is lightly golden but still soft, 12–16 minutes. Remove the pans from the oven, taking care not to burn yourself on any hot oil not absorbed by the bread. Use a metal spatula or tongs to transfer the loaves to a rack and cool slightly before serving.