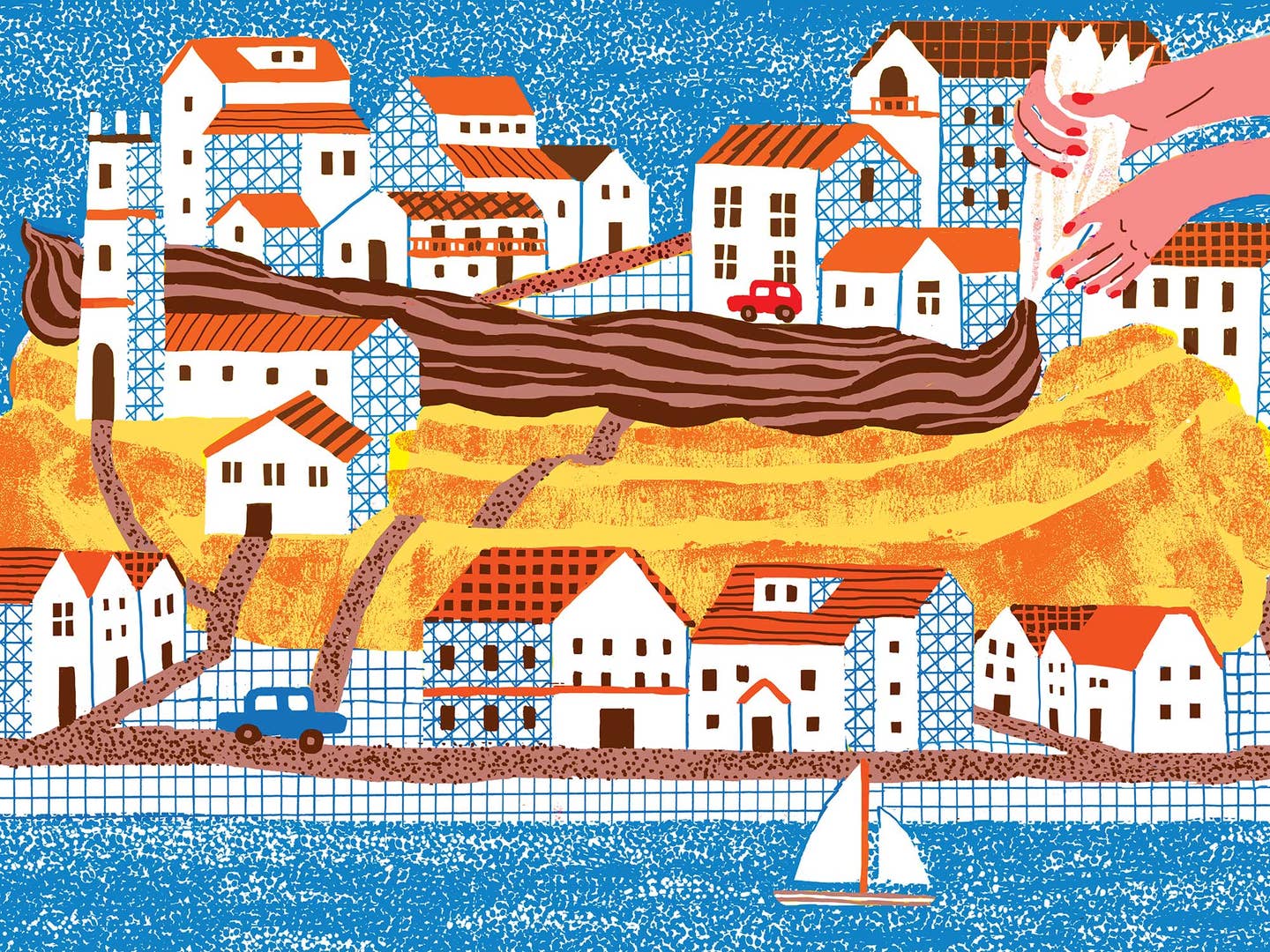 Travel
Go Eat Your Way Through Portugal's Magical Pastry Archipelago
Each island in the Azores has a love affair with sweets. In São Miguel, it's the fofa
We don't set our alarm clocks in Povoação. Church bells clanging nearby or one of the neighborhood's many vocal backyard roosters do the job.
Sleepy-eyed, we cross the jardim—the cobblestoned center of our waterfront village on the island of São Miguel where benches and gardens surround a gazebo—to Restaurante Jardim for galãos (lattes) and one of Maria de Deus Rebelo's decadent fofas da Povoação, éclair-like pastries full of vanilla custard. In the Azores, the mountainous mid-Atlantic archipelago belonging to Portugal, every isolated island has its own locally beloved pastries, each with its own history.
On São Miguel, where my father is from and where we often visit, there are several: slightly sweet griddled bolos lêvedos (Portuguese muffins) made with the pungent mineral waters of the hot springs in Furnas; dense, intensely sweet queijadas de Vila Franca do Campo, which for decades were made by cloistered nuns and have little in common with the custard cups also called queijadas or their Continental cousins, pastéis de nata; and fluffy suspiros, or "meringue kisses," which are ubiquitous throughout the Azores and melt on the tongue to reveal slightly chewy centers.
My family, however, is loyal to Maria and her fofas.
Around the 1930s, fofas appeared as an elegant dessert reserved for dinner parties thrown by the wealthy. They were distinct from the rustic, simple sweets most islanders made, and became so popular with visiting revelers that they gained the surname of our little town. The recipe for these rich, delicate pastries, likely adapted from the éclair, was a closely held secret, guarded by matriarchs who'd mix the batter and only allow maids into the kitchen when it was time to pipe and fill them. When that generation of women passed, fofas fell out of fashion. But one woman, a maid named Almerinda, wrote down her observations and bequeathed them to her friend Maria de Deus Rebelo upon her death. In 1990, Maria brought the fofas da Povoação back to life.
Maria pipes thick pâte à choux into two bulbous strips, which puff into airy caverns of eggy layers. Once the pastries are baked, she slices and fills them with a half cup of yolk-rich custard laced with vanilla. The top gets a quick swipe of chocolate buttercream made with powdered sugar, butter, and cocoa powder for a sweet and slightly chalky frosting. One bite of the massive puff, and the entire thing collapses into a mess of pastry flakes and cream.
"It gives me such pleasure to see the way people enjoy them," says Maria, who has owned Restaurante Jardim with her husband, Carlos Rebelo, since 1984. Today, tourist buses make stops for her fofas. On a good day, she can sell up to 300—significant for a small restaurant in a tiny town on a remote island that otherwise hasn't changed much in decades. She jokes that she now earns her living from fofas alone. "Just to see the joy on their faces gives me a tremendous amount of pride. Furnas has bolos, Vila Franca has queijadas, and Povoação has my fofas."
More From The Sugar Files
Eat These Other Essential Azorean Pastries
Dona Amélias: King Carlos and Queen Amélia, the last Portuguese Queen consort, toured the Azores in 1901. On Terceira, the queen so loved the chewy little teacakes served to her—fragrant with ground island corn flour, cinnamon, molasses, and raisins— that they were named in her honor. Today, bakeries, cafes, and restaurants proudly bake up the island's now-infamous Dona Amélias. Some restaurants even serve them as a complimentary bite to end a meal.
Suspiros: The vanilla-laced "meringues kisses" come in all shapes and sizes throughout the Azores, sold packaged in grocery stores and individually at cafes. When piped large and served fresh, the delightfully thin, delicate exterior opens to reveal a chewy, eggy texture inside, reminiscent of taffy. When piped into quarter-sized bites, they pop on the tongue and instantly melt—the perfect accompaniment to a strong coffee.
Queijadas: The Azorean equivalent to the continental Portuguese pasteis de nata, many kinds of queijadas dot the islands, but the two most beloved least resemble classic custard cups. On Graciosa, queijadas da Graciosa take a filling of sweetened condensed milk mixed with egg yolks and cinnamon, and pour them into an unbelievably thin and flaky butter pastry crust for little star-shaped treats. On São Miguel, cloistered nuns in the town of Vila Franca do Campo originally made Queijadas da Vila Franca do Campo with a dough of fresh farmers cheese, eggs, butter, and sugar, wrapping it in pastry dough for compact little cakes that last a long, rainy winter. Two rival families make and sell the "original recipe" queijadas da Vila today.
Bolos Lêvedos: The Azores islands were thrust out from the Atlantic by volcanic force, and open caldeiras (hot springs) still boil in the town of Furnas on São Miguel today. In the summer, locals cook corn in the rolling boils, and the pungent mineral waters flavor bolos lêvedos year round. A cake-bread-muffin hybrid, the large round griddled pastries are only a touch sweet and uniquely tangy when compared to their American "Portuguese muffin" counterparts, and best devoured hot and slathered in butter. When in Furnas, make sure to pick them up when the sign says quente (hot).